Bryn's Books: Between Shades of Gray
Books have always been something I've held near and dear to my heart as I am a firm believer that books have the incredible power to mold and shape our lives. Some books have done so by either changing the way I perceive the world, the way I think or even the values I hold in my life. "Between Shades of Gray" by Ruta Sepetys did all of the above.
A family friend gave me this book, and I had no idea what I was getting myself into. The novel immediately grabbed my attention with its roller coaster of emotions. It was the kind of story that made the reader invested in each and every character—good or bad. I read the entire book in one sitting, unable to put it down.
The year is 1941. 15-year-old Lina and her family were living a normal life in Lithuania. Lina was an ordinary teenager who enjoyed hanging with her friends and expressing herself with her talented drawings. The Soviet Union had just annexed Lithuania the year before and had begun to deport citizens that they saw as enemies of the state. In the middle of the night, the Soviet Secret Police took Lina and her family and sent them off in a cramped cattle train to a Siberian work camp. Separated from their father, Lina, her mother and her younger brother band together to survive the hardships and gruesome experiences of World War II. Lina turns to drawings and her love of art to find comfort and peace in the indescribable circumstances in her life.
"
I felt every emotion known to humanity while reading."
— Bryn Leonard
"Between Shades of Gray" is perfectly paced, with short and easily digestible chapters, each one leaving the reader on a cliffhanger. In a first-person perspective, Lina describes the perilous events that occur while being in a work camp (e.g. digging holes all day, finding enough food to support her family and battling illnesses that ravage the camp), giving the reader an insight into an individual's experience in the war.
The beautifully written sentences evoke a multitude of feelings in the reader—happiness, sadness, anger, worry-—and I felt every emotion known to man while reading. Multiple elements are present in the story, such as courage, family, hope and love. Important themes such as human morality, sacrifice, the power of art and women and mothers in the war allow the reader to reflect on their values in life and the importance of history.
"Between Shades of Gray" is described as being in between a young adult and adult reading level. It is the perfect transitional book for high schoolers looking to move toward reading adult novels. On top of the story's fictional aspect, the reader can also learn important historical facts about the war. The novel also has a captivating new perspective on WWII, signifying the hardships of people living in the Baltics who were caught in the conflict between Hitler and Stalin. The book illustrates the Baltic genocide that remains mostly unrecognized by the general public. As a sophomore currently studying WWII in history class, it is fascinating to read this perspective on the war and connect it to my current studies.
It is difficult for me to find any negatives about this novel, except that it is immensely depressing—I wouldn't recommend it for people who do not enjoy reading sad books. Parts of the story also require a mature audience due to some scenes describing the graphic and disturbing effects of war.
I recommend "Between Shades of Gray" for those who love historical fiction, dramas and exceedingly emotional stories. If a reader enjoyed the story, they could also go on to a connecting book by the same author called "Salt to the Sea," which explores Lina's cousin's experience in the war.
Bryn's rating: 5/5
About the Writer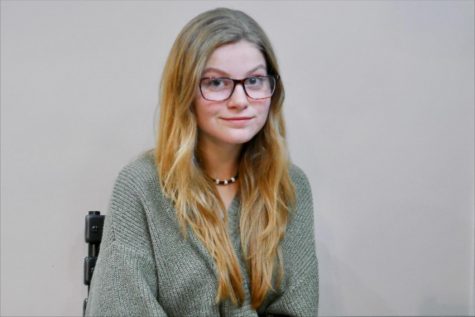 Bryn Leonard, Guest Writer
Bryn Leonard, class of 2023, is a guest writer for WSPN and writes for her column, "Bryn's Books." In her free time, she enjoys skiing, horseback riding...