Lucy Grasso breaks the barrier of the male-dominated golf team
In years past, there have been few girls who have tried out for the predominantly male golf team at Wayland High School. This fall, only one girl tried out and made the team: sophomore Lucy Grasso.
Golf at Wayland High School is technically a co-ed sport. However, most years, the team's roster has been constructed of all boys. While Grasso isn't the first girl to play on the team, few girls attempt to make the roster. During Coach Ben Buffa's first year as the golf coach, one of his senior captains was Lisa Spagnuolo. Spagnuolo is currently wrapping up her last year at Union College and was even named top athlete in her league.
"She was awesome," Buffa said, "It can obviously be challenging being the only girl on a team full of boys, especially as a sophomore, but Lucy did a great job."
Grasso's high school golf career began just this year, but she has been interested in the sport for many years prior due to her family golf background.
Grasso originally grew interested in the sport because her brother played and her grandparents also live right next to a golf course. Despite many years of being around the sport, she did not begin taking it seriously until seventh grade.
Being the only girl on a team, some may perceive that girls would be treated differently. However, the team seemed to accept Grasso as they would with any other player.
"From my vantage point, the players seemed to embrace her," Buffa said. "I'm sure things weren't perfect at every turn – they rarely are in anything. But again, some of the older kids especially were great about pulling her into the fold."
This message was reiterated by senior captain Brian Grasso, who also happens to be Lucy's older brother.
"There's obviously some worry that [the team] might take it weirdly and act differently, but I think everyone was very normal and very inclusive and welcoming," Brian said.
Being the only girl on the golf team didn't diminish Grasso's confidence to perform at her best. Instead, Grasso took this opportunity and ran with it, starting in several matches as a sophomore.
"Lucy did really well for her first year on the team," Buffa said. "She was a strong contributor to the team and even started in a number of matches, which is something that not all underclassmen or women can say."
Despite the strange circumstances of the season due to COVID-19, Lucy learned to make the most out of what she had and has gained some lasting memories.
"My first match of the season was definitely my favorite," Grasso said. "My score was pretty good for it being the first match I had ever played in, and it was so cool to be the only girl on the golf team and get to start in the very beginning. It was a great confidence boost."
With a female on the team, the dynamic and atmosphere of the team can be expected to change a bit. Buffa loves having a girl on the team just for that reason.
"One of the things I love about having a young woman on the team is that it forces the guys to kind of straighten up a bit," Buffa said. "Not perfectly, I will admit, but I'd say it definitely adds a bit of class to the atmosphere."
Brian expressed his excitement that his sister joined the team. Being a girl and an underclassman trying out for the golf team can be a difficult feat. He encouraged and supported Lucy playing.
"I was surprised because I knew that she was going back and forth between golf and soccer, but I was happy for her because she decided to play golf," Brian said. "Everyone was really inclusive about it, and she's a good golfer, so she played a lot of matches. I was happy for her that she decided to play golf."
Although the rest of the team embraced Lucy well and didn't treat her any differently, it's still not easy deciding to play a sport with none of your friends and being the only girl.
"She didn't have a ton of friends on the team and she had even more friends on the soccer team so she was kind of going into an unknown situation," Brian said. "When you're a girl and have no friends [on the team], I think it was definitely difficult for her at the beginning."
With the performance Lucy showed during the season, and the unexpected support from the rest of the team, Brian hopes that other girls will tryout for the team in the future.
"I hope she can be a starter to any future girls who are interested or hesitant because there have been no girls in a few years," Brian said. "You know the team will rally around you and they won't make fun of you or anything, so they can use her as an example for trying out in the future."
Leave a Comment
Donate to Wayland Student Press
Your donation will support the student journalists of Wayland High School. Your contribution will allow us to purchase equipment, cover our annual website hosting costs and sponsor admission and traveling costs for the annual JEA journalism convention.
About the Contributors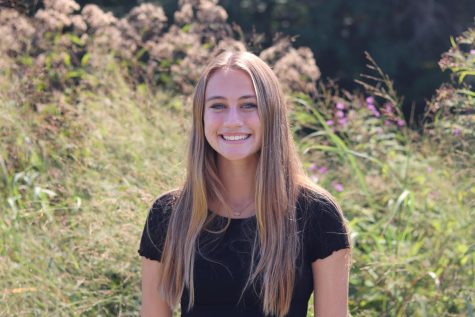 Delia Caulfield, Sports Editor
Delia Caulfield, Class of 2023, is a third year reporter and sports editor for WSPN. She is the president of Student Council and is on the high school's...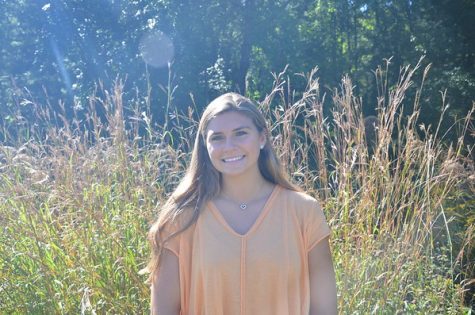 Sammy Johnson, Co-Sports Editor
Sammy Johnson, Class of 2022, is a 3rd year reporter and sports editor for WSPN. She plays soccer, basketball, and lacrosse for the high school. Outside...