Get to know the WPS superintendent finalists
After just a few years working in the Wayland Public Schools, Superintendent Arthur Unobskey informed Wayland families that he would not be furthering his career in Wayland after the 2020-2021 school year. Because of this, the Wayland school committee has been interviewing various candidates to replace Unobskey, and they have narrowed the options down to a final three. Let's get to know the three finalists for Wayland's new superintendent.
Arcelius Brickhouse
Beginning his journey through the education system as a speech pathologist at Groveton Elementary School in Fairfax, Virginia in 1990, Brickhouse has worked in a variety of positions in the field such as teacher, principal, director of student services and more. Most recently, Brickhouse worked as the executive director of Plainfield County Public Schools in Plainfield, New Jersey, where he collaborated with his colleagues to find resources to make the remote learning transition as smooth as possible. Brickhouse hopes to serve as a mentor for both students and staff while providing diverse opportunities for development and training.
"Throughout my career, I've had many different experiences, and I've worked in a variety of different settings which has contributed to me being a successful candidate for this position," Brickhouse said.
Taking into account that Wayland is known for being pretty academically achieved, Brickhouse notes that he would need to take a closer look at the exact aspects of Wayland that could use improvement.
"My philosophy in this high performing district would be to come in and look at what can be enhanced or what can be improved based on looking at the overall instruction program," Brickhouse said.
"
My goal would be to make the Wayland Public Schools the best district in Massachusetts, so that's the goal I would reinforce every time I met with different teams."
— Arcelius Brickhouse
One of the many ideas that Brickhouse has to enhance the district is to set up a program of apprenticeships or internships to aid the minority of students who go directly into the workforce. While there may not be loads of Wayland students who go right into working, Brickhouse believes a program like this would help create an equitable experience for all students, an aspect he emphasized greatly in his interview.
"I noticed that 1% of students actually go right into the workforce, so I think some sort of apprenticeship where those students can get some viable work experience prior to graduating would be helpful in preparing them," Brickhouse said.
When considering building relationships with hundreds of new faculty members, Brickhouse believes there is one trait vital to a successful team.
"I think one of the most important things is communication," Brickhouse said. "Communication leads to having a strong team, and this team is all working towards one common goal."
Omar Easy
After playing four years of professional football for the Kansas City Chiefs from 2002-2006, Easy transitioned over to the education system and has been working in various administrative positions in the Everett Public Schools in Everett, Massachusetts, since 2007. His assorted positions as a Spanish teacher, vice-principal, executive director and more have allowed him to manage over 230 staff members and develop programs that increased the Everett School System's accountability by a large percentage. With a passion to help both students and the community rise to their greatest potential, Easy also believes in an equitable experience for all.
"One thing that stuck out to me was that [some] teachers in the district are also parents that send their children to Wayland, and I think that's an excellent demonstration of how much confidence they have in the teachers, the curriculum and in the community as a whole," Easy said.
"
Excellence is not a state of being, but it's a process of becoming."
— Omar Easy
When it comes to COVID-19, Easy would argue that while students have not been learning the traditional curriculum as in-depth as in prior years, current students have learned new skills and have had to persevere through new challenges that have been very difficult.
"For our young people, some folks would say they stopped learning in March, but I disagree," Easy said. "I think our students have been learning, but they've been learning different things. For example, I think they've been learning to handle death or separation from family members and not being able to celebrate birthdays, so they're learning to cope with different things."
Easy also thinks it's important to realize that there will be a new normal in the following years, students are not going to be at the same level that they would have been if instruction had been completely normal during this past year.
"If I become your superintendent, it's up to me to get our administrators and teachers to understand that we now need to go to where those students are," Easy said. "We can't expect them to be a certain level because so much has been missing in their lives."
"
I have something that you want as a district, and it's not because of my skin, it's because of my experience as a leader. "
— Omar Easy
As it pertains to the Black Lives Matter movement and the protests surrounding it, Easy has various ideas to diversify Wayland and make it a more open and accepting district.
"It's not about just flooding your school district with Black or brown teachers for diversity because you can diversify all you want, but if the inclusion piece isn't there, then it's pointless because their voices need to be heard," Easy said. "They need to be valued at the table of discussion."
Emphasizing the idea of making Wayland an equitable district, Easy also says we need to pay close attention to the special education students' needs as well.
"If we're looking at an equitable experience for all students, then we need to look at the special education students and make sure they are getting exactly what they deserve and exactly what they need," Easy said.
Jennifer Parson
Prior to her career in Massachusetts, Parson taught fourth grade at the Anne. E. West Elementary School in Atlanta, Georgia, from 1991-1992. In 1994, Parson began her occupation as a teacher in the Natick Public Schools, and she has been working in multiple Massachusetts school districts such as Sudbury, Northborough, Milford and Hopkinton ever since. Currently, Parson is the assistant Superintendent for the Hopkinton Public Schools where she works in partnership with the administrative team, the faculty and the community to process and carry out different plans to aid individuals in reaching their full potential. One of Parson's goals is to develop learners who become "principled, informed and capable citizens."
"When we're looking at curriculum, we need to look at data," Parson said. "How students have changed, how families have changed. What may have been useful at one time is perhaps not useful now, so utilizing research and data will help us."
Similar to Easy, Parson also feels that having open and honest conversations about difficult subjects such as racial injustice is necessary for building a community.
"
Fair and equal aren't always necessarily the same thing, but everyone should get what they need in order to be successful."
— Jennifer Parson
"We all need to find ways to develop a comfort level with having these challenging discussions," Parson said.
Parson also recognizes that to have an impactful conversation, you need an avid listener just as much as you need someone who will voice their thoughts and opinions.
"Allowing our students to feel that they have a voice and an audience who is willing to help them express their views and affect change is very important," Parson said.
Regarding how she would work with her coworkers in Wayland, Parson highlighted the importance of working together as a team with her faculty members.
"In terms of building a team, we first need to chart a course and make sure everyone is on the same pathway."
About the Writer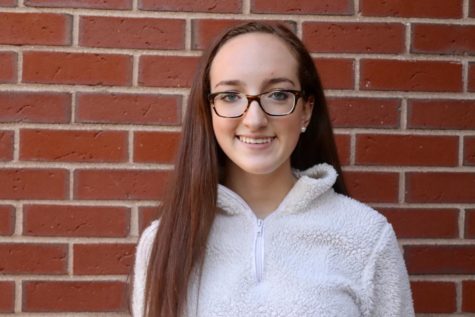 Taylor McGuire, News Editor
Taylor McGuire, Class of 2022, is the news section editor for WSPN, and this is her second year in the staff. She is a part of Window Dance Ensemble at...