Winter sports recap: A season like no other
As the Fall II season begins, winter sports teams wrapped up their shortened seasons. While many of the winter sports teams were unable to compete in the same way, athletes still had the opportunity to showcase their skills in their sports. The Dec. 14 start for winter sports brought a season unlike any other for many WHS athletes.
Boys Basketball:
The boys basketball team went 3-6. The restrictions regarding COVID-19 called for many changes in their once crowd-filled games.
"[COVID-19] affected our season in many ways," senior captain Noah Lee said. "It took away bus rides, fans in the stands and playoffs."
Even in adversity and with a half-full roster, the boys team stepped up to the challenge for their best game.
"Our best game was probably our win against Bedford at home," Lee said. "We only had eight guys due to injuries and COVID-19, and all eight [players] stepped up."
Girls Basketball:
Despite the new COVID-19 guidelines, the girls basketball team managed to have a record of 5-6 this winter season. Their small postseason tournament ended in a 34-38 loss in a close game with Bedford. Along with their shorter season, no fans were allowed and games were against the same team twice a week.
Compared to previous seasons, girls basketball felt much less pressure riding on their season.
"There was a lot less pressure because we didn't need to qualify for playoffs," junior Sarah Alizadeh said. "This season was a chance for the team to get better and overall, just to have more fun."
Even though the team lost many of its seniors, one game in particular highlighted the team's skills against a tough competitor and made for a great win.
"Our Newton South game was definitely our best team win," Alizadeh said. "Newton South was one of the best teams that we played, and we were able to beat them with a buzzer beater by Sammy Johnson."
Swimming and Diving:
The boys and girls swimming and diving team still performed at their elite level. The girls swim team placed second behind Westford Academy at DCLs, winning all their dual meets while the boys team placed first at DCLs for the fifth year in a row. Regarding the meets, swimmers needed to adjust to no in-person matchups.
"All the meets were held virtually, as well as boy and girls competed separately," senior captain Hilla Almog said. "The season was also a lot shorter, and we didn't have sectionals, or states."
Not only did COVID-19 restrictions affect the larger aspects of the season like virtual swim meets and smaller practices, but it also impacted the smaller, most memorable aspects of the team's meets like cheering on teammates.
"I have memories of swimming, and seeing the entire team on the side of the pool deck screaming as they cheer everyone on," Almog said. "Memories like that are what I miss the most."
Alpine Skiing:
For sports like alpine skiing, the absence of a full roster made for a much more difficult season.
"We didn't have a full roster, and because we [did not have a full roster], that lowered our possible total score," sophomore Declan Murphy said.
However, the pandemic itself affected alpine skiing to a much lesser extent than other winter sports.
"We did lose some time on the mountain and we did five races instead of six," Murphy said. "Since skiing is already a sport [where] you don't go near other people, it still worked well with COVID-19."
Nordic Skiing:
During Nordic skiing's past season, they faced modifications in their races. Relying on pods, skiers could no longer race as they once did with a mass start. Social distancing guidelines prevented athletes from lining up on the startline and going off all at once.
"[No mass starts] made the races a lot harder because you couldn't pace off of other people as much," senior captain Tali Wong said. "You were mostly out there on your own."
The brief season brought no scaled back postseason, however, some Nordic skiers had the extra opportunity to race.
"There was a championship race, not associated with the school, that a record number of Wayland skiers participated in," Wong said. "A bunch [of Wayland skiers] were named to the Massachusetts State Team."
Boys Hockey:
For a sport like boys hockey, the new COVID-19 regulations called for many more changes than just the season itself.
"We no longer had access to locker rooms before the games and no team social events like team dinners," sophomore Ryan Desmond said. "We also didn't play some of the same teams due to new leagues and divisions, and we could no longer put a full team on the bench."
During this short winter season, the boys hockey team went 2-5, losing in the DCL small finals for their division. Despite this, their performance increased compared to previous years.
"We actually did better than last year," Desmond said. "We won more games even though this year we only played seven games, including playoffs, instead of the usual 20 game regular season."
Like many other teams, the shortened season created challenges for the hockey's team preparation for their season.
"I think we played pretty well, but we could have played much stronger as a team if we had a regular season, more practices, more games and more time for adjustment," Desmond said.
Girls Hockey:
As for the Wayland and Weston girls hockey team, the 2020-21 season ended up not largely impacted by COVID-19. This was until the end of the season when a positive case on the JV team took out a few varsity players. With the concerns of safety for the players,  frustrations developed over play time.
"For Wayland players, once you are quarantined, you can't come back to the practices or games, but you can go back to school," junior Julia Wegerbauer said. "[The new policy] was confusing and frustrating for all of us."
The team ended with a record of 6-7 and were able to qualify for a modified tournament.
"We made it to the Covid Cup and lost," Wegerbauer said. "Luckily, we got to use a locker room, which we couldn't use during the normal season, and we were allowed two spectators for the game."
Regardless of the challenges, high hopes remained throughout the season.
"I expected the season to be dreadful, but the season was still super fun," Wegerbauer said. "The coaches did everything to make the season as normal as possible."
Leave a Comment
Donate to Wayland Student Press
Your donation will support the student journalists of Wayland High School. Your contribution will allow us to purchase equipment, cover our annual website hosting costs and sponsor admission and traveling costs for the annual JEA journalism convention.
About the Contributor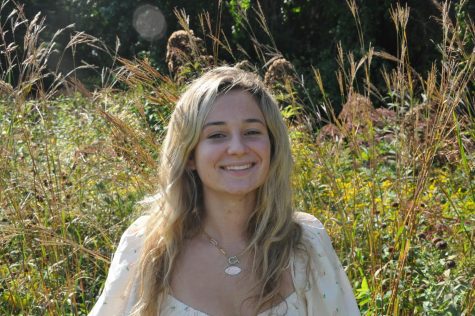 Emily Roberge, Copy Editor
Emily Roberge, Class of 2023, is a second year reporter and copy editor for WSPN. She plays for the high school's field hockey and lacrosse team, and...