WHS students react to possibility of spring playoff tournament
For many athletes, competing in a state playoff tournament can be the culmination of years of work and a highlight of their high school experience. Thus, one of the more unfortunate athletic consequences of the COVID-19 pandemic was the MIAA's cancellation of these competitions due to the possibility of teams transmitting the virus across the state. However, as the spread of COVID-19 has begun to cease, some athletes have been hoping for the resumption of state-wide contests beginning during the 2021 spring athletic season.
For senior softball captain Abby Gavron, the smaller, league-only postseason competitions that occurred earlier in the year were disappointing. Given that the tournaments often involved fewer than five teams, they often lacked some of traditional playoffs' defining attributes.
"For both soccer and basketball, our 'playoff games' just felt like any other regular-season game," Gavron said. "Since we were only playing the same teams that we had played all season, there was a lack of excitement. Usually, days leading up to the game are filled with excitement and nerves, but this year it was much less so; it was [somewhat] exciting to be playing in [a smaller tournament], but the feeling on the field and court during the game was nothing like the usual state playoff games."
One such attribute that athletes highly valued was the pressure that state-wide playoffs have induced in the past.
"The biggest upside is we get to win more," junior boys lacrosse player Ryan MacDonald said. "Competition is higher; more is on the line. If you tell someone you won the [state championship] compared to a league [championship], the difference is huge."
Another one of the foremost reasons that proponents of a larger postseason tournament desire an extended playoff competition is the excitement that is frequently present in traditional playoff games.
"State-wide playoffs are ten times more intense and exciting than regular-season games," Gavron said. "Playoffs bring the team together in ways that no other games do; people pour all their energy into the game, and it is a great experience."
Others noted that the excitement of typical playoffs wasn't merely enjoyable but something that encouraged athletes to strive for excellence during the regular season.
"Having state-wide playoffs should have a positive impact on all of the players as it encourages them to try harder during the regular season and to work towards a successful playoff [run]," sophomore tennis player Skyler Zhou said.
Sophomore baseball player Ethan Brandaleone reasoned that the absence of a true playoff competition could affect students' morale negatively.
"Playoffs are something every team can look forward to, and with their absence, the atmosphere of the team can suffer," Brandaleone said. "Covid has been tough on everyone, and for some, sports are something to look forward to. Not having state-wide playoffs would just be another blow against those students."
Another shared worry regarding the cancellation of a second state-wide tournament in a row for spring athletes is that it would deprive students of valuable moments in their athletic careers. Younger students in particular worried about the possibility of lacking playoff experience serving as a detriment to their future athletic careers.
"As a sophomore who had their entire freshman spring season canceled, I have never experienced what it is like to be a part of a team during playoffs," Zhou said. "And heading into junior year, where there is a lot more expected of you, having experienced playoffs is essential to success."
Some saw the addition of an extended tournament as a form of justice after having the entirety of their season canceled the prior year after the initial onset of the COVID-19 virus.
"As someone whose main sport is in spring, I felt a little cheated last year," Brandaleone said. "I think it would be fair compensation to permit state-wide playoffs."
Other athletes felt the same way concerning last season's cancellation, and believed a state-wide contest could rectify their absence.
"I think that after missing the entire spring season last year, having a season with playoffs included would be great," Gavron said. "Spring sports missed the most [playing time] due to the pandemic, and being able to have a real tournament would make our lack of a season last year less disappointing."
MacDonald, though, felt that even the presence of a more engaging postseason this year couldn't compensate for the time lost in the prior year.
"I don't really think fit as justice only because we lost a whole season, and that affects so many players," MacDonald said." All we [wanted] to do [was] play, so nothing can really make up for missing last season."
The drawbacks of holding a larger, more inclusive tournament during a time in which COVID-19 is still very relevant have not gone unnoticed. Some also worried about the possibility of athletes being coerced into participating despite health worries.
"Obviously, having state-wide playoffs has its downsides as well, considering we are in the middle of a pandemic, there is a health risk," Zhou said. "And, given that playoffs are the most important part of a season, players may be pressured into competing despite being worried for their health."
That being said, most felt as if a state-wide tournament should occur regardless.
"There may be [COVID-related] concerns which are completely understandable," Brandeleone said. "However, if it's possible, I think most athletes would be happier with state-wide playoffs."
Leave a Comment
Donate to Wayland Student Press
Your donation will support the student journalists of Wayland High School. Your contribution will allow us to purchase equipment, cover our annual website hosting costs and sponsor admission and traveling costs for the annual JEA journalism convention.
About the Contributor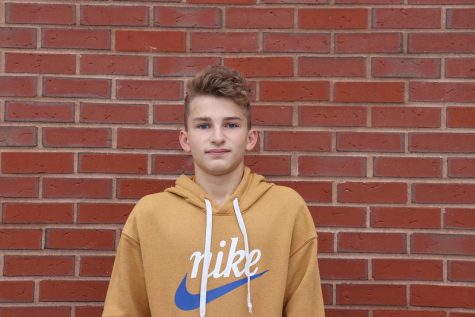 Michael Nechipurenko, Staff Reporter
Michael Nechipurenko, Class of 2023, is a first year reporter for WSPN. He plays for the high school's soccer team. Outside of school, he enjoys reading...