Profile: Incoming WPS Superintendent Omar X. Easy
As the 2020-2021 school year comes to an end, current Wayland Public Schools Superintendent Arthur Unobskey will be leaving his position as the Superintendent. After many months of interviews, the school committee found Wayland's next superintendent: Omar X. Easy.
Easy played professional football for four years for the Kansas City Chiefs from 2002-2006, and after his football career, he decided to make the switch into education. He acquired a Ph.D. in Educational Leadership and an MEd in Educational Administration from the Pennsylvania State University and an MBA from the University of Phoenix. He previously worked at the Academies of Everett, working as the Executive Director/Vice-Principal of the Academies of Everett.
As the Executive Director/Vice-Principal of the Academies of Everett, Easy drove and managed the transformation of secondary education in the Everett Public Schools. He focused on education pathways that provided meaningful and authentic educational opportunities, and he also built connections and partnerships between the school community and the surrounding community through the Academy Advisory boards. Furthermore, he worked as the Director of Organizational Assessment. With this, Easy focused on the city's organizational structure while evaluating the budget and financial process for all departments in the city, but mainly the school department.
Easy explained his plans on creating a communication network and learning about all aspects of this district's school system first and then analyzing and tackling the issues in an apt manner.
"I am really interested in learning more about our student body, faculty, administrators, support staff and parents," Easy said. "My focused intent is to mutually cherish what is working well and carefully analyze and assess how we can collaboratively strengthen our school community, especially during this unprecedented time of COVID-19."
Easy has already thought of his first few actions as the superintendent.
"I will be conducting a 'Leader Listening Chat' with all segments of our school community that will provide me with the current state of our district, collect data regarding our short and long term priorities and aid us in formalizing an equity imperative," Easy said.
No matter what the problem or solution will be, Easy plans on fully committing himself to making Wayland better. One idea he already has includes funding the improved maintenance of the school buildings.
"As for a change that I would like to see in the immediate future: we need to change the way we fund and maintain our schools," Easy said. "There is a louche approach to how we maintain and fund our schools. All of our school buildings except for the high school are in dire need of repairs and additional space. Wayland schools are Wayland's pride, and that has not been reflected in the way we fund and maintain them."
Easy emphasized the importance of the following quote and the guidance it will give him as he takes on this new role of superintendent:
"I do my best because I'm counting on you counting on me" ~ Maya Angelou
About the Writer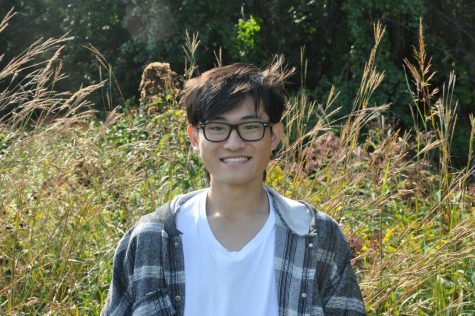 Brasen Chi, Arts & Entertainment Editor
Brasen Chi, Class of 2022, is a third year reporter and the Arts and Entertainment editor for WSPN. In school, he tends to zone out and be a little forgetful...