Athlete of the Month: Darcy Foreman
A middle school track runner, senior Darcy Foreman had never thought about picking up rowing. It wasn't until her eighth-grade track coach encouraged her to give rowing a try. Foreman shrugged it off at first, but when she saw a flyer at the middle school for a learn-to-row program, she decided to give it a shot and the rest was history.
Foreman has been rowing for almost five years now for the Wayland-Weston Rowing Association. She started in the middle school program and moved up to the novice team as a freshman. After two seasons as a novice, she moved up to the varsity girls team where she has been ever since.
"I instantly fell in love with the sport and the whole community," Foreman said. "[Ever] since I was a middle school rower, I looked up to the varsity team, so these past few years as a varsity girl have been so rewarding and so much fun."
It wasn't until her time on the varsity team that Foreman decided she wanted to row at a Division I school. The team sends a few varsity girls to Division I schools each year, and Foreman soon knew that she wanted to follow that path.
"There is something so exhilarating and rewarding about competing at a high level," Foreman said. "Every year I wanted to be in the fastest boat and go to the best regattas."
After winning the U17 Nationals her sophomore year in the pair, which is when two people are in a boat, Foreman started to attract attention from college coaches.
"This set me up for my dream of continuing to row at a high level and opened the door to even more opportunities to find fun and success in my sport," Foreman said. "On top of that all, I've only been rowing for five years. I need at least four more years of doing what I love out on the water."
For Foreman, the recruiting process wasn't too hard. There are fewer than 100 Division I women's rowing teams and luckily for Foreman, only 25 schools fit what she wanted locationally, athletically, and academically. She eventually made her decision to row Division I at the University of Massachusetts Amherst.
"Since I only looked at a pool of 25 schools, the process was very manageable and much less overwhelming than I was anticipating," Foreman said.
With COVID-19 interfering with many athletes' recruiting process, Foreman was lucky enough to visit her top three schools over February break before the COVID-19 outbreak. This made her commitment decision much easier.
"It was really disappointing to not go on any official visits, but meeting the coaches and teams as well as touring campuses in February 2020 helped me make the right decision this summer," Foreman said.
However, the outbreak of COVID-19, as many people have experienced, did have an effect on Foreman. Foreman struggled to get through the hard workouts when she was alone in quarantine last spring and summer. Luckily, she had her two coaches Mike Baker and Paul Hoffman to guide her through the tough time.
"My biggest supporters have always been my coaches," Foreman said. "They were always a text away. At the beginning of the summer when we started to get back out on the water in singles, my coaches made sure I got a water session every day. They helped me navigate college recruiting and always helped me be the best athlete I could be, on and off of the water."
Not only have Foreman's coaches supported her along her journey, but also her family and her teammates. She has used her teammates to motivate her and hold her accountable so that she can be the best she can be. Foreman credits her teammates and parents for the success she has had throughout her career.
"My family [has] always been my number one fans," Foreman said. "I don't know many other parents that would wake up at 4:30 in the morning just to make sure I caught the bus to my regattas, then to follow the bus to work at the food tent making pancakes for us by the time the sun rose."
One of the main things that Foreman admires about her sport is the peace that she feels on the water. Some of her favorite memories rowing for Wayland have been their evening rows in the fall where the sun sets over the lake and the leaves are changing colors.
"There is nothing like the rhythm of a fast, strong boat cutting through a glassy lake," Foreman said. "To me, there is nothing as beautiful as rowing on Lake Cochituate."
One memory that has stuck with Foreman throughout her career has been the joy she and the team felt after winning states her sophomore year. The trophy came down to the varsity girls eights race, and they were up against the fastest team in the state.
"Everybody in the boat pulled as hard as they could to come across the finish line first," Foreman said. "Being able to be part of the boat that won states was such an incredible experience."
Foreman has been extremely grateful to be a part of such a close-knit group of girls and has loved the experience ever since she started. She is excited for her next chapter in life doing what she loves to do.
"I can't wait for another four years of rowing with a team that feels more like family and to be able to enjoy four more years of the excitement of competing and the beauty of being on the water," Foreman said.
Leave a Comment
Donate to Wayland Student Press
Your donation will support the student journalists of Wayland High School. Your contribution will allow us to purchase equipment, cover our annual website hosting costs and sponsor admission and traveling costs for the annual JEA journalism convention.
About the Contributor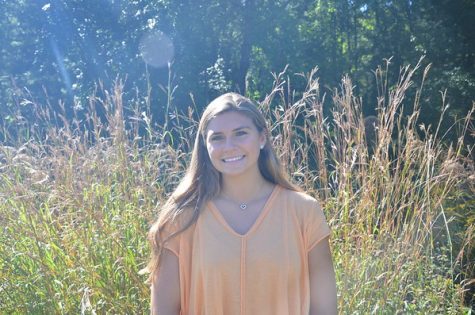 Sammy Johnson, Co-Sports Editor
Sammy Johnson, Class of 2022, is a 3rd year reporter and sports editor for WSPN. She plays soccer, basketball, and lacrosse for the high school. Outside...