BREAKING: Students can now download the 2021 Digital AP Exams app
As of Monday, April 12, Wayland High School students who are taking a virtual AP exam later in the spring can download the app onto their laptops that will give them access to the exam on their test day.
Students who need to download the app can do so by finding the Self Service application through Finder on their laptops, and in Self Service will be an option to download the 2021 Digital AP Exams app. Students can then click the app and download it without any administrator username or password, and this can be done either on school grounds or at home.
Downloading takes roughly two or three minutes, and once the app is dowloaded students can find it in their applications.
After entering the app, students will need to log in to their College Board account and agree to the terms and conditions of the testing app.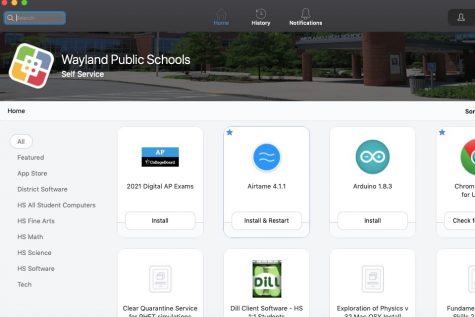 Tests will appear in the app five days prior to the day of the test, but there are practice materials available through the app in the meantime.
Three days before the test, students will be prompted to log in and complete administrative information and agree to a few more policies, and on the day of the test students will log in 30 minutes before their test begins.
This year, to ensure students don't cheat, students will not be able to go back to questions they have already answered. This is an alteration to the test from years before.