Massachusetts relaxes the state mask mandate for vaccinated people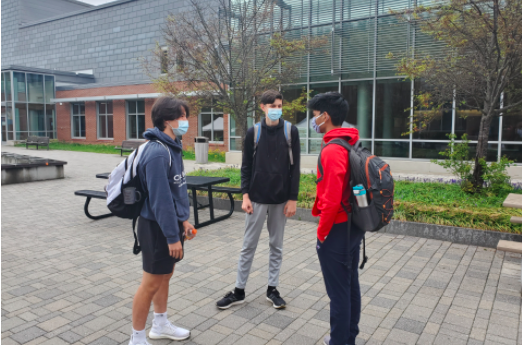 Massachusetts Governor Charlie Baker announced further plans for the state's reopening on April 27, 2021. The most immediate change outlined in Baker's proposal was the relaxation of the state's mask mandate for vaccinated people in specific outdoor settings, a modification supported by CDC research.
Individuals will not be required to wear masks during gatherings held at private residences; however, they will continue to remain limited to ten people. In indoor spaces and outdoor environments where it is not possible to social distance, masks will remain required, even for those vaccinated.
"I'm happy with not having to wear masks in certain scenarios, like some outdoor gatherings," sophomore Eli Sodickson said. "I will continue to wear one when in the general public, though, even if it's just walking on the sidewalk."
The lifting of the state mask mandate — which was first implemented just over a year ago — represents an important step in our return to normalcy, one that many members of the WHS community are excited about.
"The mandate being lifted shows that we're getting towards the end of this pandemic, fingers crossed," junior Christopher Nunn said. "We've come a long way, but we're finally starting to [return] to something more normal."
One benefit that many mentioned regarding the relaxed mask mandate was that people could participate in specific socially distanced activities without needing a mask. This was especially true for athletes, who believe not wearing masks offer them significant advantages.
"For me, masks can be a bit of a hindrance, especially when playing sports," sophomore Skyler Zhou said. "For example, my sport, tennis, is relatively socially distanced even when you are playing [with other people]. Under current mandates, you still have to wear masks, but fortunately, after being vaccinated, this is no longer the case."
Although the overall reaction towards the [lifting] of the mask mandate was largely positive, some raised various doubts. Zhou noted that unvaccinated individuals could potentially refrain from wearing masks without permission to do so.
"[One possible negative] is that individuals may abuse the state's lenience," Zhou said. "By lifting the mandate, there is a risk that unvaccinated individuals will not wear a mask and claim to be vaccinated."
Some questioned whether or not people would take advantage of the relaxation in rules, as well as if the general public would accept those who elected to take off their masks.
"I think the biggest challenge with allowing people to take their masks off outside is convincing other people that it is safe," Wayland High School history teacher Sean Chase said. "The problem [is] being the first person to take your mask off outside and then getting dirty looks like you're some kind of bad person."
Another concern some voiced was that the number of COVID-19 cases could climb as the state government eased restrictions. With that being said, many are content with wearing masks in the event of a spike in cases.
"I think that if [the number of cases rises], we will have to wear masks at all times again," Nunn said. "I wouldn't be surprised if this happens and the mask mandate has to be put back in place, but I'd be okay with wearing masks because it's what we're doing now."
Many believe that a reinstated mandate would be the first step taken if the number of cases increases.
"I think that mask mandates will probably be the first preventative measure to come back should COVID-19 cases begin to rise again," sophomore Eli Sodickson said. "It's much easier for the government to ask people to wear masks as opposed to shutting down businesses or taking other actions that disrupt the economy."
Ultimately, the fact that progress is being made in society's collective battle against COVID-19, continues to be a source of positivity.
"I think it's good that some mandates are being lifted as our society's level of immunization increases," Sodickson said. "We are relatively safe outside without masks, especially if you have been vaccinated, so I see it as a positive step forward in recovering from COVID."