WHS spring sports preview
This year, WHS spring sports teams prepared for their first season since 2019. After losing last season to the pandemic, they hope to win big this year. Below, players gave their insights on the season and which key players will look to lead their teams to success.
Boys Lacrosse:
Boys lacrosse currently has ten games set to be played this season. The opposing teams include Concord-Carlisle, Westford Academy, Weston, Bedford and Cambridge Rindge & Latin.
Key player(s): William Munroe, Chris Munroe, Dylan Derubeis, Shane Derubeis, Alex Mele, Dante Coppola and Will Carr
Captains: Shane Derubeis, Dylan Derubeis, Mele and William Munroe
"I am very excited for this year's season," sophomore Ryan Desmond said. "It was a huge letdown last year for the season to be cut off. We already had team meetings and captains' practices, everyone was getting ready just for it to be dropped."
Girls Lacrosse:
The girls varsity lacrosse team had their first scrimmage against another team on May 1, marking the start of the 2021 season. The team will play their last regular season game on June 3.
Key player(s): Kaitlyn Mabe, Ella Lesperance, Marley Miller and Cat Taxiarchis
Captains: Lesperance, Miller and Olivia Kennedy
"It is really nice to finally be back on the field after a year was taken away," sophomore Jun Waye said.
Ultimate Frisbee:
WHS students created the ultimate frisbee team at WHS in 2018. After being canceled last season, this year marks only the third official season for ultimate frisbee.
Key player(s): Tali Wong
Captain(s): Jimmy Paugh
"'I'm just excited to be able to play again, it definitely took some time to get used to throwing and the rhythm of the game," senior Tali Wong said. "It's also great to see a ton of new players this year."
Boys Tennis:
Boys tennis currently has 13 matches set up to be played. Their first matchup took place on May 6 against Concord-Carlisle at Wayland.
Key player(s): Noah Lee
Captain(s): Lee, Alex Camacho and Jonathan Zhang
"Unfortunately, last year we did not have tryouts due to the pandemic," sophomore Kevin Lee said. "I'm looking forward to having a great season with the chance to compete for a state title. This year, our varsity team is very talented."
Girls Tennis:
Girls tennis also has 13 matches following their first game that took place on Thursday, May 6. They will be playing against Concord-Carlisle, Weston, Bedford, Cambridge Rindge & Latin, and Boston Latin this year.
Key player(s): Lauren Medeiros, Kyra Spooner and Julia Raymond
Captain(s): Medeiros and Lara Bencics
"I'm excited to be with a new mix of girls during this season," sophomore Morgen Warner said. "Since we didn't have a season last year, coming in this year I didn't know many of the girls."
"Along with improving my tennis skills, I am excited to spend time with the team. It is a smaller team so we get to know each other better which is nice." junior Phoebe Greenaway said.
Baseball:
The baseball season started on May 6 continuing through June 11. Like many other spring sports, May 6 marked the first game since the end of the 2019 season.
Key player(s): Joe Tardif and Derek Roberts
Captain(s): TBD – If they are chosen they will be decided by Coach Bonfiglio
"I'd say I'm most excited to start playing baseball competitively again," sophomore Marcos Whelton said. "Ever since we went into lockdown, I've been able to practice baseball frequently, but now I will finally get the chance to play in real games once again."
Softball:
The varsity and junior varsity softball teams have 14 games scheduled for this season. Also, the teams get to play on the new field for the first time after being built last year.
Key player(s): Mira Ireland and Maddie Yaffe
Captain(s): Meredith Prince, Yaffe, Abby Gavron and Ireland
"I'm really excited for the team environment and getting to know my teammates, and I am also really excited about improving [my skills] and having lots of fun," freshman Katie Pralle said. "The coaching is really good on [the] team so I am excited about learning new things and just improving my playing overall."
Boys & Girls Crew:
Crew began in early April of this year. This season, the team has transitioned into larger boats compared to smaller boats used in the fall. The team is now joint with no separation of cohorts or gender.
Key player(s): Darcy Foreman
Captain(s): Jenna Brandaleone, Foreman, Becca Lieb and a Weston senior.
"We were able to have a season this fall, but it will be the first time in the larger boats which is really exciting." sophomore Riley Kendall said.
Boys Volleyball:
The boys volleyball season kicked off on Tuesday, May 11. They have 10 games planned to take place for the following 2 months.
Key player(s) and Captains: David Lathan, Michael Long and Porter Moody
"As it is my first year, when I am able to see [varsity players] play, I will study their moves," sophomore Michael Jennings said. "With that, I will hopefully be able to incorporate some of how they play into my own game."
Track & Field:
The track and field team ran this past winter for an outdoor track season. However, this is the first normal season as the indoor track athletes ran outdoors due to COVID-19 restrictions.
Key player(s): Dylan Bonanno, Liam Duffy and Billy Caddoo
Captain(s): Captains will most likely not be chosen this season
"It is great to have a season where it is normal, and where I will hopefully be able to win," sophomore Grace Marto said.
Leave a Comment
Donate to Wayland Student Press
Your donation will support the student journalists of Wayland High School. Your contribution will allow us to purchase equipment, cover our annual website hosting costs and sponsor admission and traveling costs for the annual JEA journalism convention.
About the Contributor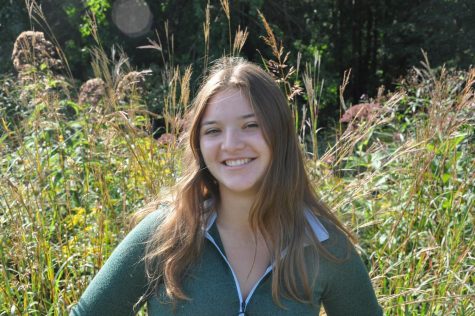 Sophia Oppenheim, Copy Editor
Sophia Oppenheim, Class of 2023, is a second year reporter and copy editor for WSPN. She is part of the WHS field hockey team and girls swim team. Outside...