WHS senior class makes the most out of their given circumstances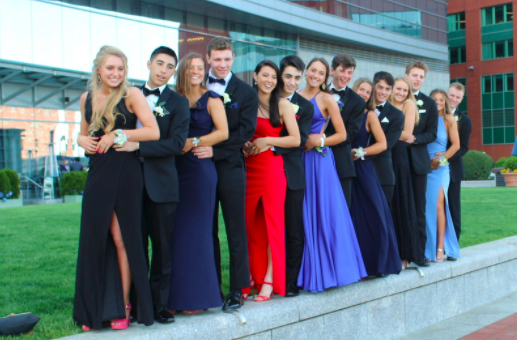 Senior events, such as prom, awards nights and other late-spring activities, are rarely ignored when thinking about the classic high school experience. However, due to COVID-19, Wayland High School seniors will miss out on some of the normal senior festivities.
Although many senior activities were canceled, WHS is still planning on holding some of the traditional senior events at school in June.
"In terms of events that are school-sponsored, there are going to be two days that we're having events: June 2 and June 4," Senior Class President Sam Goldstone said. "On June 2, we have senior awards night, and it'll end with a montage of pictures from all the seniors. On June 4, we're going to have a formal dance, [similar to] a prom, and it'll be catered with food trucks."
Notable exclusions from this year's list of senior activities include a traditional prom, as well as the senior cruise. The current senior class initially planned to have their prom junior year, but it was postponed numerous times and eventually canceled. Despite certain activities being modified or canceled, most seniors are still looking forward to the events that have been planned for them.
"I'm definitely excited," senior Nick Urato said. "Not only will it be cool to have some normal senior events, but it will be fun to see everyone before we are all done with school."
Senior Allen Zou agreed with Urato's sentiment, further noting that the gatherings could be more enjoyable because of the lack of contact with many of his classmates this year.
"I think they should be just as enjoyable, maybe even more given the fact that we've pretty much been quarantined and isolated from the whole school up until a few weeks ago," Zou said. "Although there are certain restrictions to how we have to organize the events, I'm sure it'll be a blast."
The uncertainty of gatherings posed the biggest challenge for the organizers of the events as restrictions caused by COVID-19 are changing every day.
"[One of the most difficult aspects of organizing the occasions was] definitely the sheer unpredictability of it all," Goldstone said. "The [dance and awards night] could look completely different depending on the virus situation in a month. It's just a waiting game."
Even with the uncertainty, Zou is confident in his class government's ability to coordinate safe events.
"I'm not really worried about the safety concerns," Zou said. "I feel like most people are pretty understanding of the masks and will try their best to social distance."
Numerous seniors have already elected to receive the COVID-19 vaccine, which Zou believes will prevent the celebrations from contributing to the transmission of the virus.
"A large portion of our class has already had at least their first dose of the vaccine, so I'm pretty confident that there will be very little to no spread [of COVID-19]," Zou said.
After a year in which seniors have been prohibited from physically interacting with much of their grades, many are grateful to have been provided with the opportunity to celebrate their class to any extent.
"I'm definitely really excited to have the privilege to enjoy these senior events amid the pandemic," Zou said. "I think we're pretty lucky because I know a lot of other schools aren't able to have these types of activities, so it's important to be grateful for our events."