WHS partakes in traditional Spring Week despite COVID-19
In the beginning of May, members of the Wayland High School Student Council coordinated a "Spring Week" for WHS students to relax and have a good time with their friends while still following COVID-19 guidelines. During Spring Week, students who chose to participated in a school-wide scavenger hunt, decorated the parking lot in the "Chalk Our Lot" event, watched the Student vs. Faculty kickball game and enjoyed watching their friends get hypnotized.
Sophomore Odelia Lu took part in the scavenger hunt on the team "Barbara Q" along with sophomores Bryn Curtin, Jillian Carr, Grace Marto and Izzy Ciasullo. "Barbara Q" came in second place with 1,147 points.
Lu and her team ventured to a variety of places in the Wayland area such as Dairy Queen, Chick-Fil-A, McDonalds, the Natick Mall, Burger King, the aqueduct, Loker Elementary School, Wayland Middle School and each other's houses.
"[I liked the scavenger hunt tasks] that we had to do together as a team," Lu said. "It was fun to hang out and get our scavenger hunt tasks done at the same time."
"Barbara Q" struggled to complete the task "What Car?", where WHS students were asked to pretend to be in the car while walking through a drive-thru.
"[We weren't] allowed to [walk in the drive-thru] at Chick-Fil-A," Lu said. "We tried and they wouldn't let us."
Senior Laura Clayton is a well known participant in the Spring Week scavenger hunt, participating for the past three years with her friend Erin Locke as the "Fishing Pandas." Clayton and Locke won the scavenger hunt this year with 1,332 points. As a reward for their scavenger hunt success, Clayton and Locke won free tickets to the hypnotist event on Friday, May 7.
"We just love this week so much," Clayton said. "We get to go places we have never been before and talk to teachers and talk to strangers."
Unlike Lu, Clayton and Locke faced challenges trying to complete the "BK Lounge" task, where participants had to take a photo with an employee at Burger King.
"We went to two separate Burger Kings, trying to get a picture with an employee," Clayton said. "[The Student Council] ended up taking that [scavenger hunt task] down because we got kicked out [of Burger King] twice."
Another challenge came with taking photos with strangers because of the pandemic.
"We didn't know who we could approach because some people aren't comfortable with being close to people," Clayton said.
Both Lu and Clayton agreed that the scavenger tasks that could be done at home were the easiest.
"There was [a task] to tell a dad joke," Lu said. "You can do that really easily at home."
Sophomore Grace Marto is a member of the Student Council and helped organize Spring Week. Marto explained that the week's events were created by small groups within the Student Council. Each group got to brainstorm ideas and would take on one event to organize.
"For Spring week, I was in the sub-group dedicated to organizing the scavenger hunt," Marto said. "We had to come up with challenges, work out the rules of the game and set up the app."
Marto ran into some challenges with eliminating students' scavenger hunt responses.
"[The Student Council] definitely had some discrepancies when it came to how strict we were being with the rules," Marto said. "Some people were submitting pictures of pictures, which we were forced to remove. Sometimes people would include just one team member when it said 'team members.' So, it got a little tricky at times, but we figured it out in the end."
Marto loves Spring Week and is thankful that WHS continued the tradition despite COVID-19. She believes that Spring Week has helped the transition to school all-in.
"Bringing back traditions that make it feel like a normal school year helps everyone get back in the swing of things," Marto said. "At least we have a small sense of normalcy to hang on to."
Leave a Comment
Donate to Wayland Student Press
Your donation will support the student journalists of Wayland High School. Your contribution will allow us to purchase equipment, cover our annual website hosting costs and sponsor admission and traveling costs for the annual JEA journalism convention.
About the Contributor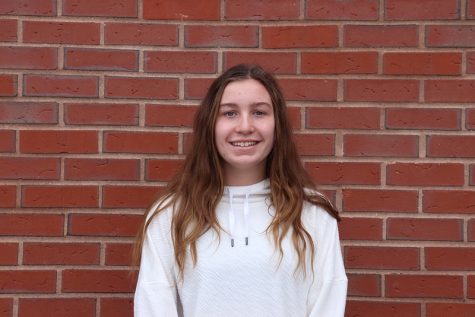 Alexina McQuilkin, Staff Reporter
Alexina McQuilkin, Class of 2023, is a first year reporter for the WSPN. She plays for the high school's soccer and basketball teams. Outside of school,...