Hey! Yeah you! Come join the Lunch Bunch!
While lunch period may be a small break from academics for some students, that time can be magical for students in room B127: home of the special education classroom and the "Lunch Bunch" club. Students who join the Lunch Bunch club work to foster relationships between students in the special education (SpEd) program and those in the general education program by sharing lunch periods to converse, play games and bond over similar interests.
Footed by study hall teacher Janet Carmichael and special education teachers Diane Camozzi and Mary Edwards, the club began in 2018 when Carmichael realized that the high school lacked a program that bridged the social gap between special education and general education students. Carmichael recruited Camozzi and Edwards, and the club has since gained dozens of volunteers—nearly 50 participants at its height in 2020.
Students from all grades are welcome to join their peers in room B127 to eat lunch, play games and engage in conversation with students in the special education program. Students can come and go as they please and are encouraged to bring friends to expand the group. Current 'lunch-bunchers' express gratitude for the club and the positive impacts it's made on their lives.
"I learned even more about how it's an amazing community of great people," senior lunch-buncher Hilla Almog said. "Some of these people I haven't talked to, but after having lunch with them, [I realized] they were all so nice, and I genuinely enjoyed being with them."
Senior Jason Haims, who began his involvement with the special needs community in elementary school, shares a similar sentiment. He notes that the time he dedicated to the Lunch Bunch is gratifying, especially the one-to-one connections he makes with each student.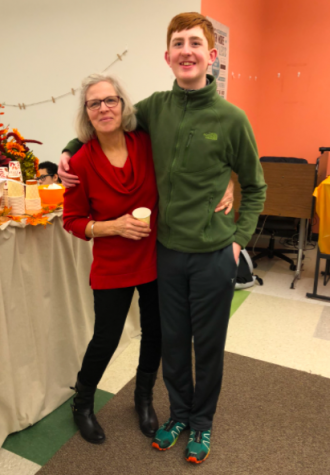 Students in the SpEd community are often isolated throughout the day, attending little to no classes with the rest of the high school's students. Remaining in a singular classroom all day is an experience most WHS students will never know, so making the effort to reach out and connect with those students is one of Lunch Bunch's main goals. In any case, Carmichael notes the minimal effort it takes to brighten up the day of a SpEd student.
"Kids are so happy to be included, and it's a 'nothing' for kids to do," Carmichael said. "You get so much out of it."
Although WHS offers a wide variety of courses covering an array of subjects, it doesn't require—or even offer—a course to educate students on the special needs community. Hence, many students are unaware or unsure of the special education students who comprise an important community of the student population.
"I think sometimes people don't want to ask questions [about the SpEd community] because they're worried about coming off as insensitive or ignorant," said Madeline Maurer, who has a younger brother with Autism. "For me, as long as people are respectful, I am completely open to answering any questions they might have."
Joining the Lunch Bunch club provides students a space to ask questions and immerse themselves in a new environment while still interacting with peers and enjoying lunch. Carmichael encourages students to give the club a try—even if it's just once—emphasizing that, "once your awareness is raised, there are so many things you can do."
Carmichael, Almog, Haims and junior lunch-buncher Jonny Goldin all appreciate the bonds they form with their peers in the SpEd program and note the importance of being inclusive as well as understanding and accepting others' differences.
"
There's something special about going from just seeing people in your classes to eating lunch with them and being able to actually interact with them as a friend"
— Jonny Goldin
"It's important for people to interact with people, no matter your differences," Goldin said. "In fact, it's arguably more important to interact with people who are different from you in some way because that's how we can expand our horizons and grow as people."
The Lunch Bunch is always looking for new members and can offer an extended list of positive experiences:
"It's a great way to build friendships with SpEd students who you might not see as often in the halls and classrooms," Almog said.
"If you've ever had a conversation with any of the students in the special education program, you'll know they're super nice, super sweet kids, and they'll always cheer you up," Haims said. " It's really a nice thing to do, and you'll never walk away from it feeling bad."
"I've met some really amazing people and made some pretty strong connections throughout my time as a Lunch-Buncher," Goldin said. "Nowhere else will you meet people that are as joyful and awesome as they are at Lunch Bunch."