College precalculus end-of-year exam sparks controversy among student body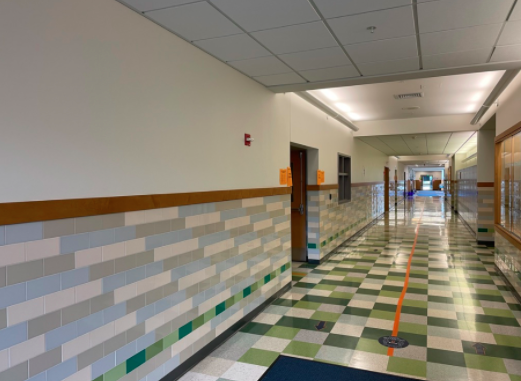 During a school year without COVID-19, students would be preparing restlessly in the waning weeks of school prior to their inevitable set of final exams for most classes. This year, however, Wayland High School decided to not have traditional finals. In college precalculus, the teachers decided on an alternative option: a shorter, cumulative exam.
While it's not a traditional final, the cumulative test will be closed-note and will take place during the last week of school. College precalculus students prepared for the exam for the past month.
"This one is going to differ because we have had so much more time to review it, which we put on to students," college precalculus teacher Eric Wolven said. "The test is also going to be a year-long thing, not just a second semester exam."
This year, Wolven, alongside fellow math teacher Jacy Anzalone, have assigned their college precalculus courses open note check-ins as means of assessment. The upcoming cumulative exam will be the first official test of the year.
"If there is a final in a class that has been testing regularly, it wouldn't be as surprising and rough," junior Eliya Howard-Delman said. "It's a horrible jump."
Looking towards the future, most juniors will need to take high stakes exams in the near future. Wolven believes that it is the teacher's responsibility to ensure that students are ready for those tests.
"[Anzalone and I] did not test throughout the year [which], for juniors, is a really big deal because so much of their next years are filled with SATs, ACTs and even more passed that in school," Wolven said. "We should teach to take a test, let alone prepare for it."
Outside of the practice of taking a test, students must review for it. This review will inevitably lead to a better grasp of material for those taking the test.
"We have to study for it, so that's going to help us next year as we are going to need to carry over some of those concepts," junior Marco Alvino said.
During the course, teachers gave all students a review assignment to guide them through what will be on the test. The project provides materials and problems to help students prepare.
"We have given students a full month, so if they have taken advantage of the review project that we are doing, they will be fine," Wolven said. "It's one of those things that you take out what you put in, and I believe that a lot of students have put forth a great effort, so they should feel confident, and I feel confident for them going into the test."
Alvino is convinced that his teacher, Anzalone, has done enough for him to succeed.
"I think my teacher has been doing what she can to prepare us,"Alvino said. "We are set up to do well, but we need to do the majority of the work ourselves."
For most students, an obvious challenge of the exam will be review. Usually, a traditional final covers a semester of material; however, this year, the cumulative exam is for the entire year.
"We are going to have to go back and relearn and remember everything which is going to be tough," Howard-Delman said.
Although the exam will be challenging for the majority of students, Alvino does not believe that it is unwarranted. Like Howard-Delman, the review will challenge Alvino; however, Alvino sympathizes with teachers who need to test.
"I don't think [the test] is unfair, maybe a little bit unreasonable," Alvino said. "It's going to be difficult to remember concepts, especially those that were taught when we were online. But it's understandable: it's not a long final, just another test, so it is not as bad as everyone is saying."