Devin Dicarlo and Thomas Balicki: Continuing Wayland's tradition of boys participating in a predominantly girl sport
At Wayland High School, the field hockey team has always been female-dominated. It wasn't until three years ago that boys started to play on the team. Being such a controversial topic among the surrounding towns, many of the boys who played have gotten criticized by opposing fans. Although the boys and the team receive some negative feedback, the team enjoys, and welcomes boys into their program.
Seniors Sofia Barris and Julia Wegerbauer, the 2021 field hockey captains, knew they wanted boys on the team again, as they have experienced the many positive aspects boys brought in the past.
"I was very excited about having boys on the team again," Barris said. "I actually encouraged them to play because I think having boys who have a high level of speed and intensity brings up the intensity of our own team and helps push us to our full potential."
Senior Thomas Balicki wasn't planning on playing a fall sport this season, so he never thought he would end up playing on the field hockey team.
"I'm really glad I decided to make the spontaneous decision to try it out and play," Balicki said. "It's been an absolute blast so far."
With no previous field hockey experience and a recent injury, senior Devin DiCarlo was looking to relax during the start of his senior year. It wasn't until a summer day when Barris texted him asking if he would be interested in playing.
"I had just been coming off an injury with my ACL, and I was only six months out of surgery, so I wasn't even planning on playing a fall sport," DiCarlo said. "After Sofia texted me, I asked my friend Thomas Balicki, and he said that he would like to play as well."
Barris never doubted her decision to ask DiCarlo and Balicki to play, knowing that they would be fully committed to making the team the best it could be. Being a member of the varsity team for the past three years, she always played with boys and didn't know anything different.
"I know that Thomas and Devin are really good guys and friends, so I was really excited that they were interested in playing because they're great athletes, and they would only bring a positive vibe to the team," Barris said.
Playing with all girls is something that Balicki and Dicarlo have never done before. However, the transition to the sport has gone better than the two boys expected and they have been bonding well with the team.
"There are some differences because we are used to being on all boys teams, but I am a very outgoing person, so it hasn't been hard for me to build relationships with my teammates," DiCarlo said. "I think we are going to be really strong."
In the past, having boys on the field hockey team has brought a different level of competitiveness and intensity to everything they do. Barris hasn't noticed any negative changes with the presence of boys. Instead, she has felt the benefits of having them.
"I think everyone is pretty used to having guys in the program," Barris said. "If anything, I've noticed people matching the higher intensity that they bring, and I've also noticed people teaching them the sport since they are relatively new. [My teammates and I] have been giving them tips along the way."
Although the start of the season has gone well for the boys, DiCarlo struggled with others not supporting his choice to play. His family isn't too supportive of his decision due to the fact that he's a boy playing on a girls team.
"My dad's reasoning is that he knows I am super competitive, and he doesn't really want that to affect the team negatively," DiCarlo said.
Male players in the past for Wayland have received backlash from others on the sidelines, and it has been a very controversial topic in years prior. DiCarlo and Balicki are expecting some negative comments, but the team is there to support them no matter what.
"My coach and my teammates are extremely supportive of us and they will always have my back if parents are screaming at us on the sidelines," Balicki said. "It's a really positive environment."
Leave a Comment
Donate to Wayland Student Press
Your donation will support the student journalists of Wayland High School. Your contribution will allow us to purchase equipment, cover our annual website hosting costs and sponsor admission and traveling costs for the annual JEA journalism convention.
About the Contributor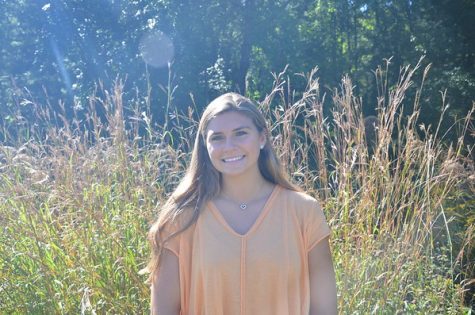 Sammy Johnson, Co-Sports Editor
Sammy Johnson, Class of 2022, is a 3rd year reporter and sports editor for WSPN. She plays soccer, basketball, and lacrosse for the high school. Outside...