Boston Marathon: A hallowed tradition makes a run in October
Every year, elite runners from all over the world come to compete in the Boston Marathon on Patriots Day, the third Monday in April. However, due to COVID-19, the Boston Marathon hasn't been the same since 2019, as the 2020 Boston Marathon was canceled altogether and last year's marathon was run virtually. Now, on Oct. 11, for the first time in the marathon's 125 year history, it will be run during the fall.
Different from years past, this year's Boston Marathon will include COVID-19 precautions like requiring all marathon runners to show proof of vaccination or a negative COVID-19 test and a smaller field size of 20,000 runners, 36% fewer than in previous years. Among other safety measures, race organizers are telling fans not to kiss runners at the halfway point of the marathon, the "Wellesley College scream tunnel," a long-time marathon tradition. Despite the COVID-19 safety precautions and the change of the marathon date, runners are awaiting the opportunity to complete the Boston Marathon again in person.
Being the oldest marathon in the United States, the Boston Marathon is rich in both history and tradition. For some runners like Jane Chitkara, who has run the Boston Marathon nine times, the experience of running Boston is unlike any other marathon.
"Everything about [the Boston Marathon] is just simply better than any other marathon I've run before," Chitkara said. "Best of all, Boston has the best spectators who will come out in all types of weather all the way from Hopkinton to Boston, cheering loudly for the elite runners to the back-of-the-pack charity runners."
Similarly, the Boston Marathon is known for having some of the best runners as it has difficult qualifying time standards, setting it aside from most other marathons.
"Boston is special because unlike other marathons when you have a bunch of average people who can join a lottery and get a number, runners who run the Boston Marathon earn the right to participate," former Boston Marathon runner Scott Brown said. "There are people who run for charities, but that's a small portion of the field of runners. [For the Boston Marathon] you have got very serious athletes who have trained very hard and who have qualified to participate in the event, and it really means a lot to them."
As this year's marathon is being held in the fall instead of the spring, athletes had to change how they trained. For someone like Brown, who ran the Boston Marathon in April of 2009 and who has also run the New York City Marathon, which always takes place on the first weekend of November, he understands how different seasons can change a runner's training.
"Training for Boston was cold, as I started training in December and trained straight through April," Brown said. "You start running in the ice, the snow, the sleet and everything else and have to motivate yourself to go and get out when it's cold."
However, with his experience in completing the New York City Marathon, he also knows what it takes to run a marathon during the fall.
"When training for a fall race, you are training over the summer," Brown said. "It's going to be hot and almost a totally different race. Particularly coming out of a pandemic, you have the distraction, so you really have to dial in your training and be focused on yourself and your training program to get yourself ready to run."
For some runners like Wayland Middle School eighth grade science teacher Richard Battaglia, who runs on the Boston Athletic Association's running team, their training will increase significantly. This is because Battaglia will compete in back-to-back Boston Marathons this year on both the October and the usual April date.
"Typically, after you run a marathon you take a couple of weeks off and rest, then I'll start running and training again in December and November," Battaglia said. "Usually, you train for 18 weeks leading up to a marathon, so it's a big build up, and I'll do some races in between just to test my legs. I'll then start training really hard in December, January, February [and] March."
This will be the first in-person Boston Marathon since October of 2019. During the pandemic, runners have largely participated in virtual races, which many believe are harder than in-person races.
"It's incredibly hard to get fired up for a virtual race," Chitkara said. "Without the pull and push of the fellow runners and the fans, it's just not the same. In fact, it's just another training run with your own stopwatch, but [with a] little extra motivation or inspiration."
Despite the unusual Boston Marathon date, runners are still excited for the opportunity to run the Boston Marathon in person again.
"It definitely feels weird to run the [Boston Marathon] in the fall, but I think a lot of us who are running are just so glad to have the opportunity to run, especially after last year," Battaglia said. "I think it's a big deal for the city too just because it's such an iconic part of Boston's tradition."
Leave a Comment
Donate to Wayland Student Press
Your donation will support the student journalists of Wayland High School. Your contribution will allow us to purchase equipment, cover our annual website hosting costs and sponsor admission and traveling costs for the annual JEA journalism convention.
About the Contributor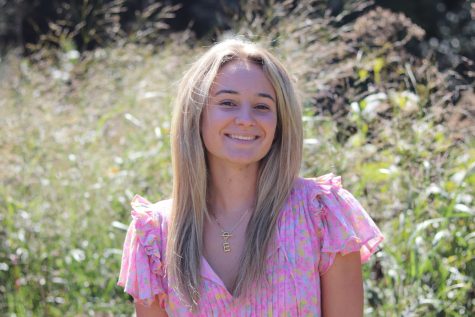 Emily Roberge, Co-Editor-in-Chief
Emily Roberge, Class of 2023, is a third year reporter and co-editor-in-chief of WSPN. She plays for the high school's field hockey team and is a co-captain...