Dante's Discography: Certified Lover Boy
Dante's Discography: Certified Lover Boy
After what has felt like a drought of newer music from our favorite artists, we finally got the music we've been waiting for. Tyler, the Creator, J.Cole and Kanye West all dropped their respective albums within the past six months. Now, Drake joined that growing list with potentially the most popular album of the bunch.
The album was announced during a concert back in April 2019, and he teased the album again in June of that same year. The official announcement scheduled the release for late 2020, but it was pushed back due to COVID-19 to Jan. 2021. It was then pushed back again after Drake suffered a knee injury.
The album is supposedly dedicated to two models, Nadia Ntuli and Miss Mercedes Morr, both of whom passed away in 2021. The timing of the release, coincidentally, also lines up with the release of Kanye West's "Donda," following the recent reemergence of their longstanding drama. With Drake having released weaker albums recently when compared to his earlier work, the Canadian rapper looked to get back on track with the release of "Certified Lover Boy."
Unfortunately for him, the album didn't meet the standards of what you would expect from a Drake album. Drake lacked energy at times, which might be thanks to a lack of inspiration. He's dealt with that issue for a while, but it's shown a bit more here than in his previous work. Songs were also similarly sounding at times, which was odd because the album also had production that varied wildly and unnaturally.
The biggest disappointment is that there aren't any impressive songs that will stick around. There's no "God's Plan," "One Dance" or "Passionfruit" in this album. Most of the songs will likely fade into your playlist over time. Drake was also outperformed on almost every track that had a feature on it, which isn't necessarily bad, but it isn't ideal when it's his album.
The worst songs on the album ironically happen to be the most popular in the mainstream currently. "Girls want Girls" is one of the worst songs Drake has made in a while. The production isn't terrible, nor is Lil Baby, but the topic, which you could probably infer from the title, is very hard to get past. With such a bizarre and weak theme, the lyrics, in turn, are poor as well, making it hard to listen to.
"Way 2 Sexy" is another song that feels like it follows the same shameful path. What on the surface appears to be a clever use of Right Said Fred's "I'm Too Sexy," is just a misused sample with repetitive and boring production. Future was featured on the song and did bring some great energy, but his verse lacked substance as a result of the lacking direction. The song was adjusted even after it was released, which made significant improvements but still comes up short.
Jay Z and Kid Cudi, two immensely popular artists, were featured on "Love All" and "IMY2" respectively. But neither of the songs reach the expectations that are set when two powerful artists collaborate. Jay Z had a strong verse, but the song itself wasn't anything special. Kid Cudi and Drake didn't mix very well, leading to a song that sounded very off.
Yet the most disappointing song in my eyes was "Yebba's Heartbreak." The vocals were perfect from Yebba, and the production was beautiful. But it could have been so much more if an emotional Drake verse was added. He doesn't even appear on the track, which I feel is a huge missed opportunity.
With there not being many significant songs on this album, some take a while to grow on you. "Champagne Poetry," however, was an instant hit. It features a very well-used sample of Masego's "Navajo," and the additional production surrounding it is well crafted as well. While Drake didn't showcase his best lyrics, his flow worked well with the vibe, even after the beat switch halfway through the song.
"In the Bible" isn't anything special, but has a great Lil Durk feature in a solid song. Sure, it's not the most groundbreaking, but it plays to the strengths of those on the track. The same goes with the song that succeeds it, "Fair Trade" with Travis Scott. There was a strong verse from Travis Scott, amplified by a great transition, that made the song significantly better. The song also delivers the best hook on the album from Drake as he candidly states "I've been losing friends and finding peace, but honestly that sounds like a fair trade to me." Although, like with "Love All," you would expect a bit more on a song with two groundbreaking artists on it.
"In 2 Deep" received a lot of hate from critics. The mix doesn't work with everyone, and the transition to Future's verse might seem out of place; however, the controlled power of the bass with the clever synth additions perfectly complement Drake in the first half, while more energetic production matches Future's energy in the second half.
If you're looking for a good song while you're just cruising around, "Pipe Down" is a great option. It emulates the earlier work of Drake's, which has both its positives and negatives. He adds some cleverness and persuasive lines such as "the world is yours, but the city's mine." "7am on a Bridle Path" has a similar vibe, though there are more lines directed towards Kanye than on other songs on the album.
"Knife talk" returns to some smart sampling, this time of Project Pat from "Feed The Streets." 21 Savage had a strong verse, but, once again, Drake's low energy and seemingly weak effort hurt the overall song. It's interesting to note that Drake opted to sample from more recent works on "CLB" as opposed to older projects like artists such as Kanye West do.
For an album that's been in the planning phases for so long, it was disappointing to see this as the finished product. It's not necessarily a bad album, and there are plenty of bright spots, but Drake has a high bar set for him with everything he releases. With that said, it still is one of the better rap albums this year but falls behind many of the others.
Leave a Comment
Donate to Wayland Student Press
Your donation will support the student journalists of Wayland High School. Your contribution will allow us to purchase equipment, cover our annual website hosting costs and sponsor admission and traveling costs for the annual JEA journalism convention.
About the Contributor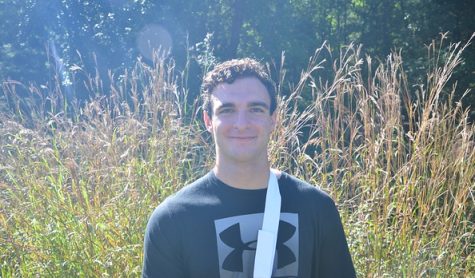 Dante Coppola, Co-Sports Editor
Dante Coppola, Class of 2022, is the head sports section editor for WSPN, and is in his second year with the publication. He plays lacrosse and football...