Warrior Weekly: top MLB free agents and potential landing spots
The MLB offseason has begun, following the Atlanta Braves winning their fourth World Series championship after six games against the Houston Astros. With the field of competitive teams being so large last year, many will be looking to spend big money on quality players to get them over the hump this offseason. Here are the top options available, and where they could possibly land.
5. Marcus Semien
Semien's career has been pretty quiet up to this point, likely due to his home being Oakland for the majority of his career. He's always been dependable but has finally started to wake up on offense over the past couple of seasons. After signing a one-year, $18 million contract with the Blue Jays and moving to second base, he was named a first-time all-star.
The fact that he can play either second or shortstop efficiently is a huge bonus, as are the 45 homers he hit last season. Teams probably won't pay him as much as our number one and two players on this list, so he could provide a more versatile, cheaper option. Either way, it is likely he is in for at least a five-year deal worth upwards of $130 million. It would be a surprise if he didn't re-sign with the Blue Jays, but if he chooses to move elsewhere, the Houston Astros or Seattle Mariners could be in play.
4. Kris Bryant
Bryant, like Semien, benefits from strong positional flexibility that can put him at either of the infield corners or even centerfield. That versatility could greatly help a team such as the Mariners, who once again, could be in play for a notable addition like Bryant. After a bad 2020 season, that saw him bat near 0.200 with only four home runs in 34 games, he stepped it up to 0.267 batting average with 25 home runs this past season.
Injuries will always be a concern with Bryant, and while it impacted his 2020 season, he was pretty clean in 2021. Those injuries should reduce the value of his contract, but with so many suitors he could still receive a six-year contract with a total value in the $140 million range. The Giants have stated that they wish to re-sign him, but their rotation will be their top priority. It is likely that they still get a deal done, but the Mariners should definitely be ones to watch as well.
3. Freddie Freeman
I'll start it off by saying that it is extremely unlikely that Atlanta lets Freeman leave. He was one of the most important players on the World Series squad, and he has been one of the most consistent players in baseball over the course of his career. Freeman is already one of the greatest Braves in the franchise's history, so the Braves letting him walk would be devastating.
In addition to having a 0.295 batting average in Freeman's career as a Brave, he also is a very strong defensive first baseman. His durability is extremely impressive as well, only missing six games over the past four years. This is a good sign that he will continue to age gracefully, lowering the potential risk to a long-term deal. A deal with the Braves is to be expected, even though it will leave the team with little financial flexibility for other adjustments. A six-year, $180 million deal seems to be the figure floating around, and it would be hard to imagine Freeman costing more than that.
2. Corey Seager
Seager is one of the best hitting shortstops, or even batters in general. His batting eye is very sharp, drawing a lot of walks while being very difficult to strikeout. He hasn't been typically a power hitter, as most hitters with a good eye aren't, but he's picked it up greatly over the past two seasons with 31 homers in 147 games. His defense isn't crazy good, and he has struggled with injuries, but teams will overlook those concerns this offseason.
Seager will cost something in the realm of $30 million per year, with the question really coming with the length. It wouldn't be crazy to see it go for 10 years, but the injury problems could see that number potentially come down. Despite already having an extremely high payroll of over $200 million, the Yankees will definitely be gunning for Seager's signature. The Dodgers are looking to try to maintain as much of their core as possible, so letting Seager slip to the Yankees could be very likely.
1. Carlos Correa
At this point in time, it looks like the top two free agents are likely on the move. Correa, like Seager, has been in deep injury troubles recently. However, last year he was pretty healthy, and he showcased his flashiness on both sides of the ball. His defense is his most appealing feature to many, with the third most outs above average for shortstops in the league. Even with the injury woes, he's only 27 and should have plenty more seasons to go.
The sign-stealing scandal could potentially impact a contract. However, that wasn't the case with former teammate George Springer last offseason. The Astros could potentially re-sign him, but they didn't get very close at all in negotiations during Spring Training. The Dodgers and Yankees could both pursue Correa as well, although there is a very good possibility that Correa might opt for the Detroit Tigers and his former manager, instead. Experts are placing the deal at around 10 years, $320 million, which would not be surprising, even though it would be one of the most expensive deals ever.
Leave a Comment
Donate to Wayland Student Press
Your donation will support the student journalists of Wayland High School. Your contribution will allow us to purchase equipment, cover our annual website hosting costs and sponsor admission and traveling costs for the annual JEA journalism convention.
About the Contributor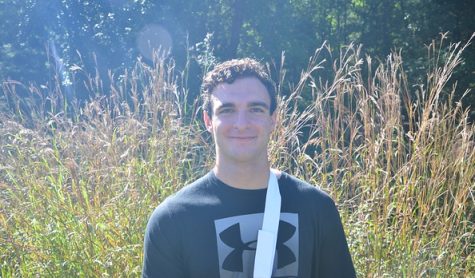 Dante Coppola, Co-Sports Editor
Dante Coppola, Class of 2022, is the head sports section editor for WSPN, and is in his second year with the publication. He plays lacrosse and football...