WHSTE's 'Legally Blonde': Casting Canines
As the cast of 'Legally Blonde' rehearses their bows, the faint taps of bulldog Mo Martins' paws synchronize with senior Finn Morneweck's musical cue to lead her on stage. Morneweck and Mo briskly exit the stage following a smattering of applause, allowing others to take their final bows.
Finally, senior Sammy Janoff takes the stage to bow for her leading role as Elle Woods. Then, Penny Panzano—Brussels Griffon, struts out—led by junior Rachel Synder. Penny steals the spotlight by sitting and outstretching her paw to high-five Janoff. After Penny scampers off with Snyder in tow, the rest of the human cast concludes their bows with a final dance.
For the first time, Wayland High School Theatre Ensemble (WHSTE) welcomed animal actors into the cast of one of its productions. Of the two animals roles, the part with more stage time went to Penny, a "petfluencer" with over 39,200 followers on Instagram (@petitpennybg). Penny plays Bruiser, Elle's beloved chihuahua who accompanies her throughout the play, from her Delta Nu sorority in Los Angeles to her dorm in Cambridge.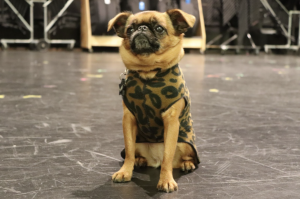 The smaller role, consisting of only four scenes, goes to Mo who plays the role of Rufus, the dog who belongs to the character of Paulette Bonafonté. In the play, Bonafonté rescues Rufus from her ex-husband Emmett with the help of Elle in act one.
Not only is the experience new for the young actors, it is also new for WHSTE's Director, Aidan O'Hara.
"Even though it's a little scary or unknown, my mindset was just like 'you know, why not?'" O'Hara said. "Until the world tells me that it's a bad idea or that we're getting in over our head, I was like, 'let's see what happens.'"
Penny's owner, Laurin Panzano, shared O'Hara's spontaneous attitude when agreeing to cast Penny as Bruiser. After her friend suggested the opportunity, Panzano believed that it would be a great experience for Penny.
"I didn't really know what it involved, but I thought it would be fun because she makes people happy," Panzano said. "I thought it would just be fun for her, since she has a good following, and people like to see her."
Mo's owner, Laura Martins, also thought it would be a unique opportunity for Mo, so she jumped at the opportunity to volunteer her and Mo's time to the production.
"I just feel like it's a nice thing to do when somebody needs something in town, you try to help out as best you can and this was a great way," Martins said.
While both owners are excited to have their dogs act, they also want to make sure their dogs are comfortable. Being able to read the dog's emotions is a key part of making sure their behavior creates problem-free performances.
"[Mo is] panting a little bit and I can tell it makes her a little nervous," Martins said. "She loves people, so I think once she gets used to the crowd she'll do fine."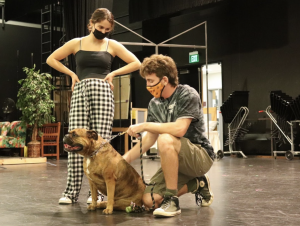 Just like Mo and Penny are excited to work with the cast, the cast members are thrilled to rehearse with the dogs. However, working alongside the dogs presents new challenges for the actors. Junior Jane Gargano, who's handling Mo during the production, will be front and center if Mo does anything out-of-the-blue.
"One of my main concerns would be if the dog does something unexpected or something I didn't know would happen, and then that messes up the scene and I have to improvise around it," Gargano said.
O'Hara hopes to eliminate these concerns before the performance by keeping an open mind and adjusting Penny and Mo to show-dog life.
"We're going to try to simulate the noises that you might hear from an audience, like clapping, because we're anticipating that would normally be when the dog would be spooked," O'Hara said. "So we're sort of laying in and scaffolding moment-by-moment, so by the time we get to the first dress rehearsal, we're not asking the dog to do something or to experience something for the first time."
When it comes to live animals, O'Hara knows it will be impossible to predict everything the dogs will do. He hopes that using treats and leashes will limit slip-ups and that the remaining organic interactions with the cast will create a memorable show for the audience.
"If the dog does something unexpected, I'm very into that," O'Hara said. "As long as the humans don't break character, I think it's all in fun, and I think that's what makes live theater really interesting."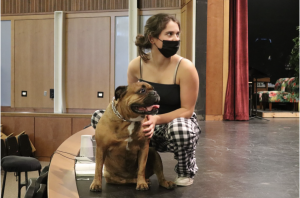 Accounting for the unpredictability of live theater, the cast has been preparing by embracing those unexpected moments and running with them, like they would during the actual production.
"Whenever something goes wrong we try to play out the scene instead of stopping and fixing it in case it happens during the show," Gargano said.
Thanks to the successful introductions and rehearsals, O'Hara has been pleased with how well the dogs have been interacting with the cast and acting during scenes.
"Both relationships with the owners and the dogs seemed really good, and they're both into the commitment and willing to make it work," O'Hara said.
So far, Panzano believes rehearsals with Penny have gone well. However, a concern she has is Penny's tendency to keep her eyes only on her owner, but she has already noticed an improvement in Penny's temperament during rehearsals.
"I could see a difference from last week to this week when she came in and she saw Rachel, and she started wagging her tail and getting excited," Panzano said. "I think she recognizes people, and I'm hoping it will get easier and easier for her to get comfortable and not rely on me."
Although the animals make the performance unpredictable, everyone involved has worked to ensure that any unexpected events are kept to a minimum. While unplanned, O'Hara believes that these moments are what will make the musical stand out to the audience and cast.
"I'm very comfortable with live theater being a moment in time," O'Hara said. "I've had a lot of shows over the years where a cast member forgets to come on stage and the other the cast member has to improvise on stage, and those moments can be really unique, memorable and positive for those people that were resilient and made it work."
Leave a Comment
Donate to Wayland Student Press
Your donation will support the student journalists of Wayland High School. Your contribution will allow us to purchase equipment, cover our annual website hosting costs and sponsor admission and traveling costs for the annual JEA journalism convention.