WPSF hosts second annual turkey trot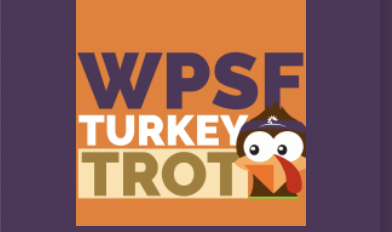 The second annual Wayland Public Schools Foundation (WPSF) Turkey Trot returns starting Saturday, Nov. 20, 2021. The event is virtual, and runners may submit their run times through the WPSF Turkey Trot website. Every participant is automatically entered into a raffle for prizes, whether or not they enter their run times.
Although most participants plan to run on Thanksgiving Day, they have the option to run anytime from Saturday, Nov. 20, to Tuesday, Nov. 30.
"Participants will have 10 days to run or trot the race of their choosing," WPSF President Marcia Irwin said. "The right time of day is the time that is most convenient for you, your family and friends."
Along with the liberty to choose when to run, runners can also select where and how much they'd like to run. There are both 5k and 10k course options mapped out with starting points at Happy Hollow School and Claypit Hill School, but runners may create their own paths. Registration fees are $35 per person or $50 per family of up to six people, regardless of course length. There's also the option to donate money through the WPSF website.
"Donations from the community bring excellence to our classrooms and help keep Wayland among the top-ranking school districts in the Boston area," Irwin said. "The Turkey Trot was created last year out of a need to sponsor fundraising events that would be COVID-19 friendly. 2020 was a tough year, not only for our fundraising efforts, but for all businesses and charitable organizations alike."
All profits made through the Turkey Trot will be used to fund academic and art-based programs that emphasize student creativity as well as improve the overall classroom experience within the five Wayland Public Schools.
"Since our inception, the foundation has awarded almost $4 million for a wide variety of new programs, ranging from innovative classroom technologies and curriculum enhancements to thought-provoking speakers and inspiring performances," Irwin said.
Despite the in-class benefits, most students are running for different reasons. Students who participate in school sports find additional value in the opportunity to exercise.
"I play lacrosse, so I am a runner," sophomore Amelia Furlong said. "I hate running by myself, so I figured if I did [the Turkey Trot], I would have people to run with."
The chance to run with others is appealing to those who practice team sports, families looking for a fun experience and even people who do relatively individual sports.
"I do cross country, and I like to run, and I know some other people who are doing it," sophomore Michael Wightman said. "It's a nice tradition to do on Thanksgiving day because it's nice to exercise before you eat."
In addition, the race is not competitive. Participants can run, walk or trot if they choose to. Although there are additional prizes for participants who share their times, the raffle provides all participants with the chance to win a prize.
"My favorite part is that it's not a high stake race," said Wightman. "A lot of the time races can be high stakes, but the Turkey Trot is just for exercise and to get outside."
Despite the event's intrigue and the efforts of the WPSF, it has not gained much publicity. To support the Wayland Public Schools, WPSF leaders recommend families and students join the family-friendly event.
"The challenging part is to ensure that the word gets out, and that people are given the opportunity to participate," Irwin said. "We really encourage students to get their running shoes on and sign up."
For more information visit: WPSF Turkey Trot website.