Dante's Discography: Faces
Dante's Discography: Faces
Mac Miller has released another posthumous album titled "Faces." An apt name, considering how Miller sheds light on all phases of his seemingly twisted mind. Without trying to dive too deeply into Miller's tragic background, it is known that he had dealt with problems regarding substance abuse and depression. His music, as with many artists, trends similarly to how his mind operated and went more and more down that dark path as a result.
Miller's music on "Faces" showed a lot of this dark and twisted side of him, while also incorporating aspects from his other projects as well. He produced over half of the songs on the track list, interestingly enough incorporating lots of samples from other songs. Miller had to take off many of those samples due to legal reasons, ending up as one of the reasons why the album was initially delayed.
Critics highly rated the album, such as with Pitchfork, who rated it a 7.3 – a higher ranking than "Donda" or "Certified Lover Boy," two albums that will likely be in the running for album of the year. That, of course, is the opinion of one source, but it is still interesting to see. And it makes sense at some levels, with a sense of consistency in quality not usually seen in albums this long, with "Faces" being 25 tracks in length.
Similar to an album like "Donda," it almost felt like a collection of the artist's styles. At points, he teases a vibe almost off of one of his older albums, "Divine Feminine." The difference here is that "Faces" is a more unfiltered, raw version of himself. Most of the songs aren't anything mind shattering, at least not after the first listen, but there are also arguably no bad songs, uncommon for most popular albums.
The psychedelic, jazz influences and Miller's seemingly dirty lyrics perfectly fit the deranged atmosphere. "Inside out" sets the mood right away. The aforementioned jazz beats chill when paired with the grotesque lyrics. He even starts the song repeatedly singing a blunt "[I] shoulda died already."
The second track, "Here We Go," features a similar vibe, commenting on success in the music industry in this day and age. The brass in the production adds a classy feel to the song, even when he hints at how he is (or was) working himself to death. "Friends" and "Angel Dust" tone down the jazz and the apparent morbidity a bit, replacing it with what sounds like a lighter song. But despite the seemingly happier tone, the songs have more hidden darkness. "Angel Dust" specifically, which even its name references PCP, a dissociative hallucinogenic drug,
It is also worth mentioning Earl Sweatshirt's inclusions on the album, which included a pair of features and production credits. "Happy Birthday" critiques the rapper lifestyle, and Miller dives into the loneliness he's had to deal with. He comments on how despite there being a lot of people in his life, he feels that most don't actually care about his well being. Miller believed most wanted to use him for fame and to continue his drug habits.
"Diablo" is one of the best songs on the project, showcasing amazing wordplay and a slow, melodic Miller beat. The dark thoughts are ever present, best seen through lyrics like "this a marathon gentlemen, go 'head and start the races/save the coffin spaces." "Colors and Shapes" is another fan favorite, with soothing production and gentle singing from Miller. The vibe is very drugged out, and the chorus repeating "fall" adds to it perfectly.
A more enraged Miller emerges in the following track, "Insomniak," which is the 18th on the album. Despite appearing so late in the lineup, it showcases a great Rick Ross feature. The song is very upbeat, and the bass sounds very powerful through strong speakers. Directly after that is "Uber," with another very creative and impressive beat. Distortion of vocals that peppered the track only adds to the drugged out "I don't care" attitude.
But the best for me arguably came in the final two tracks. Aptly named "Grand Finale," with it originally being the final track, the song takes advantage of great guitar riffs, more vocal distortion and more dark, clever lyrics. But the best song in my opinion comes with "Yeah," the bonus track. The lyrics are as dark as ever, such as "[w]hen will we die[,] [t]his life isn't fair" and "one day we'll die, no one will care." The way the production crescendos as he gets to his most emotional singing really hits you hard. Then, there's added guitar in the back end of the song, which you can never go wrong with. It has to be in the running for Song of The Year, and it is a great way to end such a roller coaster of an album.
Miller was really crafting a special sound in the hip-hop genre, and it's crazy to consider what could've been. There is the question around how much more of his music they'll release, and there is a lot still left in the vaults. Juice WRLD's new posthumous album "Fighting Demons" is also on the way, hopefully adding to the growing list of great additions from our favorite artists that were gone too soon.
Leave a Comment
Donate to Wayland Student Press
Your donation will support the student journalists of Wayland High School. Your contribution will allow us to purchase equipment, cover our annual website hosting costs and sponsor admission and traveling costs for the annual JEA journalism convention.
About the Contributor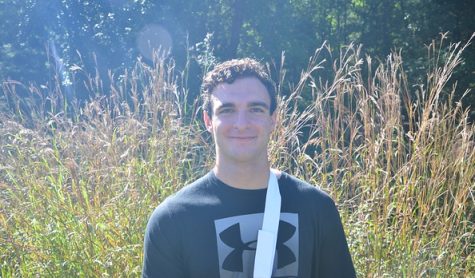 Dante Coppola, Co-Sports Editor
Dante Coppola, Class of 2022, is the head sports section editor for WSPN, and is in his second year with the publication. He plays lacrosse and football...