Opinion: "Crafting Day," and the power of made-up holidays
Every Black Friday, socked feet step over extension cords and take their seats at folding chairs and folding tables. The familiar scent of a leftover Thanksgiving feast whirls from the kitchen. The warm buzz of gossip, Christmas shopping and half-eaten apple pie hangs over the folding table, crowded with scraps of fabric and laughter.
A tradition born out of a small apartment in Brighton, the 27 year long custom beckons the entire Carney-Conaway-Morrison-Jolley-Marden extended family into one cramped house, tasked with making Christmas crafts for the family. They are laboriously created, wrapped up and mailed off to family in California, Vermont, England and Germany. It's an event of high esteem, right up there with Christmas and Easter. It's bigger than Thanksgiving itself, more anticipated and more enjoyable.
The founding members of this creative family are the Carney siblings. The six of them grew up in Roslindale, Massachusetts, in a narrow two-story house with a piano at the bottom of the stairs. My grandmother, Jane, and her sister, Ursula, are proud members of this tight-knit Irish Catholic ménage. As girls, they shared the room at the top of the stairs, a dividing line drawn down the middle of the floor. They dispersed across the country but maintained the Carney trademark: tall height, a thick Boston accent and a begrudging but unrelenting love for each other that only sisterly roommates could have.
Just a week before Thanksgiving, my great aunt Ursula Carney Langfeldt passed away. A funny, loving, kind and beautiful woman, the news of her loss was a punch to the gut to anyone who had the pleasure of knowing her. And I did.
She lived in a big house in Middlebury, Vt. with a view of the Green Mountains and a hot, inviting fireplace. My family went to visit her every February vacation and I looked forward to it all year. She always greeted us with a wide smile and "céad míle fáilte," a hundred thousand welcomes. Those days hold a special place in my heart, a time of youth, fun, red noses and hot chocolate.
This Crafting Day, we departed from the usual Pinterest-inspired creations. The "crafting cousins," as they are affectionately referred to, made magnets, out of a recipe written in her handwriting, and stuffed gingerbread men ornaments. The swirling cursive print scrawls out a recipe for her gingerbread, a treat she mailed to her relatives in Massachusetts every holiday season. At the bottom of the page, a loving note: "A Christmas tradition for the Middlebury Langfeldt family!" We had fun because we were together, but I would be lying if I said there wasn't a lingering bite to the air, a frigidity that didn't go away even after I turned up the heat.
The loss of a matriarch is never easy, but it was especially difficult at this autumnal season of change. Leaves fall, the air chills and the sky darkens with a mournful haze. All I could think about this Thanksgiving was the long days spent at her home with the huge windows that gazed out upon the never-ending Vermont mountains. The Saturday morning donuts from the store only she knew. The hours-long games of Scrabble, played sprawled out on her heated carpet. Conversations of rose colored memories dotted with uproarious laughter. Seeing her walking down the street, arms linked with her sister. The best friends I had ever seen.
A homemade Christmas ornament can't heal the infinite, begging wound of loss. In that room, though, overhearing recounted stories of her life mixed in with craft-related bickering, I knew that our family would stand it. And that Ursula was there, somehow. Smiling.
View Comments (1)
Donate to Wayland Student Press
Your donation will support the student journalists of Wayland High School. Your contribution will allow us to purchase equipment, cover our annual website hosting costs and sponsor admission and traveling costs for the annual JEA journalism convention.
About the Contributor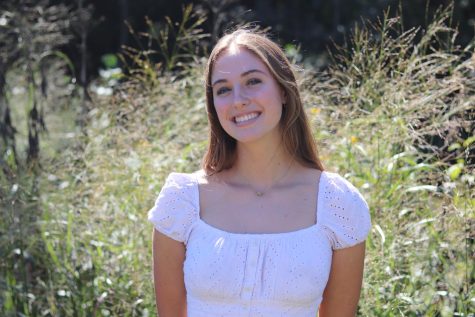 Genevieve Morrison, Co-Editor-in-Chief
Genevieve Morrison, Class of 2023, is a third year reporter and co-editor-in-chief for WSPN. She plays field hockey and is a co-captain of the softball...