Opinion: Who is going to serve Peng Shuai justice?
In this day and age, athletes have tremendous influence over society. Fans scream their names at their sporting events, young, aspiring athletes idolize these figures and the spotlight always seems to be flashing down on them, eyeing their every move. This is exciting, yet terrifying.
Why you may ask? Look at the elite Chinese female tennis player, Peng Shuai, who disappeared after accusing the former vice premier of China, Zhang Gaoli, of sexual assault. Being the first Chinese tennis player to ever rank as a No. 1 doubles player by the WTA in 2014, Shuai has her fair share of grand slams and achievements. Although all the trophies and the glory are great, Shuai's brave attempt at speaking out against sexual assault is where her real victory lies.
Having the courage to speak up after being sexually assaulted is hard enough. This only becomes more frightening as a survivor when sharing your story against a powerful politician, especially in a place where free speech is not always tolerated. Consequences can come from telling the truth. For Shuai's case, these consequences came as a safety threat: her life.
China has shut down all attempts at a #MeToo movement, which has aimed to take down famous predators. Shuai is not the only one speaking out about sexual assault. In previous months, Sophia Huang Xequin, a #MeToo activist in China and an independent journalist, helped a woman who accused her professor of sexual assault, only for her to be arrested in September. Wang Jianbing, a labor activist, aided women in reporting sexual harassment, was also detained. No one has seen either since.
Following her accusations against Gaoli, Shuai vanished from the public eye. No one really knows where she went, that was, until recent public appearances. Recent videos that have been posted on Twitter show Shuai smiling at a youth tennis tournament, "happily" dining at a famous restaurant in Beijing and signing autographs. The catch is that all these videos have been uploaded by Chinese government officials, on Twitter, an app that is banned in China. The same government officials who have yet to release #MeToo activists from jail and have yet to address the situation. I'm not convinced that Shuai is safe.
Even though someone is smiling in their photos, this doesn't mean that they aren't suffering behind the scene. Social media is a façade. Someone's life may appear perfect on the screen, but it could be completely different in reality. I, too, am guilty of falling into these traps of social media's false realities and unrealistic standards. These platforms are deceiving. The photos of Shuai "safe and sound" seem rather staged to me and beg the question: is Peng Shuai really safe?
As for what comes next, I don't know what to say. China should not be able to gain media attention from or profit off of sporting events if human rights and sexual assault are not taken seriously. It's all coming to a head, as the upcoming 2022 Winter Olympic Games are set to take place in Beijing. Although having the Olympics in such a location is problematic, with such a short turnaround, it's nearly impossible for the International Olympic Committee to change the location. Beijing 2022 is set in stone. However, that doesn't mean the international community can't hold China accountable.
During the winter Olympics, athletes can protest for what really needs change: the fine print. There needs to be greater sexual assault protections in China for those who accuse. Survivors need to be heard. The Olympic Games are a world stage, which gives an opportunity for media attention. Colin Kaepernick once brought the issues of racial injustice to the field, forever changing the NFL, what's to say this same tactic cannot be used at the Olympics?
Simply put, the international community should rethink sporting events in China and any country that cannot take human rights and sexual assault seriously. No country should be able to profit off sporting events if they cannot protect survivors of sexual assault. Sports are just a game.
If Shuai's disappearance opened my eyes to one thing, it was the hypocrisy of the sports world. It can't allow counties to host worldwide sporting events while their hands are dirty with human rights violations.
Leave a Comment
Donate to Wayland Student Press
Your donation will support the student journalists of Wayland High School. Your contribution will allow us to purchase equipment, cover our annual website hosting costs and sponsor admission and traveling costs for the annual JEA journalism convention.
About the Contributor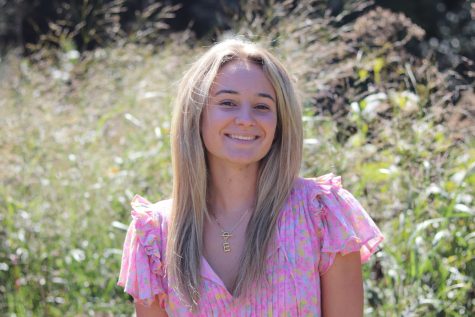 Emily Roberge, Co-Editor-in-Chief
Emily Roberge, Class of 2023, is a third year reporter and co-editor-in-chief of WSPN. She plays for the high school's field hockey team and is a co-captain...