Athlete of the Month: Jun Waye
For junior Jun Waye, the field hockey field is her happy place. While originally beginning the sport with low expectations, she has found countless unexpected rewards that support her in more ways than one while playing.
Most of these joys stem from the community Waye found on the varsity team at Wayland High School. After being on this team her sophomore year, she thought she knew what to expect entering this season. But with almost a completely different set of people, the team did not start with a strong opening.
"To be honest, we started in a bit of a rut at the beginning of the season," Waye said. "We were playing Division I teams when we didn't even have a connection yet."
With her team starting the season off with consecutive losses, Waye was unsure whether her favorite sport would pan out to her high expectations. With bonding expeditions, the team's outcome started looking up.
"As our team became much more connected, we started performing much better too," Waye said. "It was great to see us come from a losing streak in a losing season to tie it up in the end with a bunch of wins when we really became one unit."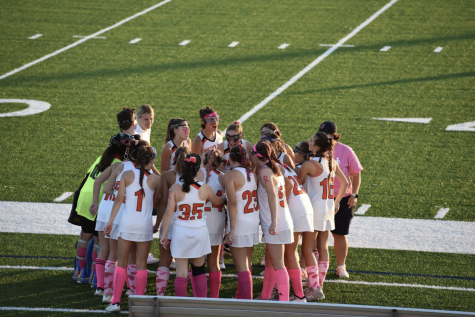 With this connected team, came an emerging sense of encouragement that empowered Waye towards her best playing as well as bringing the team to the Massachusetts Interscholastic Athletic Association (MIAA) quarterfinals. Her teammates' support was underlined by the immense care that varsity coach Shelly Fraser showed the team. Despite the rigorous nature of the practices, Fraser always listened to her players and showed a belief that taking days off to recover when necessary would pay off in performance at games.
"[Fraser] is just so supportive," Waye said. "Of course, it's a commitment, but if someone was really feeling like they couldn't be here, she recognized that and understood that some people needed to take a break. [If I had a problem], I always knew that she would be really understanding."
For her junior season, Waye knew she wanted to get more serious about field hockey. For her, this meant involving herself wherever she could. Whether it was practicing with the team at captain's practices, meeting up separately with teammates or doing drills alone, she was constantly working to improve. Throughout all of the summer and days off of practice, she kept her playing sharp. Waye also went to the Patriot Club Field Hockey Team to hone her skills. When the team tied for first at the end of the Dual County League Tournament and would be heading towards the MIAA, she took to a new strategy to prepare herself and the team for new challenges.
"I watched a ton of film," Waye said. "I watched all of our games, and for every game, I wrote down pointers on what we could have improved upon and should practice more on, and what we did well too. For our playoff games, I watched the other teams' games, and I took notes on their strengths and weaknesses as a team that we could notice when we played them."
As a center midfielder, Waye has to know what is happening in every play on the field, both offensive and defensive. Being involved all around the field can get stressful, but for Waye, this is good pressure on her shoulders.
"I personally like all of the baggage and responsibility that comes with being center-mid," Waye said. "Maybe this sounds selfish, but I just like being part of every play and making sure that I'm doing whatever I can to help the team."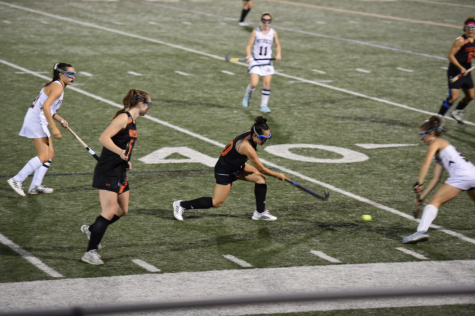 Through this position and this sport, Waye has taken its lessons about patience and mental toughness further than just her playing. In her sophomore season, with a seven versus seven game and primarily seniors on the team, she found herself playing very little. Even while doing everything she could both in practices and behind the scenes, she was hardly seeing the field. But she couldn't be stopped by this and worked further. Her dedication has switched everything around, and with this current season, she played more time in one game than her entire last season.
"I learned to be patient with myself," Waye said. "In order to be my best, I need to put in the work."
Waye has not decided how she wants to use field hockey in her future. At this point, she is planning on playing on a club team at whichever college she chooses to attend, but she has not fully committed to this idea. For now, after being selected as a captain for the 2022 season, she is excited to see what her senior season will bring.
"I don't think I ever showed up to practice angry," Waye said. "If I had a hard day, I just knew that field hockey was always my safe place."
Leave a Comment
Donate to Wayland Student Press
Your donation will support the student journalists of Wayland High School. Your contribution will allow us to purchase equipment, cover our annual website hosting costs and sponsor admission and traveling costs for the annual JEA journalism convention.
About the Contributor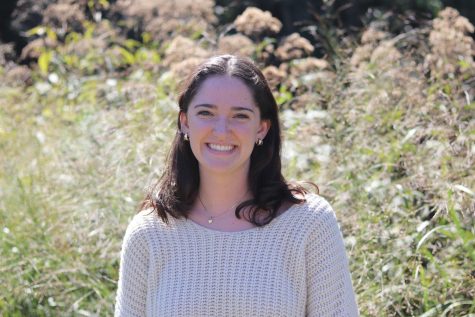 Nina Wilson, Copy Editor
Nina Wilson, Class of 2023, is a second year reporter for WSPN. She is director of Window Dance Ensemble at Wayland High School. While not at the high...