Rowing for Gold: The girls crew team looks to build on recent success
Yet again, the Wayland-Weston girls crew team had a season full of success. From winning states, to placing at every meet and re-qualifying for the Head Of The Charles, the team's next goal is winning nationals during its upcoming spring season.
Crew takes place all year, with fall and spring being competitive and winter being for conditioning. During the regular fall and spring seasons, practices are at the Wayland Town Beach. However, in the winter, practices are indoors for strength training and conditioning at the Longfellow Gym in Natick.
"[At fall and spring practices] we usually do a warm up run and then stretch," senior captain Skylar Gould said. "After that, if the weather is good, we usually will go out on the water and row for the whole practice. But if it's windy, we have rowing machines, ergs is what they're called, and we can use those instead. The girls team lifts twice a week, so we also have weightlifting equipment."
Due to the cold weather, winter practices are spent on ergs, unlike the fall and spring outdoor practices which take place on the water.
"I think it's the best thing ever, we are in Longfellow gym, we do cycling, erging, all that kind of stuff, it's so fun, but it doesn't count as a varsity season," Gould said. "On Fridays we do yoga for the second half of practice, which is really nice."
A lot of rowers only participate in two seasons and compete on the WHS Nordic ski team or swim team in the winter.
"I chose to do Nordic skiing originally because winter training last year was canceled," junior Sophia Xie said. "I just really liked Nordic skiing after I did it for a season, so I decided to go back. I think that cross-training is good because it prevents you from getting injuries, but it also keeps you in shape."
The girls crew team is divided into two team levels, novice and varsity. All first year rowers must complete a year as a novice in order to move up to the varsity level.
"You start out as a novice for a year," senior Quinn Gleason said. "This is a really great way to ease into the sport because it's the same community and atmosphere as being on the varsity team, but it's almost a little less intense, and you have a smaller group of girls that you get to know and become friends with before you move up."
Although practices in the fall and spring are the same, the races are different. In the Fall, regattas are long distance and are usually around five or six kilometers. Most regattas are known as Head, for example Head Of The Charles. While for spring races, the distances are much shorter and are called sprints, only being about two kilometers.
"I prefer 2Ks by a lot," Gould said. "I think it's a lot more fun because you are lined up with everybody else, and you can actually see where you are in the race, whereas in fall races, they set you off 15 seconds apart from each other. I also like that you're sprinting and it's a shorter distance."
The number of people per boat ranges from one, two, four and eight. Each race, boat groups are divided by skill, so the first varsity boat will compete separately from the second varsity boat.
"The best boat is the first varsity eight, and if you don't make that boat, you're in the second and then the third," Gould said. "They all race in different events, so the first varsity eight got first at states, but the second also got first at states."
Many sophomores have proved their strength and skill, as there are four sophomores on the first varsity eight boat.
"This year we had a ton of amazing, strong sophomores," Gleason said. "Our first varsity eight actually had four sophomores, which is pretty incredible. I think as the seasons go on we are going to have a really strong team."
Due to the past COVID-19 restrictions on practices and regattas, the team had to adjust back into the competitive pace that a normal season brings. During the spring of 2020, the entire season was canceled, and for the fall of 2020 and spring of 2021, there was no racing.
"Transitioning back after [coronavirus] has been tough," Gould said. "Last season we only had practices a few days a week and [COVID-19] restrictions made everything weird, so we kind of went from being a team that was not being very competitive to 'oh we have regattas coming up, we have to transition back into being a competitive team.'"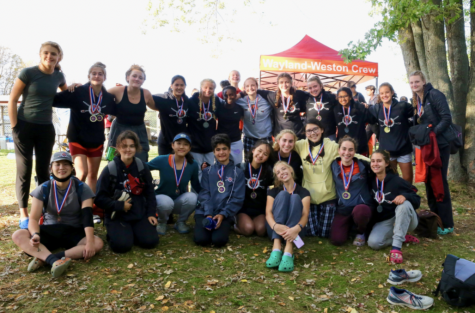 The team has also lost many seniors from the class of 2021. In fact, two crew '21 alumni have moved on to the NCAA division 1 level, Wayland's Darcy Foreman rows for the University of Massachusetts-Amherst and Weston's Caroline Schuckel rows for Princeton University.
"It's definitely difficult when you lose people every season because some of our best rowers and strongest people are seniors," Gleason said.
Though the team faced some challenges during the fall season, it didn't stop them from winning states, as both varsity eight boats finished in first place.
"It's always amazing to win a race because it's such a great feeling when you get off the water, and your coach comes up to you and tells you that you came in first place," Gleason said. "It's like a rush of excitement, and you can't really believe it."
Along with winning states, the team was able to qualify for the biggest regatta of the fall season, the Head Of The Charles, which takes place at the Charles River in Massachusetts. The first varsity eight boat came in 26 out of 76 high school teams competing, so they will be able to row in the event next year as well.
"Everybody knows about [Head Of The Charles], everyone wants to go and it's just a really big deal," Gleason said. "[When we] found out we came in the top half and were able to go back next year, I was really excited and proud of our team."
People from all over the world come to row at the Head Of The Charles, including high schoolers, college students, clubs and more.
"You get to see high schoolers rowing, and the next race could be elite, collegiate rowers who are trying to qualify for the Olympics," Gould said. "It's kind of amazing."
In the spring, the team is looking forward to potentially qualifying for the high school rowing finals. Due to COVID-19, the team was unable to go during its last spring season.
"I am hoping that we send some boats [to nationals] this year," Gleason said. "Sometimes it can be in fun places like Florida or California, so it's really exciting to get to go there as a team."
During the fall season, the team built a strong community of rowers, and they are going into the spring season with high hopes for success.
"I'm really impressed with how we did this season," Gleason said. "I can definitely see a lot of growth in our performance, and I'm really excited to see where we go in the future."
The Wayland-Weston crew teams are always looking for more people to join, even if you do not have experience.
"If you're looking for a sport, join the crew team in the spring," Gould said. "You don't need any experience, most of our novices have pretty much never rowed before, so don't be worried about being inexperienced. It's a really fun sport."
View Comments (2)
Donate to Wayland Student Press
Your donation will support the student journalists of Wayland High School. Your contribution will allow us to purchase equipment, cover our annual website hosting costs and sponsor admission and traveling costs for the annual JEA journalism convention.
About the Contributor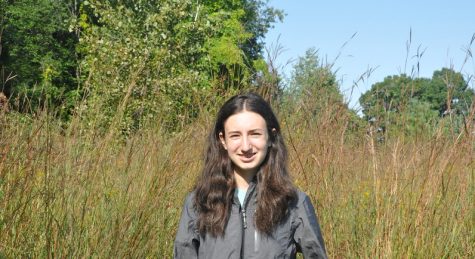 Sasha Libenzon, Staff Reporter
Sasha Libenzon, Class of 2025, is a first year reporter for WSPN. She Nordic skis and runs track for Wayland High School and plans on joining multiple...