Opinion: Must activists multitask?
We throw around the word "activist" all the time. By its very definition, activism is bringing radical change to a social or political issue and asking: "What can I do to help others?" From you and me to athletes like Colin Kaepernick and Billie Jean King, anyone passionate about a cause can be an "activist." But, can we classify ourselves as change-makers if we only focus our work on certain populations, ignoring the injustices elsewhere? That's where LeBron James comes into play.
James is arguably one of the greatest basketball players of all time. On the court, James, a 4x NBA championship winner, averages roughly 27.2 points per game in his 16 seasons in the league. He's become one of the biggest success stories in the game, establishing a yellow and purple throne for himself as "King James."
Every aspiring player shadows his every move. If James has those Nike basketball shoes, then I want them. If James does that play, then let me try it. If James says to train like this, then I'll train like this. However, one day the gold coating of his NBA championship trophies will rust, and he will no longer be able to slam dunk for the game-winner. Who knows, maybe his son, Bronny James, will wipe away some of his records.
At the end of the day, the only thing that matters is how James uses the empire he has created for the better. And he has done just that. He is the most powerful voice in the NBA about social justice for Black Americans. Number 23 has worked with "More Than a Vote," an organization that prevents African Americans from experiencing voter suppression and educates citizens on voting rights while also opening up the "Lebron James I Promise School," in his native hometown of Akron, Ohio. Educating young elementary and secondary school students through the work in the Lebron James Family Foundation, James didn't give up on these students, who without James, at just eight years old, were predicted not to receive their high school diplomas.
James has used his activism to open the door of opportunities for many young children, yet others have said he has also closed the door to other populations, especially the "re-education camps" where the Uyghur population, a predominately ethnic Muslim minority within China, are being detained.
One of those critics is close to home: Boston Celtics center Enes Kanter Freedom has called out James for preaching inclusivity and social justice for black Americans while he remains silent, ignoring the human rights issues in China. All the while, James' sponsor, Nike, has come under fire for using Uyghur slave labor for their products. Does this ruin all the social justice initiatives he has created for black Americans? No. Should he address the genocide in China? Yes.
Kanter Freedom shouldn't be putting all the heat on James since the NBA is the one who supplies Nike products. Kanter Freedom, along with every other player in the league, sports a Nike jersey every game. If he wants to make a visible change, then he should take initiative and attempt to prevent teams from supporting Nike.
This opens up a greater discussion of the actions of activists. Every activist has their niche that they chose to dedicate their time and energy to whether it's the equal pay of women in the workplace, the equal treatment of LBGTQ+ individuals or the issue of mass incarceration and prison reform. It would be unrealistic to expect someone to fix everything wrong in our world—if you haven't taken a look around, there is a lot. It's like a basketball team, one player can't do everything on the court for you, you need teammates to cover different players, and you must stick to various parts of the game plan.
To make impactful change, it's best to focus on one goal at a time. Over time, changes will be seen; however, it's a gradual effort. That doesn't mean James shouldn't speak out over the human rights violations in China, and it most definitely does not exclude him for doing so. It's unrealistic to expect James to become outspoken about what's going on in China. Nevertheless, James should, at the very minimum, address what is happening to the Uyghur population in China and offer any support he can.
Leave a Comment
Donate to Wayland Student Press
Your donation will support the student journalists of Wayland High School. Your contribution will allow us to purchase equipment, cover our annual website hosting costs and sponsor admission and traveling costs for the annual JEA journalism convention.
About the Contributor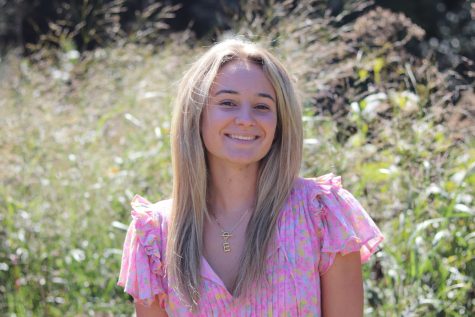 Emily Roberge, Co-Editor-in-Chief
Emily Roberge, Class of 2023, is a third year reporter and co-editor-in-chief of WSPN. She plays for the high school's field hockey team and is a co-captain...