Breaking News: Student parking pass warning
Today, cars parked in the Wayland High School student parking lot without displayed parking passes received a warning that, starting Monday, cars without passes will be towed. The orange notices aren't meant to punish students, but to inform them that they will not be able to park in the student parking lot without visibly displaying a parking pass.
By enforcing parking passes, the WHS administration hopes to keep students safe by keeping track of who is on campus.
"We depend on parking passes to understand who's here so that we can maintain our lots and make sure that everybody has a place to park when it snows and [during other weather-related circumstances]," assistant principal Sean Gass said.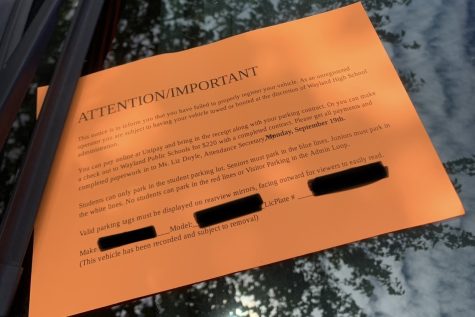 If a student doesn't already have a parking pass, they should go to the front office as soon as possible to purchase one. As of Monday, students should always display their parking passes visibly on their cars when parked at school.
"The orange slips are more like warning tickets," Gass said. "But if somebody is parking here [without a parking pass, which is] against school policy, then they would get booted or towed and we don't want [to put] people in that position."