Food fight: The concerns surrounding WPS lunches
For years, the quality and quantity of school lunches in the Wayland Public Schools district has received both praise and criticism. However, a recent Wayland Community Forum Facebook post by an anonymous parent has raised some concerns around what Wayland students eat for lunch.
The anonymous parent posted a picture of two French toast sticks and a slice of ham, and they inquired if the meal in the picture qualified as a full meal for WPS students. In the comments, more than two dozen parents and students expressed their concern about the food being served to students.
The WPS' Food Service Department is required to adhere to the guidelines set by the United States Department of Agriculture (USDA). The WPS Food Service Department cannot make any changes to the current school lunch without the approval of the USDA. Since all lunches are served to students free of charge, the food staff has a limited budget to work with, and there are few options to choose from due to the ongoing food supply shortage from COVID-19.
The USDA regulations include five categories: a meat or meat alternative, a grain, a fruit, a vegetable and a dairy product. For all five components, the school is required to serve a certain portion size, which varies with each grade level. Grades kindergarten through five, grades six through eight and grades nine through 12 each have a different quantity.
"The people who comment that portion sizes are comparable [for the elementary, middle and high school] are not totally wrong," Wayland Food Services director Cheryl Judd said. "But unfortunately, we're required to follow the federal guidelines [set by the USDA]. That's what we're doing, and we really don't have a choice in it."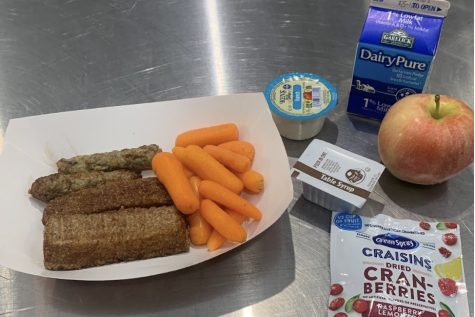 With the current guidelines set in place, some students have complained that they are still hungry after finishing their first meal. Students have to pay for any additional food after the first free meal, and their options include buying a second lunch or a snack at the snack bar. Students also have the option to bring more food from home. However, both options may be unrealistic for some students because of financial reasons or a lack of time in the morning.
"I don't think the lunch quantity is consistently sufficient," Wayland parent Merline Bhukhanwala said. "My children had permission and standing instructions to order a 'double-lunch' because the lunch quantity was not enough for them, especially as they grew older. The quantity of food did not appear to increase when [my children] went to middle school and high school. For example, one [of the menu items] was two French toast sticks, each the width of a Kit-Kat Bar, and two small sausage links, [which were] about three inches long."
Even with the issues regarding the amount of food being served, some students believe that the school lunch itself is well-prepared.
"I think the quality is pretty good," junior Hedaia Elelimy said. "I [wish they served] a little more because so many people complain about being hungry after lunch."
However, some Wayland parents feel frustrated because they believe that in a high-ranked school district like Wayland, lunches should be of higher quality.
"In a town where most of our tax dollars are directed towards the school, I would hope that we could offer higher quality, more nutritious and more diverse lunches to our children," Bhukhanwala said. "Given that this is not the current state, I spend extra time planning and packing lunch from home. I would love to see [students] being exposed to varied cuisine options, such as Latin, Asian and Mediterranean, and that every meal would have a fresh and raw component."
At the register where students check-out with their lunch at WHS, there is also a table and open refrigerator filled with buckets of fresh fruit, preserved fruit, dried fruit and milk. Each day, the food staff restocks the table with a different assortment of options, and students have the option to take whatever they want. Because some students choose not to take any of the added options, there have been miscommunications regarding the diversity of food being served.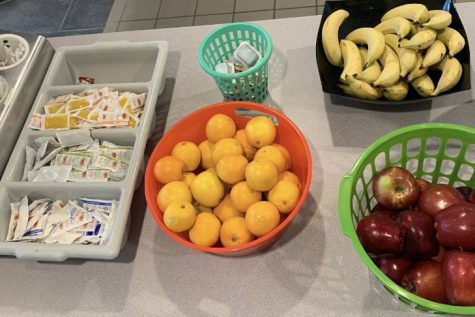 "We also have the condiment station, [which many] students take advantage of," Judd said. "Sometimes we have cantaloupe, sometimes we have strawberries and sometimes we have fresh grapes. We always have lettuce, pickles, tomatoes and chickpeas that students can add to whatever they selected to take that day. In addition, we also have the salad plates, the pizza and the deli option [every day]."
Each day, the WPS food department keeps production records of everything they serve because, periodically, they are inspected by the USDA. During the inspection, the auditors ensure that the proper serving sizes are served to students.
"The staff writes down [how much of each food is served] so that it balances the numbers that I submit each month," Judd said. "I expect [all food staff] in all of the schools to follow the regulations because I sign my name each month on everything that gets submitted."
Judd believes that most people recognize and appreciate the hard work of the food staff, who deal with various restrictions and consequences of the ongoing food shortage. She also thinks that the WPS food staff is committed to ensuring that students in Wayland are well-fed.
"If a student takes [more fruits or vegetables], we never say anything. We encourage it and we would never turn them down," Judd said. "I hope that [school lunches will] continue to stay free for all, and I also hope that people will take advantage of the free breakfast in the mornings."