SZA seizes the spotlight with "SOS"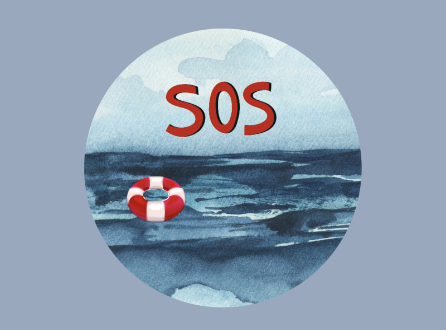 Our "Love Language" towards SZA was strong on Dec. 9, 2022, when the 33-year-old artist released her sophomore album, "SOS."
Through this 23-track record, SZA,  brings us through hip-hop and R&B-inspired singles, containing both a deep, emotional side and a strong, carefree mood. SZA throws us into a wave full of her inner feelings and confusions, which we've never seen much of from the artist. 20 out of the 23 tracks on the record vastly hit the Billboard hot 100, and the record has become the fifth biggest album of the year, behind Taylor Swift, Harry Styles, Drake and Beyoncé, which only displays how many fans adore this album.
Solána Imani Rowe coined the stage name SZA in 2012 when she released her debut extended play "See.SZA.Run," and signed with Top Dawg record label a year later. R&B rapper RZA influenced SZA to create her acronymic stage name. The letters come from the supreme alphabet and mean sovereign, zigzag and Allah. Allah represents her Muslim heritage and identity.
After the release of her primary full record, "Ctrl," in 2017, her soothing voice and the famous artists the album featured, like Travis Scott and Kendrick Lamar, fans were vastly drawn in. "Ctrl" was ultimately the start of her fame as it hit Billboard's top 200 at number three and was nominated for a Grammy award the year of its release. Songs like "Love Galore" and "The Weekend" remained on popular radio stations and social media platforms for many years to follow, but the release of any new music from her was out of view until late 2020. Her single "Good Days" went viral upon its release due to its bubbly, ethereal and addictive melodies throughout the calming tune. This song became SZA's signature sound until teasers of "SOS" started appearing on social media this autumn, making fans very intrigued. "Good Days" was named track number 22 on "SOS," drawing in her large fanbase.
Going back to the beginning of the record, track number 2, "Kill Bill," has already peaked number three on the Billboard Hot 100, and fans are head over heels for its sassy lyrics. This song has a very relatable take on relationships, and those feelings of jealousy and anger towards your ex-partner after a breakup. "Kill Bill" is an easy listen and incorporates themes from the movie "Kill Bill," where the main character seeks revenge on a jealous ex-lover named Bill. The lyric, "I'm so mature – got me a therapist to tell me there's other men," speaks to how common it is to hear advice to be mature and move on, even though it can feel impossible sometimes. Many of the tracks on "SOS" encapsulate a feeling of begging or pleading to be noticed or recognized, and this one takes it to a new level by incorporating the concept of murder as a way to symbolize her love-drugged desperation.
Excited would be an understatement for how we felt after seeing some of the features on this album. Finding out Phoebe Bridgers and SZA would be collaborating on "Ghost in the Machine" felt like an early Christmas gift. The song conveys, once again, the emotions of feeling dehumanized. By using words like ghosts, robots, arks and passwords, Bridgers and SZA set a scene of a world post-disaster, where they are "craving humanity, drowning in vanity."
The tell-tale sign that the album was going to be a showstopper was seeing Travis Scott featured on track 20, "Open Arms," collaborating with SZA once again. SZA's radiant higher notes mixed with Scott's tenor, on top of the distorted bases, undoubtedly vastly pushed this song to the top of my ranking.
Track 14, "Nobody Gets Me," has quickly gained popularity, reaching the number 10 spot on the Billboard Hot 100. Much of the song's popularity can be credited to TikTok, as the artist released a short teaser on the app and went viral. The song depicts emotions of sadness as a relationship is ending and feeling as though no one will ever understand you the way your ex did. "Nobody Gets Me" opens up with the strumming of a guitar, unlike any SZA song we've heard before. This song brings out a sadder, more emotional side of SZA that listeners have rarely heard from her, as most of her other songs convey emotions of anger or happiness.
Some of those upbeat songs that we do see on "SOS" include "Low," "Smoking on my Ex Pack" and "Conceited." All three of these songs present a brazen attitude, carrying styles of pop and rap. We find ourselves bopping to the beats of "Conceited" whenever it's on, which recently has been every day. This song shows us that SZA is single and thriving, without a care for her ex-partners and depending on herself. She sings, "I got no reason to depend on you" and "I got everything that I need and I want more." This tune brings glam, power and boldness to SZA's resume.
On the other side of the spectrum, songs like "Special" and "Nobody Gets Me" are sedative, slow songs which shine a light on SZA's jealousy, insecurities and desire to feel "Special." We feel SZA's heartache through her authentic, genuine and gentle vocals throughout both tracks. We understand that SZA is battling with self-confidence asking her ex why they treated her like "an ordinary girl."
To say the least, "SOS" saved our own souls. Not only did this record make us understand SZA's many emotions, but it also highlighted SZA's pure talent by drowning us in a sea of love. "SOS" gives off the feeling of a rainstorm with heavy rain drops falling from an otherwise sunny sky, like SZA's humbleness and self doubt forming from her fame, applying to her bright future.
With the chill aura that this album brings, listening to it during a late-night car ride or playing it while you're having a gossip session with friends would be perfect. However, as it's easy to relate to many of the lyrics, it becomes effortless to belt the tunes as loud as your heart wants to.
From the dramatic slow love numbers to the vigorous hip-hop beats, we are ecstatic to say we're completely head over heels for this record. It's 100% a 10/10, with no skips, and we're often putting songs on repeat. We hope to experience her dreamy vocals and heartfelt lyrics live in concert, but as expected, tickets are hard to get as prices have skyrocketed on sites like Ticketmaster. We know that this album is only the beginning of SZA's soon-to-be significant discography.