Ben Dugan: 317 days at sea
Imagine taking a year off from school, with sunshine, salty air and beautiful water around you daily. Now imagine working eight hours a day, with the sole responsibility of ensuring the boat you're on maintains its course while your parents are asleep resting up for their shift. Now imagine doing all that at the age of 16. Junior Ben Dugan did just that at the end of his freshman year.
Dugan, along with his mom, Becky, and dad, Bob, set sail on their 34-foot Pacific Sea craft, Emerald, on July 19, 2021, off the coast of their summer home in Maine. Dugan's parents planned for this massive excursion five years in advance and included him in almost every step of the planning process, understanding that he would miss his sophomore year of high school.
"At first, we couldn't have envisioned [the trip] happening," Dugan said. "The original plan was to end up in Europe, but with COVID, that obviously wasn't happening."
However, the pandemic did not stop them. Instead, they created a new route that spanned from the border of Canada down to the Caribbean, stopping at numerous locations along the east coast, such as Maryland and Virginia. After reaching their southernmost location, Martinique, in the West Indies, they made their way north, traveling through Bermuda to Maine. They traveled with an organized group of boats that went by the name Salty Dawgs.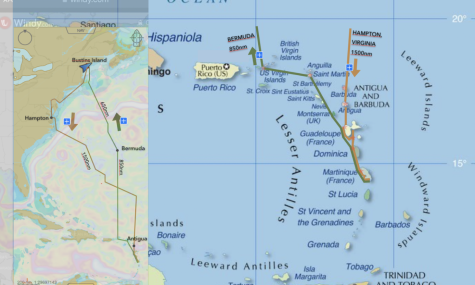 "We all followed roughly the same course with some boats moving faster or slower than others, so we usually knew at least one boat in every anchorage we were in," Dugan said.
Most group members had participated in similar outings for years and knew exactly what to bring. However, this was a new adventure for the Dugans, which made packing somewhat tricky. First, they packed just the necessities, including tools for the boat and replacement parts. After going through the food they initially packed, they stopped at local grocery stores on the coast of the U.S. and local open-air markets on various islands after crossing the border. Any waste they had that was not plastic was thrown overboard because they had no way of storing it.
"We packed too much," Dugan said. "There is a picture of the boat in Hampton, Virginia and you can see that the line where the water is supposed to hit is underwater because we had too much stuff."
Bedding, however, was not weighing them down. Because of the warm climate, they did not need to pack heavy bedding. Dugan slept in the v-berth or the starboard side settee, and his parents in the port side settee.
Their boat was fully equipped for a long voyage. However, they could not anchor their ship because the ocean floor was nearly three miles deep during their leg from Virginia to the Caribbean, so a watch system was necessary. Dugan had the 8 a.m. to noon shift in the morning and the 8 p.m. to midnight shift in the evening.
"Because of fatigue and all of that, you don't want to have people on for longer than a couple hours at a time," Dugan said. "Any time you are not on watch, you are sleeping, but I mean, you are trying to sleep in a washing machine and it's difficult."
Duggan was woken up 10 minutes before his watch time by one of his parents as they ended their watch. They would inform him of any issues they noticed, like wind shifts and incoming boats. While on watch, Dugan navigated the ship, controlling everything from the radio to the sails, all while his parents were asleep.
"It can definitely be stressful when you're on watch at night, and there is a container ship coming towards you, and you are like, 'oh my god, they're going to hit me,' and then you call them on the radio and they don't respond," Dugan said.
When Dugan was not on watch or sleeping, he was studying. Because his trip was between July 2021 and June 2022, Dugan missed all of his sophomore year of high school. At sea, he lacked cell reception and could not commit to a teacher and student option, forcing him to teach himself the entirety of the sophomore curriculum at a self-paced level. He used a homeschooling program called Oak Meadow.
"There was no grading which was pretty weird at first," Dugan said. "As someone who is pretty grade-based going into it to not having any grades at all, was like 'ok, well, what am I really doing this for?'"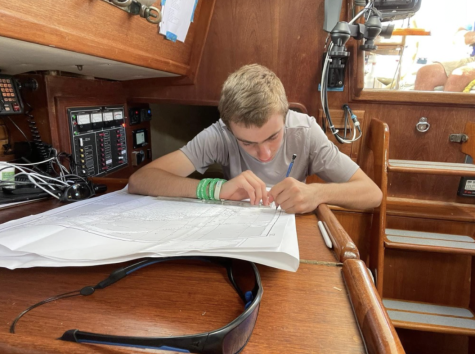 Some days when they made stops inland, Dugan would choose to stay on Emerald and study. When he did this, he would go exploring by himself later in the day, following his parent's hiking trail, so he did not miss out on anything. On his independent hikes, he would use his phone or a portable radio to get in touch with his parents.
"My parents knew that I knew what I was doing so it was not too much of an issue," Dugan said. "That radio is always going to work, and a lot of the boats had that for the same reason."
Dugan was able to connect with his friends back home through an app on his phone called Discord. However, that was about the only communication he was able to have with anyone his own age.
"The social interaction part was a big thing for me because for that whole trip, 10 months, I did not talk to a single person my age," Dugan said.
The Dugans did interact with locals they met at different stops. While in Antigua, they got to know some of the coaches of the Antiguan Olympic Sailing team. In Martinique, they met a French couple while hiking, and after learning that the couple were adventures like themselves, they stayed in touch with them for a while. While in Dominica, having a tour guide was necessary, so they made friends with them. The tours were run through the Portsmouth Association of Yacht Security (PAYS) yacht club.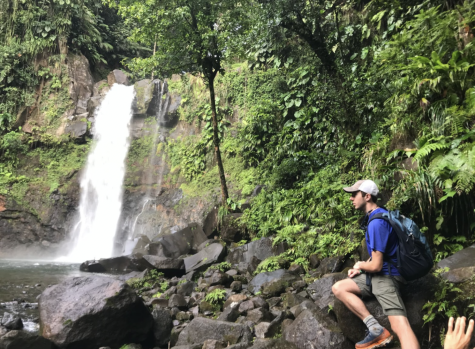 "I became a legend among the PAYS staff because I offered to DJ for their barbeques while we were there," Dugan said. "They called me 'the music man' and were very sad when I had to leave."
It was easy for the Dugans to bond with such diverse people after being alone at sea for long periods of time. Saying goodbye to them was notably difficult.
"It was so weird coming back to my home on the island," Dugan said.
The Dugans made it back to their home in Maine on June. 1, 2022, granting them the ability to unpack and get back into their lives that summer. Dugan's transition into his junior year of high school was easier than he thought. He was able to adjust and has been thriving in his classes.
"The first couple days of school were a little bit weird, but I got used to it," Dugan said.
Although his dedication to his education while at sea paid off, he does regret spending much of his time studying. He missed out on some of the trips his parents went on, although some days, his parents forced him to go explore with them. Of the many places, Dugans did get to see, his most memorable sight was the French Islands.
"I mean, you feel like you're in a movie with some of the stuff there," Dugan said." It's crazy."
This unforgettable journey that Dugan took risk of going allowed him to evolve. He was able to prove that he could be self-sufficient and came to appreciate the time spent with his parents.
"You know, I think I learned that I am a harder worker than I thought and that I don't need a lot of assistance with things," Dugan said.
Having the opportunity and the time to undertake such an amazing journey provided the ability for Dugan to learn even more about himself than he could have ever anticipated, imagine.
"It was definitely an experience that I would want other people to have too," Dugan said.