News Brief: WHSTE presents "Lost Girl"
After many months of preparation, the Wayland High School Theater Ensemble (WHSTE) will perform its winter play, "Lost Girl" by Kimberly Belflower, this Friday, March 3 at 7 p.m. at the high school. "Lost Girl" is a coming-of-age play about Wendy Darling's journey after adventuring with Peter Pan.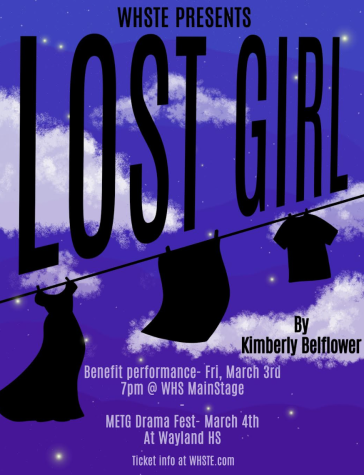 While WHSTE volunteers will sell tickets for the play at the door for $10 for adults and $5 for students and senior citizens, they recommend that individuals pay beforehand at WHSTE.com.
In addition to this performance at the high school, WHS will also be hosting the preliminary round of the Massachusetts High School Drama Festival on Saturday, March 4. Eight local schools will showcase their drama performances to a panel of judges. All-day ticket passes will be available for the festival for $10, and WHSTE will perform "Lost Girl" at 2 p.m..
"There are some really interesting schools and plays," WHSTE Director Aidan O'Hara said. "It really is a one-of-a-kind atmosphere here on campus."
Bringing nostalgia to older viewers and inspiration to younger viewers, "Lost Girl" engages its audience.
"WHSTE hopes you can come on out and see "Lost Girl" and learn what happened to Wendy, the Lost Boys, the Darlings and Peter Pan many years after that fateful night at the Nursery window," O'Hara said.