Review: 2023 Oscars looks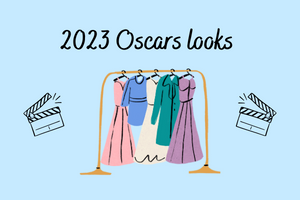 On March 12, the 93rd annual Oscars took place. Movie stars from around the globe attended the event, showing off many diverse looks on the red carpet. Here are some of our opinions about the most eye-catching looks.
Rihanna:
Rihanna's look at the Oscars was powerful, to say the least. She wore a black gown that showed off her baby bump. On the runway, she placed her hand on her stomach to emphasize her pregnancy. She wore a black, sheer turtleneck on top that transitioned into a fierce black leather skirt, however, our favorite part of her look was her bright red lipstick. This added color to her dark-themed look. Because she performed her song "Lift Me Up" from the film "Black Panther: Wakanda Forever" at the awards, she had the opportunity to show off another look. She wore sequin beads head to toe with black leather gloves, tying into her previous look. Rihanna showed up to make a statement at the Oscars.
Halle Bailey:
We both agree that Halle Bailey wore one of our favorite looks at the Oscars. The bright teal color, the fit and flare style and the sheer material of the dress made us fall in love with it. The bustier of the dress is a corset style with ruffled mesh material as the trim. We admired her make-up as the color of her eyeshadow matched perfectly with the color of her dress. She looked like a true princess in a beautiful ball gown.
Cara Delevingne:
Cara Delevingne made a bold statement by wearing an all-red look to the Oscars. She wore a stunning blood-red gown with a high-rise slit on her right leg. She also had an eye-catching flower on her shoulder, which was attached to the dress. She wore matching red heels correlating with the rest of her look. Her big silver jewelry and slick back bun made this look all the better. We can always count on Delevingne to wear a jaw-dropping look.
Alton Mason:
At most red carpet events, we see men wearing the classic black tuxedo, yet Alton Mason chose a different path. He wore a full cheetah print satin-looking suit paired with simple black shoes. However, his large brown sunglasses was what really pulled his look together. It had tinted light brown lenses with big round frames, corresponding with the brown cheetah print on his suit. The shiny suit, the sunglasses and the shoes complement each other really well, making his outfit very pleasing to the eye. He absolutely killed this look.
Allison Williams:
We both agree that Allison Williams' look was one of our least favorites. She wore a long-fitted nude dress that had a pink sparkling floral print running down its length. The bottom of the dress had white feathers clinging to it, which we thought was an interesting touch. And we can't forget about the huge pink shawl attached to her dress. The dress itself was just okay. The pattern wasn't the prettiest, and the shawl was too much. Good thing she wore her hair in an updo because if she had put her hair down, it would've made the outfit look even more overwhelming.
Florence Pugh:
Florence Pugh's dress was a shocking move. She wore a long, flowy, strapless, beige dress with what looked like a black mini dress underneath. The beige fabric was a bulky material, and it looked like a comforter. Although her puffy sleeves elevated the look, she looked out of place at the Oscars. We do like that she matched the black undergarment with some black, chunky pumps. She wore a huge silver necklace shaped like a teardrop. Oddly enough, her unique hairstyle matched the shape of her necklace. Her jewelry added a pop of shimmer to the cool-toned outfit. Her dress wasn't our favorite, but it wasn't the worst because of the way she styled everything around the beige material.