Kaat Vander Staeten: The science and significance of composting
On Wednesday, April 12, Wayland resident and parent Kaat Vander Straeten gave a presentation on composting at Wayland High School as a part of Earth Week. Vander Straeten discussed the science of composting and her own personal experiences to teach students about what composting is and how they could get involved.
Vander Straeten first became interested in composting after she decided to grow her own produce at home. According to Vander Straeten, composting is crucial to keeping a healthy nutrient cycle in our environment.
"We are mimicking nature by composting, and nature has been at it for a lot longer than us," Vander Staeten said. "Nature does [composting] a lot better than us and always figures it out."
To bring awareness to the importance of helping the environment and composting, Vander Straeten is a community administrator for Energize Wayland. The organization inspires Wayland residents to take action against climate change, reduce greenhouse gas emissions and help the Wayland community adapt to the changing climate.
During the presentation, Vander Straeten began by explaining the impact of composting on the environment. Vander Straeten cited that globally, 30-40% of all food gets wasted every year. Vander Straeten believes composting is a relatively simple solution to this problem.
'"Composting is a very small thing to do," Vander Staeten said. "Climate change is very complex, and we need a lot of little acts that are done by many, many people to address it. If we all compost, it makes a difference for sure."
Vander Straeten also taught students about the role of bacteria in composting. She explained that composting is part of a larger food web that impacts all living things.
"If there was no decomposition on this planet, there would be no life," Vander Straeten said.
According to Vander Straeten, having the correct ratio of carbon to nitrogen, 25-30:1, in feed piles is crucial to its success. If the pile is anaerobic, meaning it lacks oxygen, it can be dangerous and catch fire.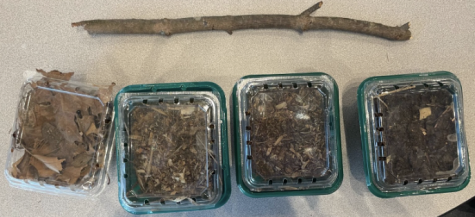 Although composting can be hazardous if someone is unsure of what they're doing, Vander Straeten, believes it is easy to get started. Vander Straeten says that composting does not require fancy equipment, and that people can just use what they have to make a pile. However, if someone doesn't have the yard space, Vander Straeten recommends companies like Black Earth, which pick up trash from your house and turn it into compost.
"I thought the presentation was cool because my mom has a compost pile at our house, so it was interesting to get more exposure on the topic," junior Brendan Shen said.
At the end of her presentation, Vander Straeten compared having a bad compost pile to a bad haircut. She said that a bad pile can always be easily addressed. Vander Straeten monitors her piles closely and hopes that others will create their own compost.
"When I was younger, I would help my aunt collect earthworms and scraps for her compost bin," junior Annabelle Zhang said. "It was exciting to learn the science behind how composting works."