WHS Latin students take on Italy
A group of Wayland High School Latin students and chaperones flew out from Boston to Italy during the school day on Friday, April 14, and arrived home just after noon on Saturday, April 22. The week-long stay in Italy was meant to provide students with a deeper understanding of the country, in which the Latin language originated, through experiences with the culture, food and locals.
After a direct flight, the group landed in Rome at about 6 a.m. on Saturday, April 15. From Saturday to Tuesday night, they stayed in Rome, on Wednesday night, they stayed in Matera and on Thursday and Friday night, they stayed in Sorrento, which is a town along the Amalfi Coast.
"On Monday, we visited Orvieto, a small town about a two and a half hour drive north of Rome," junior Harrison Dale said. On Tuesday, we visited Vatican City.On Wednesday, we went to Pompeii, and on Friday, we toured the island of Capri, which is about a 20 minute boat ride from Sorrento."
WHS' Italy trip has always been set up as a large tour trip, with the group of students and chaperones moving around the country through the usage of public transportation and walking while accompanied by a tour guide. They road a private bus from Rome to southern Italy and stayed in exclusive hotels. This year, there were three chaperones on the trip: Latin teacher Lee Krasnoo, and special education staff Susan Saint-John and Mark Schwartz.
When planning the trip, Krasnoo prioritized trying to go to places that would connect to topics that students studied in class.
"We went to Pompeii [because] they read plenty about the Vesuvius eruption," Krasnoo said. "And we went to other sites that the students had read about or seen in their textbooks."
The group visited many famous tourist attractions, such as the Colosseum, the Trevi Fountain, Pompeii, the Pantheon and Vatican City. In these places, they were able to get in touch with the subjects and locations they had been studying in class.
"We had really knowledgeable tour guides there, and it was really cool getting to experience a lot of the stuff that we had talked about in class over the years, like one of the cathedrals in Matera," senior Ethan Brandaleone said. "There were pictures of Horace the Roman poet, [which] was used in one of our textbooks that we had, which was interesting."
The group also visited many smaller, lesser-known towns and cities along Italy's coast, like Matera and Capri, to gain genuine experiences and to truly get in touch with the country.
"I would [definitely] go back to the island of Capri because it was very stunning, and we got to see the rocky cliff sides and turquoise-colored water as we took a boat ride around the entire island," Dale said.
While in Capri, they traveled to a town atop the island which exhibited a Mediterranean culture and architecture.
"It was very beautiful and serene, and there were a lot of colorful buildings and cute alleyways," Dale said.
Along with sightseeing, they participated in group activities, such as cooking classes and gladiator training camps.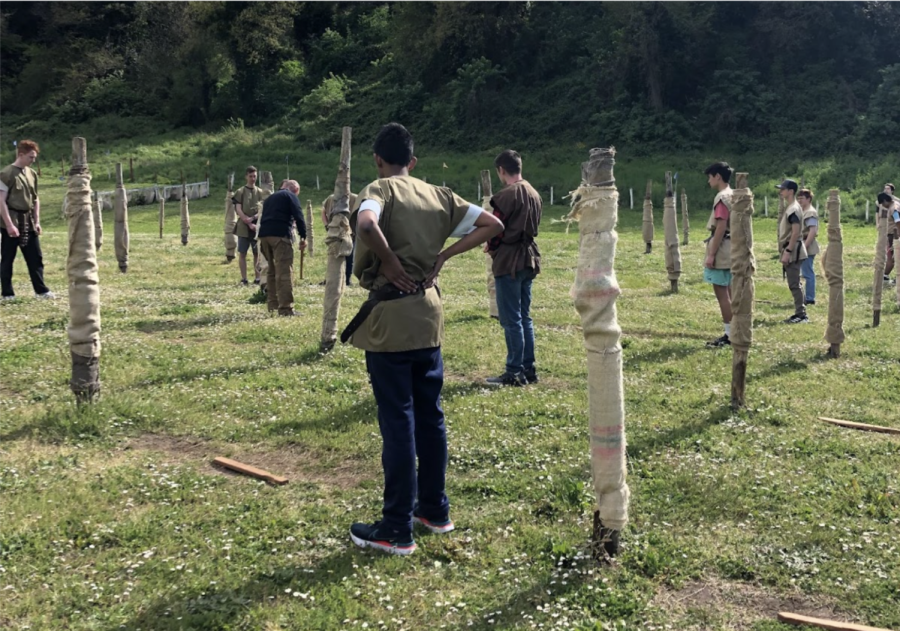 "[My favorite part] was this really fun gladiator training camp thing," Brandaleone said. "After the Colosseum, in some field, this old Italian guy gave us wooden swords and taught us stuff. I found it very enjoyable."
While sightseeing and participating in activities, students interacted with the locals. Some students came to the conclusion that people living in Italy have completely different mindsets and lifestyles than Americans do. For example, they noticed how laid-back everyone is, and how they placed a greater emphasis on their social lives than their work.
"Most of the locals didn't seem very rushed at all, and they seemed to be content with their lives," Dale said. "[Socialization in the evening] extended to high school students. As in Matera, we saw many local high school students hanging out and walking around in the evening, which is something that you wouldn't see too much in America. Mmerican students are usually busy studying or doing extracurriculars."
Dale believes that Americans have much to learn from Italian culture, and believes that their more slow-paced life ultimately brings them more happiness.
"I think that the Italian culture was very interesting but also something that we can learn from," Dale said. "If we placed a greater emphasis on socializing instead of work, perhaps we could live happier lives."