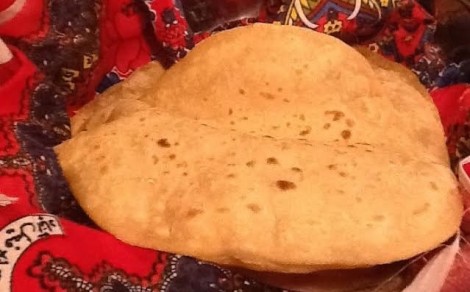 Hi everyone, for those of you who don't know me, I'm Sana Gilani, a senior here at Wayland High School. I'm a Pakistani-American that loves to cook, and I thought that there was no better way to share my life and culture with others than through food. So, here I am. Hopefully I can make you guys love cooking and Pakistani food as much as I do! I really look forward to sharing my recipes with you guys in the near future.
The first recipe I'm going to do is roti, a type of flat bread that is eaten in Pakistan with some sort of salaan or curry. The recipe is fairly simple but the directions should be closely followed.
Roti
Ingredients:
2 cups Atta Flour (or Whole Wheat/White Flour)
aprox. 1 cup Water
salt (optional)
Special Cooking Tools:
Roti Grill (can use circular metal cooling rack instead)
Chimta (can use tongs instead)
Directions:
1. Put the flour in a bowl, big enough to leave room to mix with hands. Add salt if you desire.
2. Make a hole in the middle of the flour, and then slowly add the water into it. As you do so, slowly fold the water and flour together using hands. It's sticky in the beginning, but by the end you want the dough to have a smooth and soft to the touch.
3. After the dough is made, take a small (a little less than fist-sized) piece, and on a floured surface roll it out into a circle shape.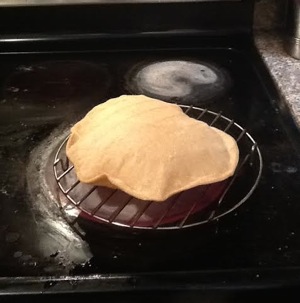 4. The dough should be thin enough to cook through, but not so thin it breaks apart.
5. Now, place the roti onto a non-oiled frying pan heat it up on medium heat for about 2-3 minutes on each side. You want it to turn from a brownish color to a more white one.
6. After the color is white, transfer the roti to a metal mesh that is raised above the stovetop (roti grill).
7. This part is quick. Keep the roti on until it starts to puff up. After it puffs flip it over with the chimta or tongs, and do the other side.
Then you're done!
I suggest eating it with some type of curry and wrapping it in a cloth if not serving immediately.