Hey guys, so today's recipe is aloo ka salan. Aloo means potato, and salan is basically gravy, so what you're making is potatoes cooked in a gravy. It's a simple go-to recipe if you want to make something quick and easy. Aloo ka salan, and any other type of salan, is typically eaten with roti or plain white rice.
Ingredients:
3-4 medium sized potatoes (peeled and cut into 1 inch cubes)
1 tsp. red chili powder
1 tsp. coriander powder
2 tsp. cumin powder
Pinch of turmeric powder
1 tsp. garlic paste
1 1/2 tsp. salt
1 large tomato
1 Anaheim pepper or a couple of small green chili peppers
Cilantro
2-3 hard boiled eggs (optional)
Directions:
1. Place the potatoes into a pot, and add just enough water to submerge the potatoes.
2. Add the salt, garlic paste, chilli powder, coriander powder, cumin powder and turmeric powder. Mix it until the spices are uniform throughout.
3. Cover the pot, and let it boil for 15-20 minutes on medium heat or until potatoes are tender. Mix it afterward.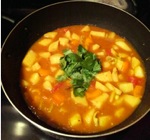 4. Dice the tomato and cut the peppers, then add them to the pot. Let it simmer down without the cover for another 15 minutes on low heat. Be sure to mix every once in a while to prevent anything sticking to the bottom. You want the tomatoes and peppers to cook down.
5. After the salan (gravy) thickens and boils down a little, add 2-3 hard boiled eggs cut lengthwise into the salan.
6. Lastly, add a handful of fresh cilantro on top to garnish and enjoy!