New teachers join the WHS staff
Hang on for a minute...we're trying to find some more stories you might like.

Adam Hughes: Wellness

Adam Hughes was inspired to teach wellness from a family legacy and his passion for fitness.
"I was inspired [to teach] by all my wellness teachers including my dad who was a wellness teacher as well," Hughes said.
This is Hughes' first job teaching. Hughes choose to start his career at Wayland because of the atmosphere at the high school.
"Wayland is a great place to have a great career and to be around great individuals as well as great students each and everyday," Hughes said.
Hughes has enjoyed teaching at Wayland so far. He has appreciated the sense of community Wayland High school has offered.
"The thing I like most about Wayland so far is how everyone works together, and everyone is on the same page and knows what's going on all the time. Everybody is all in for the good of the group," Hughes said.
Rachel Hanks is joining the Wellness department this year. She has been a teacher for many years, first at Sharon High School and later at Lynnfield Middle School. She also worked at Boston College High School for eight years.
Hanks has not always been a wellness teacher throughout her life.
"I would say that [wellness] ended up being my career, but prior to that I worked as a child care worker at the Department for Youth, working with criminal girls," Hanks said. "I worked at WIC, which is Women, Infants and Children, a nutritional supplement program for lower income families. I did smoking cessation, trying to get them to stop smoking."
So far, Hanks has enjoyed working at WHS.
"Everybody's really nice: the faculty is nice, the kids are nice, and it's a nice building. It's nice to come to work everyday when people are smiling, and they seem happy," Hanks said
Hanks has enjoyed her time teaching in Wayland so far, especially the seven minute commute to her house. The easy transition to Wayland helped her get a strong start to the school year.
"[WHS] seemed like it was a really nice fit as far as some of the things that the Wayland wellness program wanted to develop and my skills, so it was a nice mix."
Amy Cuneo is starting her High School teaching career as an art teacher at Wayland High School.
Prior to Wayland, she taught kindergarten through fifth grade at Framingham Elementary School. Cuneo wanted to expand her teaching career by teaching at a higher level.
"I've always felt connected with the high school students and the ability I get to kind of push them a little bit more than elementary aged students when it comes to lessons and concepts," Cuneo said
Cuneo is grateful for the supportive community at the high school.
"From the first day I've worked here I have felt very welcomed by my coworkers and my colleagues and the administration. I feel like the parents are very supportive, too. There are a lot of organizations in the community that support the arts. For me, that's a very comforting thing," Cuneo said

About the Contributors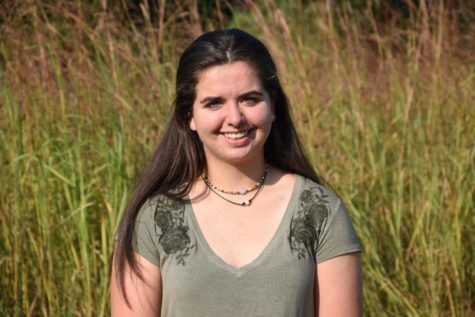 Isabel Gitten, Editor-in-Chief
Isabel Gitten is co-editor-in-chief of WSPN. She is a senior and this is her third year on WSPN. Isabel was Multimedia editor last year. She rows on the...