Poetry Slam 2016
Lissa Piercy
Piercy was the emcee and opening poet at the April 29 poetry slam on the WHS main stage. Piercy is a performance poet, community organizer, educator and a member of Flatline Poetry.
Q & A:
What does poetry mean to you?
Poetry means processing thoughts first and foremost, so when I start writing, it's always a way for me to discover what I'm actually feeling. I'll find myself writing in free-write form, and all of a sudden I'll realize how I'm feeling and explore it more to turn it into a piece. That's where it starts. Beyond that, I think poetry is a form of expression that can be more honest and tell truths that we need to hear in language that allows us to hear it. Sometimes we can have conversations through poems that we're afraid to have through other words.
What are you working on right now?
I run an agency that represents spoken word artists who use poetry for social change, so really I'm working on a lot of spreadsheets and organization to support poets doing this work and [to help them] earn a living and make poetry a career that people can aspire to. Artistically, I'm about to start working with the collective Flatland Poetry because we're performing at Boston Pride this summer, so we're going to be opening the show at the main stage, and we're working on group pieces for that. I'm gearing up. I'm also working on a 30 for 30, [which is] a challenge to write 30 poems in 30 days for the month of April. I joke that if you're going to date a poet, you should start dating them in April, so you'll know everything that they're thinking.
What would you like people to know about poetry?
As young people, you have so much power to tell your stories and to support one another through those stories. I hope that every young person will try writing, whether it's poetry or journaling or story writing. Writing is a form of expression that I hope we keep, even with so many other things distracting us. Also, check out the poets that you love and support them. Organizations like Button Poetry and Slam Find are great to watch poems and find poetry events. Do more, try it and don't be scared. Or be scared, and then own your scared, and try it anyway.
Lewis Morris
Morris performed at the poetry slam on the WHS main stage and won the second performance of the slam competition. He is a Providence Youth Slam alum, founder of MassART Poetry Alliance and a rapper who recently released an album called "That New Violence."
Q & A:
What inspires your work?
I take a lot of my experiences and place them in my writing and my music…to make sense of the world and my emotions. Usually I come to conclusions…and figure something out about myself when I'm performing. Current events and life in general all inspire me.
Tell us about your new album.
It's called "That New Violence", and the conceptual framework focuses on the idea of the reset button that we have in our brains. Every time we have an act of violence, such as a police shooting or a mass shooting or a school shooting, we act shocked like it's the first time this happened, even though it's not. The whole basis is: What would happen to the mind if that reset button didn't get pushed? This year, I've tried to keep in mind Mike Brown, Eric Garner, Tamir Rice and Walter Scott. I made sure to…carry them with me every day and write songs about the emotional state of mind that I was in during those moments. Is that "new violence" really new? Not really, but we keep acting like it is.
How does your rap differ from your poetry?
My poetry is a very different style from my rap music. My rap is very in-your-face and confrontational, which is just the way I am. My poetry is more subtle because I try to explore a concept thoroughly and leave no stone unturned emotionally. Rap includes all the thoughts and everything that's happening even when it's half finished or half broken because that's life and life should be reflected in music. The approaches are different.
Emily Eastman
Eastman performed at the poetry slam on the WHS main stage. Eastman is a multiple slam team veteran from Manchester, NH, where she is involved in the Slam Free or Die series.
Q & A:
What does poetry mean to you?
So much of poetry is difficult to encapsulate because I experience the world through poetry. It sounds cliché, but with the way that I feel the edges around people and the events in my life, I have this quizzical fascination with the world and the people that populate it, and poetry is like a through-line translation of language. It helps me get closer to people around me who I would never engage with in any other way. Poetry is connection, and it helps me feel rooted in the earth and with all the people who surround me.
What are you working on right now?
I just finished a book actually. It's called "Please Stop Loving Me," which is the name of a poem in the book and also from a collage art piece that I was making when I was trying to write. Sometimes I do visual art when I haven't found the right words yet, and I'll just create for a while and let myself find space. I have a lot of new work. I also just made the team for my venue, so I'm about to start working towards going to the national poetry slam. We have a couple of rookies on the team which is wonderful, and I'm also curating some youth slams for my show, which is why I'm amped to be here.
What inspires you?
Aw man, everything: trees, this table, Catholic guilt, my mother's goals for me and the kinds of conversation that I was just having after the assembly. Having people come up to me and tell me that they found truth in my work and that it gave them something they needed to hear or helped motivate them towards something that they wanted makes me feel like I'm doing the right thing. I'm so grateful that you're giving us this space to engage with people.
Erich Hagan
Hagan performed at the poetry slam on the WHS main stage. He was the 2015 National Poetry Slam Champion from Boston's House Slam.
Q & A:
What are you doing with poetry now?
I've been doing slam for ten years, and then last year I went with the House Slam, and we won the National Poetry Slam, so it was like a sense of fulfillment. Then, I put that aside for a minute to build up more youth poetry. I run a youth publishing company called Books of Hope. We had our own LTAB team and everything. I'm taking all the energy I built up from my work as a poet and channeling that back into youth poetry.
What does poetry mean to you?
My whole reason for doing poetry is to find and nurture community in the people around me. The venue I come from, House Slam, was the first venue in Boston and that meant a lot to me. That venue existing as a safe space is even more important to me than [when] we won the big national poetry slam. [Winning] is besides the point. We built a community with each other, and that's what poetry means to me.
What advice do you have for young poets?
Poetry is for you. Start where you are, and pull in the people who are also doing the same thing. Treat them well even if you don't get along with them. Anyone you can find who you can share that interest with, try to reach out to them. Find new places and go there with new people.
Kwene Reid
Reid performed at the poetry slam on the WHS main stage and won the first performance of the slam competition. She is a Boston-based hip hop artist and the newest member of the 2016 House Slam Boston National Team.
Q & A:
What does poetry mean to you?
Poetry literally means life. Without it, I don't think I'd be here. I was reckless in my life, and then I started writing, and people encouraged me to keep up with it, and it changed my whole life. I started doing shows and sharing with other people and listening to what others had to say… I became a whole new person.
What inspires you?
My number one inspiration is the youth. If I'm not around young people, I can't really produce work at my best level. Hanging out with the youth and seeing you grow and do poetry makes me love this work… When I'm with regular poets it's good, but when I'm with youth and I see how dedicated they are and how much they love it and how much they put into it, it just opens me up. That is my number one inspiration. Number two would have to be what I deal with in life, just like everyone. I write to release.
What are you working on right now?
I just won the slam at the House Slam in Boston, so that means I'm going to Decatur, Georgia for the national poetry slam with a team of four other people who are amazing. Right now, we're trying to produce group pieces and new work and trying to make sure we're perfect, so we can come home with the trophy.
Is there anything else you want people to know about poetry or your work?
It's not about my work. It's not about anything else but being true to who you are. You need to be comfortable with yourself, and in poetry I found myself. Find yourself in whatever outlet you want, whether you rap or paint or dance. Find whatever it is that you need, and hold onto that, and never let that go. Let that thing save your life because it's worth it. Sometimes life is hard, and you might feel like it's not worth it, but when I get down into my poetry and when I see the youth and others going so hard, I remember that I have a purpose. Find your thing, and don't let anyone take it from you.
Leave a Comment
Donate to Wayland Student Press
Your donation will support the student journalists of Wayland High School. Your contribution will allow us to purchase equipment, cover our annual website hosting costs and sponsor admission and traveling costs for the annual JEA journalism convention.
About the Contributor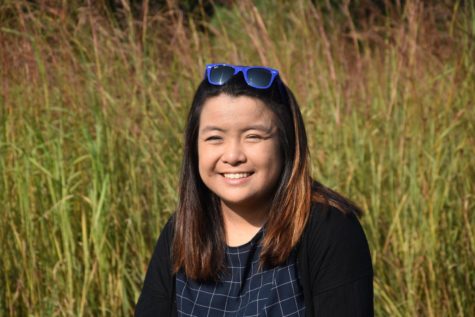 Natalie Hsu, Graphic Design Editor
Natalie Hsu, class of 2018, is a Graphic Design Editor for WSPN and this is her third year on staff. She is the president of People Assisting Wilds and...