Evan Curtin: The effort and time I put into taking and editing these photos pays off
It is a warm evening, and senior Evan Curtin is in a field fiddling with his camera. Curtin brings the camera up to his eye, pointing it at a classmate. He snaps a bunch of photos before adjusting the settings and trying again. Since the end of summer, Curtin has found himself in a similar landscape around once a week, taking senior photos for classmates. He never imagined himself starting a senior photo business, but after his inbox began to fill with requests, Curtin seized the opportunity.
"I hadn't planned on making it a business until I got a lot of people asking me," Curtin said. "After Maya posted her senior photo on Facebook, a lot of people asked Maya if I could take their photos."
Senior Maya Anand was Curtin's first client. Since then, he has taken photos for over a dozen seniors. Anand has helped Curtin connect with seniors and has planned all of his shoots. Anand also accompanies Curtin and helps with poses, hair and anything else the seniors need.
"I don't think I would have taken many other senior pictures if [Anand] hadn't pushed me and helped me out with the shoots," Curtin said. "She fixes [the subject's] hair and clothes, something I have no clue about. She also helps make sure that the person is smiling and [looks] natural."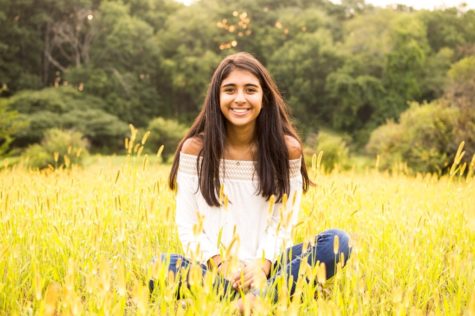 Before he began taking senior photos, Curtin enjoyed taking photos of landscapes. He posts some of these pictures on his photography Instagram account, @photography.edc. These senior photos were his first attempt at taking portraits.
"I had never taken portraits before, so there was a slight learning curve. As I took more and more, I began to enjoy learning and trying photography that was different again," Curtin said.
Curtin has never taken a photography course and learns most of his photo techniques from trial and error.
"I am just figuring it out as I go. I have been trying different things out, seeing how it works and then using those techniques in the next shoot," Curtin said.
Over time, Curtin has figured out a system to shoot senior photos. He has a few locations around town he found that provide a great backdrop for his photos.
"We usually plan the shoot about a week before and go later in the afternoon when there is good lighting," Curtin said. "The shoot usually takes about an hour. Later that day, or the next day, I edit the photos and then share them."
Unlike many professional photographers, Curtin has a fixed price for his photo shoot and does not charge extra money for each photo. Curtin uses Google Drive to share all the photos to the seniors after he has edited them.
So far, Curtin has received a lot of positive feedback from his peers.
"I am glad that people like my photos and seem happy with the final product. Because I've just started portraits, it's reassuring to get this feedback," Curtin said.
Curtin is also happy with his final photos. He likes his business because of the longevity of his work.
"Eventually my photos will be in the yearbook," Curtin said. "When people look back in the yearbook in the future, it will be my picture that they look at, which I think is pretty cool."
Although Curtin doesn't plan on taking more portraits in the future, he is happy that his senior photo business has been successful.
"Seeing people's positive reactions is great. I know that the effort and time I put into taking and editing these photos pays off," Curtin said.