A year later: kneeling for the Star Spangled Banner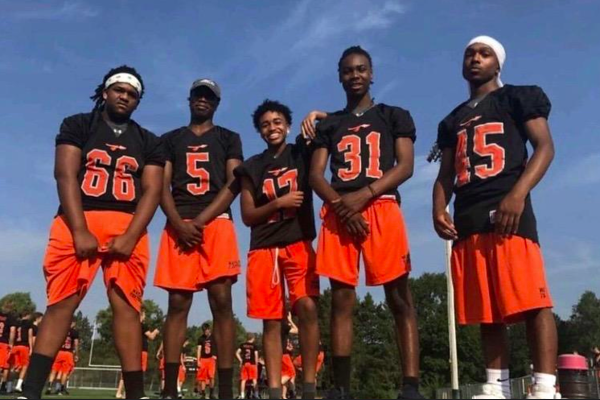 "Please rise for our national anthem." Students and parents within the bleachers turn their attention to the American flag overlooking the field. Members of the fan section peek down at the Wayland players on the turf, expecting to find some of them kneeling. Only this season, the four students who made waves for kneeling last year are standing for the flag once again.
During the 2017 Wayland football season, four student-athletes, juniors Shawn Bernier, Kael Bonds, Kuran Freeman and Franky Gonzalez, kneeled during the national anthem for the majority of the Wayland football season. The students felt it was necessary to kneel as a peaceful protest against injustices toward African-Americans in the country.
However this year, Bernier, Bonds, Freeman and Gonzalez are not kneeling. With a new season, the African-American students feel their message has already been received through kneeling.
"I felt the year before last football season we definitely got a message across and we definitely made a statement, and it affected a lot of people in the school," Freeman said. "It felt like, 'Now we have recognition in our hands,' and we have some type of power because now [that] people are realizing, 'These kids are able to do this, and nobody is going to be able to stop them.'"
The students continue to express their message in alternative ways. Bernier is the President of Wayland High School's POWER Club, which, as recently as Tuesday, Oct. 23, hosted discussions on the topic of kneeling.
"Now, I have decided to make different statements verbally rather than taking a knee," Bernier said. "The other day I had a forum with my group POWER, where we basically had an open discussion for everyone to express their opinions and thoughts, and we went that way."
Just because they are no longer kneeling does not mean that their stance on the topic has changed. Instead, they feel accomplished with the message they displayed in kneeling.
"[Students at the POWER meeting] expressed their opinions and how they thought that [kneeling] was just disrespectful," Bernier said. "Because of these type of discussions, they could understand where we were coming from, and we could just find a common ground. That's a milestone in my head."
"I think we accomplished getting recognition toward the meaning of the protest because we wanted to establish [and] let people know that we stand for something, and we used football as our platform," Gonzalez said.
The student-athletes emphasized that other students' opinions on their kneeling, whether positive or negative, were not a factor that dissuaded them from their actions.
"In the moment, reading comments after the [WSPN article written about our kneeling] was published and when people were voting on whether they thought kneeling was okay, I thought everybody is entitled to their own opinion," Freeman said. "So it doesn't matter who you [are], it was just, 'Okay, you feel this way, I feel this way, that doesn't mean I'm going to let that affect who I am or who you are.'"
A WSPN poll taken at the time at which these students were kneeling found that 48.9 percent of 229 students polled did not support the actions of the football players who knelt.
Though they no longer kneel during the playing of the national anthem, Bernier feels as though he has made his contribution to history and can foresee himself retelling his story of this subject to future generations.
"It was a wonderful experience," Bernier said. "There are some things that I've learned about the school and the people in the school, and there are a lot of things that I had to deal with that weren't so pleasant but that was also pleasant on the same side. "I would like to tell my children or nephews that the experience is something that we should all try once in our lifetime – to stand up for something you [believe in], even if you receive backlash."
About the Contributors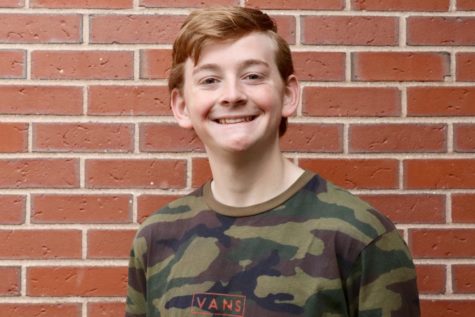 Charlie Moore, Editor-In-Chief





Charlie Moore, class of 2020, is a fourth-year journalism student and fourth-year reporter for WSPN. He is a Co-Editor-in-Cheif for WSPN. In...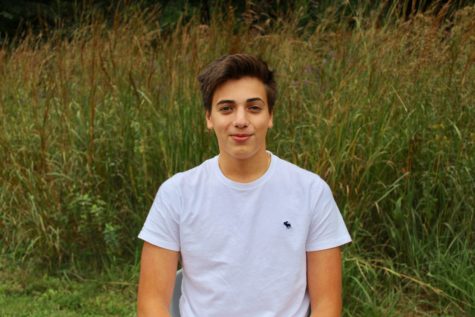 Christos Belibasakis, Assistant Webmaster & Film Critic
Christos Belibasakis, class of 2020, is a second-year staff reporter and film critic for WSPN. Christos plays baseball for WHS. In his free time, he enjoys...