Challenging climate change, one poster at a time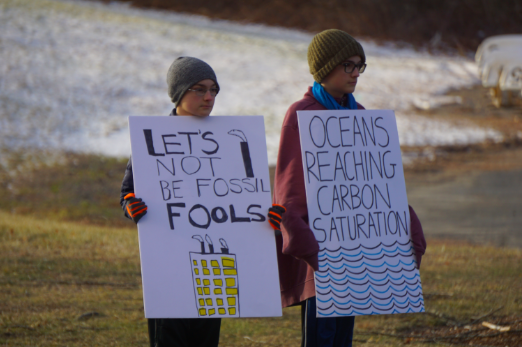 Over the past two years, climate strikes have become a global phenomenon led primarily by young people, and WMS sixth grade twins Marley and Julian Eggers have joined the movement.
The brothers have been hosting their own climate strike every Friday morning before school since September. They decided to join the millions of other young people around the world as part of an effort to take action while, according to the brothers, "adults continue business as usual."
"There's a lot of harsh realities," Marley said. "When we look at adults, it's a little bit hard not to notice that they're not doing enough, or in general, not doing anything. They should be tackling this issue."
Marley attempted to host his own walk-out with other students, but when he was unsuccessful, the brothers didn't give up and decided to begin striking on their own.
"I noticed that it is not always convincing when you do it alone," Marley said. "After that, we made a plan with our friends who sometimes strike with us as well. It's not really much of a strike in a way, [it's] kind of like a reminder that this is a real problem and we want something done about it."
The brothers first began protesting and learning about climate change when they were in fifth grade, after having found inspiration in Greta Thunberg, who became their role model.
"I like that nothing falters her," Marley said. "Nothing keeps her from her goal. She really focuses on [climate change]. It's really nice to see someone who cares so much about the Earth."
After educating themselves more about climate change through books and media, the brothers decided that climate change is an issue that more people should be aware of.
"We just need people to actually think about this, but they are not really caring that much," Marley said. "We need to get people involved. We need this to happen. Climate change is a horrible thing."
As a part of their strikes, the twins create factual hand-held signs every week and use them as a way to educate their peers, as well as encourage people to deeply consider their message. Protesting at WMS allows them to directly communicate with those who are having the greatest impact in the fight against climate change: young people.
"It's important that not just people who are passing by our neighborhood, [but also] people that are in our school [see the signs] as well because that's where there [are] a lot of young people," Marley  said. "And right now, the most important thing about climate [change issues is that] a lot of young people are getting involved."
Sixth grade social studies teacher Chitra Mills has offered them guidance and a place to store their signs. However, she insists that the protests are mostly a solo effort between the twins.
"They have taken on this project on their own," Mills said. "What's tremendous about the two boys is that they're really doing [this] on their own. And I'm just kind of taking a backseat."
The twins' plans extend further than striking: In the future, they hope to create their own climate club at the middle school.
Ultimately, their protests boil down to one thing: their determination to ensure that the world can facilitate life and offer them a future.
"Every once and awhile, it scares us," Marley said. "What's the point of having a future on this planet if it's going to die anyway?"