The effect of Coronavirus on local grocery shopping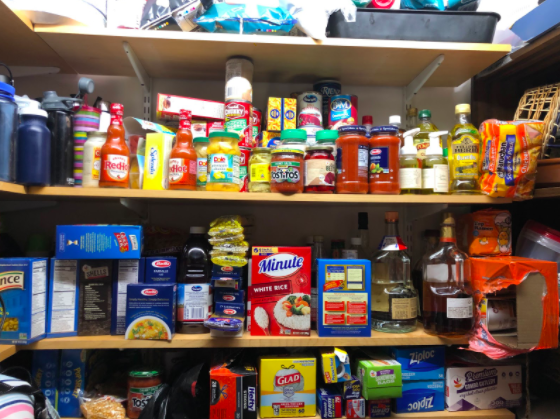 With the recent spread of the coronavirus, many families in our community have taken various steps to stock up on essentials in the case of a lockdown is implemented across the state. As people watch the news and read stories, a panic has set in, with many people rushing to grocery stores to begin stocking up. Despite the need to stock up, the fear of visiting stores with large crowds and possibly contracting COVID-19 arises for many Wayland community members.
"I went to Wayland Stop and Shop recently and my stepmom, who is a doctor, made my sister and I wear masks," senior Jenna Ferrick said.
Lauren Zucker, a parent of WHS sophomore Ariel Sousa, takes several precautions when she makes trips to the grocery store.
"I am nervous about going to the store but I try not to get too close to people," Zucker said. "I use alcohol wipes or hand sanitizer when I get into the car and wash my hands both when I get home and after I put away the groceries."
Nicki Bettenhouser, a parent of a Lincoln-Sudbury Regional High School student, talks about her upcoming plans to prepare. Bettenhouser and her family are trying to avoid the grocery store as much as possible by only going a few times but buying in bulk.
"We did this so we could just stay home and cook instead of having to go back and forth to the grocery store multiple times," Bettenhouser said.
There is a huge change in societal norms and behavior in the stores among many people. It would not be out of the normal to see families wearing gloves and masks.
"We are noticing social norms changing from people's disinterest in talking to people outside of the home," Bettenhouser said. "People are getting their necessary items and leaving the store."
Families seem to be stocking up on certain items, focusing their attention on foods and items they think will be sold out first.
"We have just been getting mainly paper towels," Ferrick said. "We are not freaking out about toilet paper like the rest of the world."
There is a wide variety of foods that people are focusing on for specific reasons.
"We stocked up mostly on canned foods like tomatoes sauces, tuna, frozen vegetables, frozen fruits and meats," Bettenhouser said.
Some residents, such as Zucker, are focusing their attention more on medications, knowing many medicines are imported from other countries and exporting between countries is becoming difficult
"I've purchased extra allergy medications and Advil, extra rubbing alcohol and alcohol wipes for disinfecting," Zucker said.
Zucker, like many other residents, is making sure to purchase staple foods that can last a while and can be used in making meals.
"I've stocked up on gluten-free pasta, Annie's Mac & Cheese, hot dogs and frozen pizzas," Zucker said." I also bought lots of chicken broth, canned tomatoes, canned beans, frozen vegetables and frozen fruit [for recipes]."
Although this pandemic has taken a toll on people's everyday lives, Ferrick believes we should try to stay calm during this time.
"I think the most important thing is to be informed rather than stock up," Ferrick said. "Yes, you should probably have a little more food than you normally do, but we should not panic."