Wayland residents take part in 'Hike Wayland Family Challenge'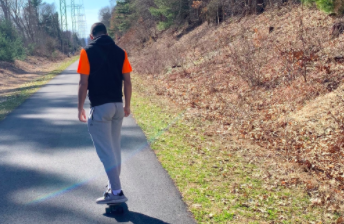 As people across Massachusetts work and learn from home due to COVID-19, many Wayland residents have decided to spend more time outside and enjoy the early spring weather.
To encourage others to take advantage of the time they're spending at home, senior Emma Kiernan and her family created the Hike Wayland Family Challenge to encourage members of the Wayland community to hike on one of the 19 conservation areas in Wayland.
"My family grew up going hiking in the woods together very often, and with the quarantine, there's really not much else to do," Kiernan said. "My dad and I thought that creating a hiking competition would be a good way for the community to connect with each other while following the rules of social distancing. It's also a great way to get families to spend time together outside."
To complete the challenge, three or more family members need to hike either the Massachusetts Central Rail Trail (the Rail Trail), the Aqueduct or one of Wayland's conservation trails and submit a photo to the Hike Wayland Family Challenge Facebook page.
"Hiking is great because it can be an escape from all the stress and worries that I have about school or anything that is going on in my life," Kiernan said. "I love being outside, and going on walks helps me not feel trapped indoors between school and home."
Since the stay-at-home advisory issued by Gov. Baker, Kiernan has noticed an increase in the number of people using the Rail Trail.
"When I go hiking, I often see multiple families and hikers along the way, which almost never happened before the coronavirus," Kiernan said. "There's no reason to increase the risk of passing along the virus when you're outdoors, and it's so easy to keep distance between people."
Senior Marcos Pereira has also been using his days without school to penny-board on the Rail Trail with his brother. Along with going on the Wayland Rail Trail, Pereira has been utilizing the trails in surrounding towns.
"I decided to go on trails because they're typically long and good to skate on, so it's a nice way to kill time throughout these long, boring days," Pereira said.
Sophomore Grace Stephenson also jumped on the idea and has been taking advantage of the rail trail as a way to see her friends since they cannot visit each other inside.
"I knew I needed to get out of the house and get some exercise, and [going on the rail trail] is one of the ways I can do that," Stephenson said. "The most recent time I went was with a couple of friends. So, it was also an opportunity to see other people besides my immediate family, which helps in not going insane."
Stephenson, who has tried her best to follow proper social distancing measures, has noticed that others are also doing the same.
"Even though there were a lot of people on the trail, they were on one edge of the path and I was on the other side," Stephenson said. "[We] stayed as far apart as possible, but I wouldn't say I was perfect in doing that."
Kiernan feels that maintaining physical activity during social isolation is important for our mental health.
"It is more important than ever for people to get outside right now," Kiernan said. "People can't talk to their friends or even go on errands unless it's essential, and as a result everyone can end up feeling trapped in their own homes. If we are going to be cooped up for months, we need a way to keep ourselves from going crazy. Hiking is one of the only activities left that safely allows people to get out of their houses."
To learn more about the Hike Wayland Family Challenge, click here: https://www.facebook.com/hikewayland/