Wayland Girls Soccer takes on quarantine with "Charity Miles"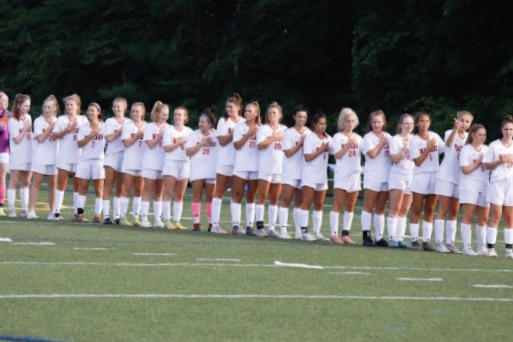 Due to COVID-19, the stay at home order has us all stuck inside with nothing to do but go outside. Many people don't realize they are traveling so many miles. Whether it be cycling, walking, running, or rollerblading, people are constantly moving. The Wayland girls varsity soccer team has been using an app called "Charity Miles" to track their miles and the girls are competing against other teams in the DCL.
"Charity Miles" is a unique app because it allows people all around the world to keep track of their miles while running, walking, or biking for a specific charity. While doing some sort of activity, people can also gather pledges before which will help raise money for their charity.
"There are more than 50 different charities to choose from in this app," junior Abby Gavron said. "Including ALS Association, Alzheimer's Association, GirlUp, Project Purple, World Wildlife Foundation, Habitat for Humanity, Susan G. Komen, Leukemia + Lymphoma Society, Special Olympics, and so many more."
For people who are constantly working out during quarantine, this app makes every exercise more special.
"Using "Charity Miles," makes my runs feel so much bigger than myself," sophomore Emily Chau said. "I love that I can do something that's good for my body, but also help others and raise money for the charity I chose."
Choosing a specific charity can make using this app more personal. Everyone has a reason for why they chose a charity and it makes raising money for their charity more significant.
"I chose UNICEF because, especially right now, there are a ton of children who need support," Junnior Tali Wong said. "All over the world there are people who need food and protection."
Picking out a charity is some people's favorite part of the app because it makes every exercise they do feel important.
"I chose Feeding America because food shortages were already a pretty widespread problem across the United States before quarantine, and now that many are unemployed, it's only getting worse," Chau said. "Organizations like Feeding America are working to provide for many of those families who don't have access to consistent meals, especially during this time."
Sometimes getting outside and choosing to exercise can be hard and difficult for many but this app can be motivating. Many people find tracking their miles and being put on a leaderboard can push them to be their best.
"I find this app extremely motivating because I am very competitive in general, so the app allows me to compete with other soccer players to "do" the most miles, all while raising money for a good cause," Gavron said. "There would be days when I would check the app at 6 pm and realize someone was a mile ahead of me, so I would go on a two-mile run or walk to move up on the leaderboard."
This app also allows Wayland girls soccer to stay connected and active as a team during the offseason. It makes the team feel together when competing against some of their biggest rivalries.
"We're competing against other DCL girl's soccer teams, like Waltham, Westford, Bedford, and Lincoln Sudbury," Chau said.
For many people, this was their first time using this app and they had a very positive experience with it.
"It is a great way to keep track of your activity as well as raise money for a good cause," Gavron said.
Many people who use this app think that it's very well set up and easy to navigate. Having an app that is easy to navigate, creates a higher chance of getting recommended.
"I would recommend this app because making something you would do anyway for a better cause can never hurt," Wong said. "It is really easy to just turn it on, and then it tells you how long your run was and how far you went."