At-home training: spring athletes adapt to losing their season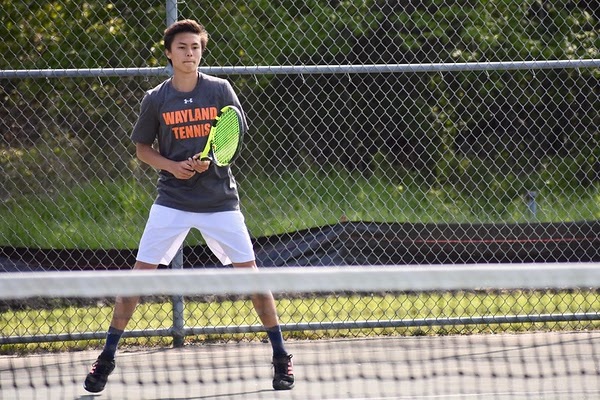 Due to coronavirus, spring sports seasons were canceled and spring athletes such as runners, lacrosse players, baseball players, etc. are trying to find ways to stay in shape and continue practicing their sport.
Students have found themselves with much more free time since schools closed. Since online classes don't take up as much time as in-school classes, many athletes have decided to make the most of their spare time by getting in extra practice and workout hours.
"I have been adding even more time, volume [and] cross-training," junior Darcy Foreman said.
Before the season started, many athletes were training so they could prepare for their sport. Athletes were running, biking and working out, and winter athletes were finishing up their season before spring started.
"I did a lot of running, weights, ab workouts, throwing practice, and batting practice," baseball player Nicolas Alvarado said.
Sports seasons were initially delayed when school closed. Many athletes used that time to continue increasing their fitness by training so when schools opened up, they would be able to play what was left of their season well.
"I was exercising and going outside almost every day to practice my sport," freshman Sadie Norgaard said.
Because of social distancing, teams could not meet in person to practice. Athletes had to come up with ways to not only maintain and improve their fitness but also to maintain and improve skills in their sport.
"[I am] doing daily exercises, running, [and] practicing lacrosse with a bounceback," freshmen Marion Hess said.
Some teams held practices online via zoom or other livestream apps to keep players involved. Other teams provided recorded workout videos on sites like PLT4M.
"I had been doing workouts with my club team," freshman Billy Burke said.
When Governor Baker announced schools were closed for the year, all spring sports were officially canceled. Lots of students and athletes were devastated by this, especially seniors who lost their last high school season.
"I'm super bummed out because it was my last sports season [in] high school and I was super excited," senior Hallie Bachman said.
Some juniors are concerned the cancellations could hurt their recruitment process as well. Junior year seasons tend to be very important for college recruiters to see an athlete's ability, and to make a decision on whether or not the athlete will be offered a spot on a college's team.
"It has seriously hurt the recruiting process for juniors," junior Will Carr said.
Regardless of grade, all student-athletes have been negatively affected by school closure and sports cancellations. However, the athletes have kept positive and persevered. They continue to prepare themselves for the next possible opportunity to play their sport, and even though it is unclear when students will be allowed back in school next year, and what fall sports will look like, athletes continue training in hopes of being able to play again soon.
"I am definitely bummed that spring sports were canceled, especially because I was going to try out for baseball, and tryouts were going to be on the Monday after school closed," freshman Zachary Grossman said. "But luckily, I still have three more years to play high school baseball. So hopefully I will get the opportunity in the next 3 years to play baseball for Wayland High School."