Opinion: Halloween can be done safely
Word on the street is that trick-or-treating this Halloween will be canceled. There have been various opinions expressed, however in my view, trick-or-treating is safe. After all, it is a day that many kids look forward to, so I believe they would be okay adhering to a few regulations. Here are some precautions that I believe if we all take, we will be able to have a fun night of trick-or-treating, while staying safe.
1. Masks always
To help ensure children will wear their masks, try encouraging them to pick out a mask that compliments their costume. There will be lots of small crowds traveling up and down the streets, so it is crucial that kids keep their masks on at all times.
2. Organize into small groups
It is not ideal to go trick or treating with ten of your friends. In that case, breaking up into smaller groups and meeting up afterward, while remaining socially distant, is a safe alternative to still be able to trick-or-treat with your friends.
3. Constantly sanitize your hands
Bring hand sanitizer with you to use after touching any objects. Make sure the sanitizer is easily accessible, so it can be used quickly and efficiently. When you get home, make sure to wash your hands thoroughly for 60 seconds before enjoying your treats.
4. Keep your distance
To follow good social distancing, stay at least six feet apart from others who are not living with you. Indoors and outdoors, you are more likely to receive or spread coronavirus when in close contact with others for a long period of time.
5. Think of alternatives to handing out candy
If you plan on putting candy outside your house, try and create individually wrapped bags that trick-or-treaters can easily grab. This is important because this prevents kids from reaching into a bowl of candy that others have already touched. I suggest using brown bags and filling them with a few pieces of candy. It's simple and cost-efficient.
6. Set ground rules
It's important that children understand the necessary precautions for trick-or-treating. Make sure you are all on the same page and allow siblings or children to ask you any questions.
7. Be smart
Only go to houses with safety measures set in place. Not every house is going to be set up with COVID precautions. Inspect your candy before eating, for you never know what could be in it, so it is always safe to always check.
8. Have fun
Don't forget to enjoy the day! Halloween only happens once a year, and although it looks different this year, that is no excuse for it to still be fun. Get some friends or family members together, and create fun costumes to collect your favorite candies in.
Halloween should not be something we should look past this year. With the necessary safety precautions, it can be a fun night for many. It is important we try and do what we can because you never know what will happen in the winter. Cases will be rising, and a state shutdown could be put in place again, and you will be looking back on Halloween, wishing you could do it again.
Leave a Comment
Donate to Wayland Student Press
Your donation will support the student journalists of Wayland High School. Your contribution will allow us to purchase equipment, cover our annual website hosting costs and sponsor admission and traveling costs for the annual JEA journalism convention.
About the Contributor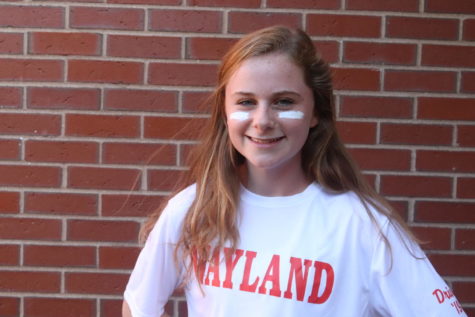 Julia Raymond, Copy Editor
Julia Raymond, Class of 2022, is a copy editor for WSPN. She does soccer and lacrosse for Wayland High School. Outside of school, she enjoys spending time...