Trump vs. Biden: 2020 Election Breakdown
With only a couple of days until the 2020 presidential election, more than 87 million ballots have already been cast across the country. Early voting began in Massachusetts on Oct. 17, and more than 2 million people have voted so far. For those wanting to learn more about both candidates before Election Day, here is a look at where they stand on four major issues.
COVID-19 Response
President Donald Trump:
– Opposes a national requirement for wearing masks and has left it to the states to enact mandates
– Has regularly appeared, in public and in private, without wearing a mask and has held campaign rallies with little mask-wearing and social distancing
– Said that COVID-19 testing is "overrated" and asked his staff to "'slow the testing down please'"
– Aims to have a vaccine by the end of 2020 and "return to normal in 2021." His administration has pledged to have 300 million doses of a coronavirus vaccines available by January 2021, as part of Operation Warp Speed
– Calls COVID-19 the "China Virus," despite critics saying that it promotes racism and evidence that use of the term led to a rise in anti-Asian bias
Democratic presidential nominee and former vice president Joe Biden:
– Would institute a national mask mandate, but would also call for all governors to enact mask requirements
– Routinely wears a mask when he appears at public events
– Plans to make available "regular and reliable COVID-19 testing for every worker called back on the job" and increase drive-thru testing sites
– Would hire 100,000 people for national contact-tracing
– Would use the Defense Production Act to increase the production of personal protective equipment (PPE) like masks and face shields
Criminal Justice and Police Reform
Trump:
– Has denied the existence of systemic racism in the U.S.
– Does not support defunding the police
– Increased funding for Project Safe Neighborhoods, which pushes for increased federal prosecution of guns and violent crime
– Signed the First Step Act, a bill that will allow incarcerated people to earn an earlier release from prison and could shorten prison sentences in the future
– Said in 2016, "an attack on law enforcement is an attack on all Americans"
– Is a longtime supporter of the death penalty
– Reversed an Obama-era order to stop using private prisons to house federal inmates
– Plans to "increase criminal penalties for assaults on law enforcement officers" and "end cashless bail and keep dangerous criminals locked up until trial"
Biden:
– Does not support defunding the police and would instead spend an additional $300 million a year on the Community Oriented Policing Services with a condition that "police officers must mirror the racial diversity of the community they serve"
– Plans to end the federal use of private prisons
– Aims to pass legislation that would eliminate the death penalty
– Would create a $20 billion grant program to push states to "invest in efforts proven to reduce crime and incarceration, including efforts to address… illiteracy and child abuse"
– Refers to cash bail as "the modern-day debtors' prison" and would end its use
Climate Change and the Environment
Trump:
– Will officially pull the U.S. from the Paris Climate Accord on Nov. 4
– Has nullified 72 environmental rules and regulations, with many more in progress, and has weakened other climate policies such as the Endangered Species Act
– Authorized the Great American Outdoors Act in Aug. 2020 that funds up to $1.9 billion a year for five years for maintenance of national parks, forests, wildlife refuges, and other federal lands
– Said in the first 2020 presidential debate, "I think a lot of things do, but I think to an extent, yes" that human pollution and greenhouse gas emissions have contributed to global warming despite his history of denying climate change
– Signed the Save Our Seas Act which "reauthorize[s] and amend[s] the Marine Debris Act to promote international action to reduce marine debris"
– Plans to "continue to lead the world in access to the cleanest drinking water and cleanest air" even though his administration has pushed to open the Arctic National Wildlife Refuge in Alaska to oil and gas exploration. Furthermore, Trump supports fracking
Biden:
– Would have the U.S. rejoin the Paris Climate Accord
– Proposed a plan to spend $2 trillion over four years on clean energy that includes ending carbon pollution in the electric sector by 2035
– Would ban new oil and gas leases, including fracking contracts on federal land, and clean up pollution from oil and gas repositories as well as coal mining sites
– Has a goal that all new buses built in the U.S. be emissions-free by 2030 and to have zero-emissions public transportation in every city with 100,000 or more residents
– Calls for energy efficiency improvements to four million buildings, weather-proofing two million houses, and building 1.5 million new sustainable homes
– Would aim to shift the auto industry to building low-emission vehicles
– Pledges to designate 40% of the investments from his plan toward minority and low-income communities
– Would create an Environmental and Climate Justice Division within the Justice Department to "hold polluters accountable"
Immigration
Trump:
– Proposed a merit-based system "for green cards to protect U.S. workers and taxpayers" and would restrict family-sponsored green cards to only spouses and minor children to end "chain migration"
– Ended Deferred Action for Childhood Arrivals (DACA) which protected undocumented immigrants who were brought to the U.S. as children from deportation
– Had a "zero tolerance" policy that separated families that crossed the U.S.-Mexico border illegally and often were not reunited until weeks or months later, a tactic meant to deter migrants from seeking asylum in the U.S. Trump ended this policy in 2018.
– Has obtained $15 billion for a border wall project that includes, as of Oct. 30, 400 miles of "border wall system," most of which is a replacement for fences and vehicle barriers
– Plans to "block illegal immigrants from becoming eligible for taxpayer-funded welfare, healthcare, and free college tuition" and "make deportation compulsory for "non-citizen gang members"
– Would end sanctuary cities for the "[restoration] of our neighborhoods and [protection of] our families"
Biden:
– Promised that "there will not be another foot of wall constructed in my administration"
– Plans to, within the first 100 days of his election, prioritize reunifying children separated from their families at the border
– Would end the Migrant Protection Protocols which state that immigrants seeking entry to the U.S. from Mexico may wait outside of the U.S. during their immigration proceedings
– Promised to work to make the Deferred Action for Childhood Arrivals program, or DACA, permanent on his first day as president
– Would work with Congress to pass legislature that would "create a roadmap to citizenship" for the 11 million undocumented people living in the U.S.
– Plans to invest in the improvement of the infrastructure at U.S. ports of entry
– Promises to convene a meeting of leaders from El Salvador, Guatemala, Honduras, Mexico, and Canada, to "address the factors driving migration and to propose a regional resettlement solution"
Visit this website to learn about how to vote for this election.
View Comments (1)
Donate to Wayland Student Press
Your donation will support the student journalists of Wayland High School. Your contribution will allow us to purchase equipment, cover our annual website hosting costs and sponsor admission and traveling costs for the annual JEA journalism convention.
About the Contributor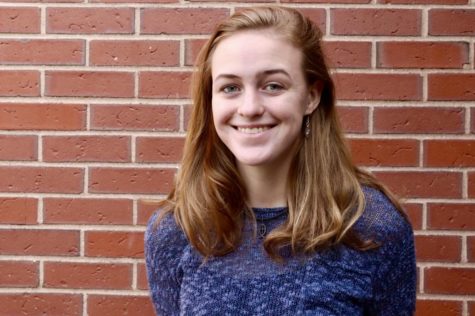 Emily Chafe, Copy Editor
Emily Chafe, Class of 2022, is a features editor for WSPN and is a third year reporter. In her free time, she enjoys photography, spending time outdoors,...