Artist of the Month: Jasmin Wong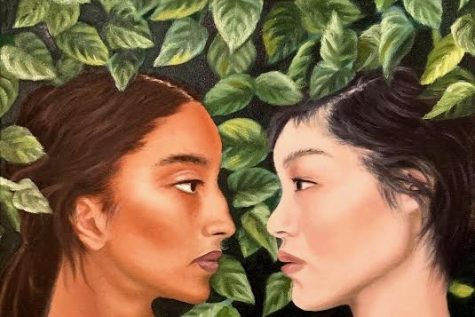 Senior art student Jasmin Wong wants to pursue art in her future career, no matter what path that may be. She is currently enrolled in Advanced Placement Art, where she regularly paints with acrylics and oils. However, much like other kids, Wong began making art with crayons and finger paint. As a member of the WHS art community, Wong has been able to participate in all sorts of art projects, expand her art toolbox and try new things without fear. With the support of the WHS art community, Wong was able to create her current favorite piece, a painting she calls "Eve and Eve."
How did you get your start as an artist?
"I started with little things like crayon drawings and finger painting when I was little, and then I never stopped. I took a variety of art classes in ceramics, drawing, painting and sculpture, and I became more and more invested in art. I grew the most while making art on my own, because it gave me creative independence and freedom."
What has been your involvement with the art classes and community at WHS?
"I took Drawing my freshman year, Art 2 my sophomore year, and I'm taking AP Art this year (my senior year). Each class was so different and fun. We get very interesting projects, and the classes are very relaxing because we get to socialize and experiment artistically with so many supplies. I know there's an art requirement, but I got into art for the sheer pleasure of it, and I hope other people will keep an open mind and enjoy it too."
How have the WHS art classes impacted you?
"I think the art classes have given me a lot of opportunities to do many different things. In Art 2 we used carved linoleum to print things, crafted our own sketchbooks and made illustrations for our favorite childhood book. It pushed me to expand my art toolbox. I also love the community! Art is very personal to me, and I'm so glad that I have amazing and supportive people around me in my art classes that give me advice and gas me up. Thanks guys!"
What is your favorite piece and why?
"It feels impossible to think of a favorite piece, but my current favorite is my "Eve and Eve" painting. It's been really hard to find representation in the world as a bisexual Asian-American girl. Adam and Eve is a very well-known Christian story featuring a straight white couple, and I wanted to retell it in a more inclusive way by including two women of color instead. This painting might be a bit controversial and uncomfortable, but that was always my intention. Even when the world doesn't have a place for you, you can always just paint it in, I guess."
What is your favorite medium to use?
"I mostly use acrylic paint because it's cheap, straightforward and easy to paint over. However, my lovely teacher, Ms. Latimer, recently gave me some oil paints to try out, and I'm now infatuated with them. Oil paint is thick, which enables me to create unique textures in my paintings and bring it to life. It is also rich in color, which came out beautifully in the undertones of my "Eve and Eve" portrait. Oil paint is quite smelly and toxic though, so I might have sacrificed some brain cells."
What are your future plans for your art?
"I'm in the sewing club, and I want to learn how to make clothing so I can maybe start a little business. I want to continue art no matter what path I choose later in life; I think art really boils down to creativity, and creativity can be incorporated into any subject or career. I make art to mean something or say something, so as long as I keep doing that, I think I will be happy and successful. It would be cool to one day to see my painting in a museum or gallery or sold off to some snobby billionaire."
Leave a Comment
Donate to Wayland Student Press
Your donation will support the student journalists of Wayland High School. Your contribution will allow us to purchase equipment, cover our annual website hosting costs and sponsor admission and traveling costs for the annual JEA journalism convention.
About the Contributors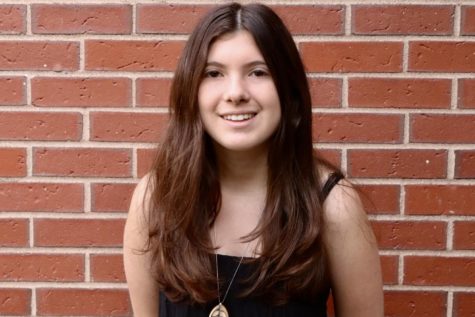 Alyssa Dickstein, Arts and Entertainment Editor
Alyssa Dickstein, Class of 2021, is a third year reporter and second year editor for WSPN. She writes for the publication's columns "The Good News"...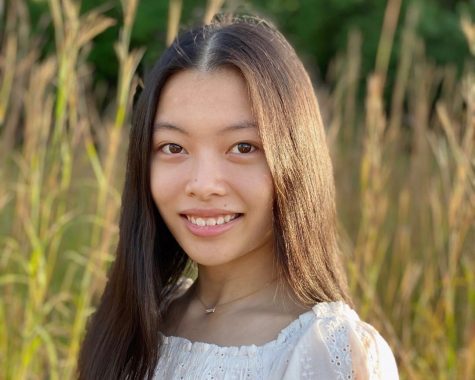 Elizabeth Zhong, Graphic Designer
Elizabeth Zhong, Class of 2021, is this year's graphic designer for WSPN. She is the president of Student Council, co-President of the Tri-M Music Honor...