A Season Delayed: Wrestling moves to the spring amid COVID-19 pandemic
On Nov. 20, the MIAA voted to postpone the high school wrestling season to the spring due to various COVID-19 concerns surrounding the sport. Traditionally a winter sport, wrestling will undergo significant changes to ensure that athletes can participate safely. For now, however, wrestlers will have to wait until late April to compete in organized practices.
With coronavirus cases rising throughout the state and country, school officials have been more cautious about what can and cannot go on. In the fall, deliberate close contact was not allowed in any sports, and, by nature, wrestling is close contact all of the time.
"
The big language in the fall for soccer and for football is that there could be no "deliberate contact." With wrestling, the entire sport is deliberate contact so that language has to change [in order to participate]."
— Sean Chase
"It's wrestling so it's close contact and you can't do it," wrestling head coach Sean Chase said. "I mean, you couldn't slide tackle in soccer and you couldn't play football, so how could you wrestle?"
Adding to the safety concerns are the space concerns when participating in wrestling. With the COVID-19 restrictions, gyms need to be kept to a reduced capacity, making it difficult for many teams to practice.
"We are fortunate enough to have a wrestling room, but other schools don't and they have to roll mats out at the end of a [different] practice," Chase said. "Gyms are stretched so thin right now that schools just don't have the space to do it."
An unfortunate consequence of pushing back the season is it now conflicts within different sports. Wrestlers, who traditionally participated in the winter, now have to decide to stick with their normal spring sport or transition to wrestling.
"I think a lot of kids are super excited [for the season], but it brings up a huge dilemma with a lot of kids whether they want to choose to play lacrosse, baseball, or wrestling," senior wrestling captain Matt Morris said. "It's a tough decision to make for a lot of kids."
Last year, spring sports were canceled due to the emergence of COVID-19, so participating in wrestling would mean two years of not playing spring sports for traditional spring athletes. According to junior Charlie Bolivar, this makes the decision much easier.
"I will not be able to wrestle in the spring as I am playing lacrosse," Bolivar said. "After last season being canceled, there is no way I can miss another season."
Although the conflicts aren't ideal for Chase, he understands the difficulty of the situation. He vows that he won't hold not wrestling in the spring against his athletes.
"My thought process is that if baseball is your thing then do baseball, or if lacrosse is your thing do lacrosse," Chase said. "I'm certainly not going to pressure any of our athletes to wrestle."
Likely, there will be no state tournaments for any sports this year, including wrestling. According to Chase, this is a problem for many wrestlers as the individuality of the sport makes the state vastly more important. The state tournament allows wrestlers to be seeded for the year ahead.
"Say you are a junior and it's a regular wrestling season, that's a big year because hopefully you would place high for the postseason tournament, putting you in a [good] position the next season for seeding," Chase said. "None of that matters anymore because [the tournament] doesn't exist."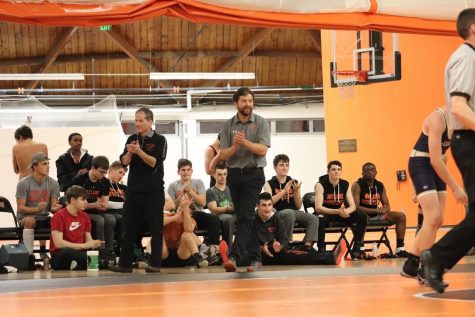 Morris is excited that they will be able to practice in the warm weather where they can practice outdoors under the lights.
"I'm excited actually because it's going to bring a whole different environment to wrestling, we will get to roll out mats on the turf to practice outside, and we will even have some under-the-lights matches against Lincoln-Sudbury," Morris said. "It will be fun."
A silver lining of the season delay will be the opportunity to try a different activity in the winter.
"This push to the spring has also given me the option to try out for the basketball team in December," Bolivar said. "I'm excited to try a different sport, as I haven't played basketball since freshman year."
The wrestling season being pushed to the spring creates numerous difficulties for both athletes and coaches of the sport. Nevertheless, the opportunity just to play at all excites Chase.
"The spring isn't ideal, but then again, the pandemic isn't ideal, so it doesn't matter," Chase said. "The option is we do that or we don't have a wrestling season at all."
Leave a Comment
Donate to Wayland Student Press
Your donation will support the student journalists of Wayland High School. Your contribution will allow us to purchase equipment, cover our annual website hosting costs and sponsor admission and traveling costs for the annual JEA journalism convention.