WHS Class of 2022 selling pre-portioned cookie dough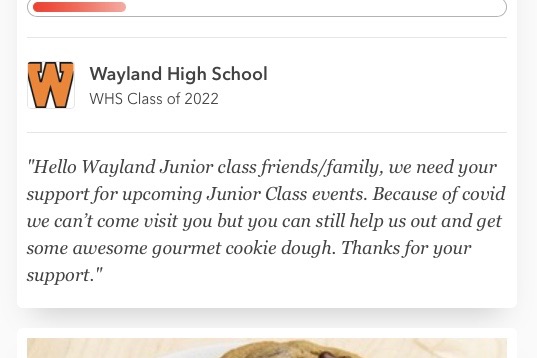 After the COVID-19 pandemic put a damper on all fundraisers last year, the WHS class of 2022 is making their comeback with a safe fundraiser that is selling pre-portioned cookie dough.
"This fundraiser is important since we were unable to do much fundraising last year due to the school's COVID-19 closure in early March," class of 2022 president Andrew Zhao said.
Since WHS students are back to in-person schooling now, juniors are jumping at the chance to fundraise while they can. The junior class hopes to have more fundraisers throughout the year in order to make up for last year.
"This fundraiser and any that we carry out this year are to make up for those lost opportunities," Zhao said.
While the idea of prom is still ambiguous in some people's eyes due to the pandemic, Zhao is hopeful that the event is able to occur.
"We are crossing our fingers that we are able to host a prom this year," Zhao said. "But we are prepared to move it to next year."
As for the fundraiser, the class of 2022 will be selling pre-portioned cookie dough for $20.
"The cookie dough comes in six great flavors: chocolate chip, oatmeal raisin, snickerdoodle, peanut butter, white chocolate macadamia nut and M&M's," Zhao said.
Instead of the past fundraisers where the buyer ordered in person, Zhao thought it would be safer to do it electronically. However, the process of receiving the cookies is still easy and quick.
"This year we are using an app to sell everything digitally in order to minimize the spread of COVID-19," Zhao said. "People will receive the cookies from the person you ordered from. You will enter in your address when you place your order, and it will be delivered to your door by your seller."
For those interested in purchasing the cookie dough, below is Zhao's link that will lead to the order form. Orders must be placed by the end of Friday, Dec. 5.
"Here's my link if you're interested: https://app.moneydolly.com/fundraiser/195/participant/6050/order," Zhao said.